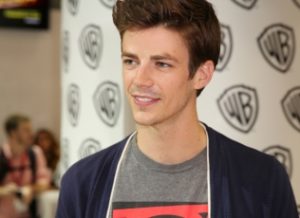 We caught up with Grant Gustin last weekend at the Flash press room at this year's Comic-Con International in San Diego, and this time, we have video!
What can you look forward to?
First, Grant talks about Barry's romantic possibilities, including what's happening with Iris West and Felicity.
Then, he talks about sharing a scene with original Flash John Wesley Shipp. "The scene I shot with John in the pilot was my favorite to shoot. Some of the dialogue, actually, I got to surprise John on the day; he didn't know I was going to say some of it, which really made it more organic, and fun, and raw, so I loved it, and he's just been the nicest guy in the world. We're both born in Norfolk, Virginia, which is crazy. He's just been helpful, and excited for me, and he couldn't be nicer, so it's great."
Did Shipp give him any advice? "We haven't really gotten into it yet. I think that our experiences are going to be really different. He hasn't really given me too much advice, but he's definitely there for me, and I think if I ever needed any, he would willingly give it."
Finally, Gustin talked about Barry Allen's multiple father figures and the positive, happy attitude the show has. "I'm going to pinch myself, probably, every day for the next hopefully years!" he enthuses. Check out the video below, and if you missed our one on one interview with Gustin from two weeks ago, you can find it here.