With Grant Gustin's Flash (Barry Allen) zooming into the Speed Force, one might assume that Keiynan Lonsdale's Wally West, a.k.a. Kid Flash, might be taking his place in the red tights. After all, in the comic books, Wally took over for Barry when he sacrificed himself in the first Crisis on Infinite Earths.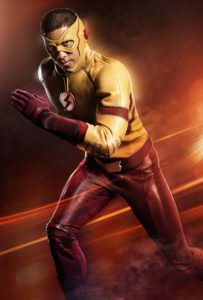 Could this be a thing that happens on the show?
"It's not something that's on my radar," Lonsdale told Newsweek in an interview that can be found here.
"I feel as though there is so much story to tell and Wally has so much growing to do. I'd like to see that journey continue. That's what I think is important. We need to see how these characters realistically get to where they are headed for," he continued.
The interview did see Keiynan stressing that he's very cautious not to reveal spoilers, though.
"I accidentally revealed that Rick Cosnett was coming back," he shared about an experience back in Season 2. "I was with Candice and we were freaking out because it was a livestream and I hadn't done that before. I didn't completely reveal it but smart fans caught on and I freaked out because I had only been there for a month. I was like, 'Oh my god, I ruined everything'!"
You can find the full Keiynan Lonsdale Newsweek interview here.