Some very sad news has come out today about someone who has been a member of the Flash family from the beginning.
Logan Williams, who played the younger "Barry Allen" in at least eight episodes of The Flash, has died suddenly at age 16. He passed away on Thursday, only one week away from his 17th birthday.
Williams had gotten award recognition for his acting and is remembered as a "gentle and very loving and very kind soul."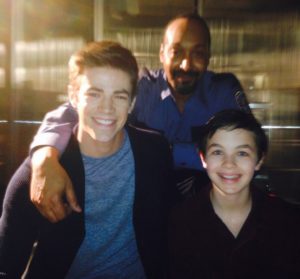 "Just hearing the devastating news that Logan Williams has passed away suddenly," Grant Gustin posted on Instagram with the picture that you can see to your right, from the filming of The Flash pilot. "I was so impressed by not only Logan's talent but his professionalism on set. My thoughts and prayers will be with him and his family during what is I'm sure an unimaginably difficult time for them. Please keep Logan and his family in your thoughts and prayers during what has been a strange and trying time for us all. Sending love to everyone."
John Wesley Shipp also weighed in about his TV son, via Twitter.
"Heartsick to learn of Logan Williams' death at 16. He was 100% committed to playing young Barry Allen, and we missed him once we moved past that part of the story. Love and compassion to Logan's family and friends in your grief," he said, sharing a "family portrait" of his own.
Our sympathy and warm thoughts to Logan's friends and family at this time.