Blu-ray Review: The Flash: The Complete Third Season
Review of The Flash: The Complete Third Season Blu-ray set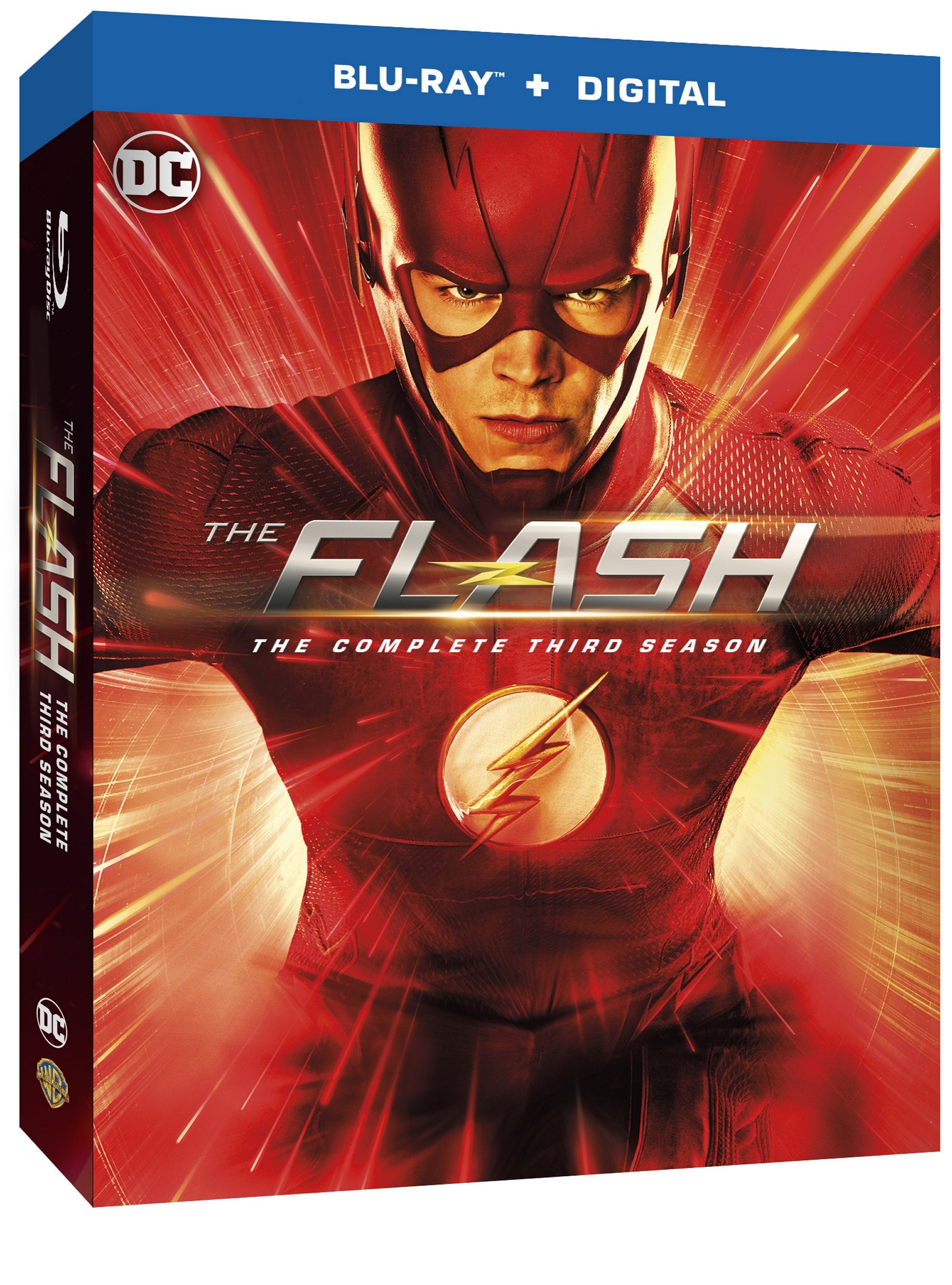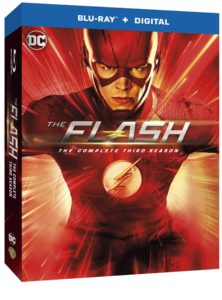 The Complete Third Season Blu-ray and DVD sets for The Flash speed our way this Tuesday, September 5, and we've gotten our hands on an early copy to review! Before we cut into the review, though, here's how Warner Bros. Home Entertainment (provider of said review copy) describes it:
Just in time for the fourth season premiere of the #1 show on The CW, catch the fastest man alive as he zigzags through the action-packed release of The Flash: The Complete Third Season from Warner Bros. Home Entertainment on Blu-rayTM and DVD on September 5, 2017. Delivering 5 million Total Viewers per episode, The Flash is a Top 10 series on all broadcast with Men 18-34 (#7) and Men 18-49 (#10)⃰. Fans will be able to revisit all 23 electrifying episodes from the third season, including the DC-crossover episode, plus over two hours of extra content, including behind-the-scenes featurettes on the "Invasion!" cross over episode and the "Duets" musical episode, a conversation with Andrew Kreisberg and Kevin Smith, deleted scenes, and more.
*Source: Nielsen National TV View Live + 7 Day Ratings, excluding repeats, specials, and sports
Struck by the supercharged fallout of a particle accelerator explosion, forensic scientist Barry Allen becomes the fastest man alive: The Flash! With his newfound time-warping speed and help from the S.T.A.R. Labs team – Caitlin Snow, Cisco Ramon and Harrison Wells – and his adoptive family, Detective Joe West and Joe's daughter Iris, the Scarlet Speedster runs circles around other metahumans set on wreaking havoc in Central City, while traveling between alternate universes and protecting our world from otherworldly threats. Last season, new dangers arrived from a parallel earth known as Earth-2, under the direction of an evil speedster named Zoom. In Season Three, Barry faces the unknown – as he irrevocably alters the timeline by saving his mother from the clutches of the Reverse-Flash. The only question now is – as he wrestles with the consequences of his own Flashpoint Paradox, including the wrathful Speed God Savitar – will he be able to find a way out?
"After three seasons, The Flash continues to score in ratings and ranks as the top series for The CW," said Rosemary Markson, WBHE Senior Vice President, TV Marketing. "Loaded with both in-depth and exclusive new bonus content, both fans of the show and DC fanboys will be eager to add the Blu-ray or DVD release to their collections."
With Blu-ray's unsurpassed picture and sound, The Flash: The Complete Third Season Blu-ray release will include 1080p Full HD Video with DTS-HD Master Audio for English 5.1. The 4-disc Blu-ray will feature a high-definition Blu-ray and a Digital Copy of all 23 episodes from season three.
The Flash stars Grant Gustin (Arrow, Glee), Candice Patton (The Game), Danielle Panabaker (Justified, Necessary Roughness), Carlos Valdes (Once), Keiynan Lonsdale (Insurgent), Tom Felton (Harry Potter films), with Tom Cavanagh (Ed, The Following), and Jesse L. Martin (Law & Order). Based on the characters from DC, The Flash is produced by Bonanza Productions Inc. in association with Berlanti Productions and Warner Bros. Television, with executive producers Greg Berlanti (Arrow, Supergirl, Blindspot, Riverdale), Andrew Kreisberg (Arrow, Supergirl, DC's Legends of Tomorrow), Aaron Helbing (Spartacus, Black Sails), Todd Helbing (Spartacus, Black Sails) and Sarah Schechter (Arrow, Riverdale, Supergirl).
So how is the set? Let's get into it.
The Episodes: I won't lie: Season 3 of The Flash was… not my favorite. Season 1 of the series, especially, showed us what a great guy Barry Allen is, as played so well by Grant Gustin. For Season 3… Barry does something arguably selfish at the start of the season (actually, the end of Season 2) that sets off a chain reaction that makes things miserable for his friends. And that's not even getting into who Savitar is; sadly, Savitar was another storyline I wasn't that invested in, though I was curious to see how Iris would be saved, of course.
That's not to say there aren't gems in the season, and the production value in the season is unparalleled. Tom Felton (Draco Malfoy!) is in the season and involved in a story with a Philosopher's Stone and he goes to the Planet of the Apes! Two great connections right there, right? There are also some really good performances in the year, and of course, stories like the musical "Duet" keep us running home to you — err, this show. It's just sad when you can't get behind Barry and usually happy characters like Cisco are miserable.
With that said… we get to see Kid Flash! And honestly, Season 3 goes down a lot better when you know where it's going. On Blu-ray, it looks beautiful, so there's a plus.
Graphics and Sound: As I said, it's worth springing for the Blu-ray just because it looks so damned good.
The Extras: Of all the CW superhero shows, it seems The Flash is the one that Warner Bros. Home Entertainment goes "all out" on, at least in the extras department.
There are at least a half dozen extras on this set. I was particularly enamored with the "Rise of Gorilla City" feature that showed all the work that Armen Kevorkian and his team put in to creating that world. On Blu-ray, as I mentioned, the effects look fantastic, and I'm now sad about two things: One, that The Flash has not yet gotten an Emmy for VFX; and two, why is it that mediocrity like The Inhumans can get on IMAX but stuff like this doesn't hit the big screen? This is high quality stuff.
There are a few featurettes on the musical and the impressive work behind the scenes with Blake Neely and his team. I was a little bummed Crazy Ex-Girlfriend's Rachel Bloom wasn't interviewed, though I'm sure she's pretty busy. It was fun learning things, for example, that Victor Garber wanted to be a part of it even though Stein wasn't a part of The Flash at that time.
Deleted scenes are available for several episodes which, of course, expand the world a little bit and make one wonder why The CW can't forego a few in-house promotions in an hour and extend the episodes a little bit.
I really liked "Allied: The Invasion Complex" featurette on The Flash portion of the 4-show crossover though I'm forever annoyed that the entire crossover isn't available in one place for those who want to see it. I get Supergirl not being included since that scene was reprised on The Flash, but even a recap would've been nice. Or, a separate release with the entirety of "Invasion!"
Yes, there's a gag reel. Yes, there's dancing. Yes, there's a Malfoy joke.
What's not so good? A featurette on time travel took the subject way too seriously and put me to sleep. And I LOVE time travel. I didn't love that featurette. Sorry-not-sorry.
Is It Worth It? Between the increased video quality and the sheer number of extras, The Flash: The Complete Third Season is absolutely worth owning on Blu-ray. You can order your copy from Amazon, where you will get a discounted price and support KSiteTV in the process!
Flash #7.3 Spoilers: Sue Dearbon Returns In "Mother"
Official CW description with spoilers for the Flash Season 7 episode "Mother" featuring the return of Sue Dearbon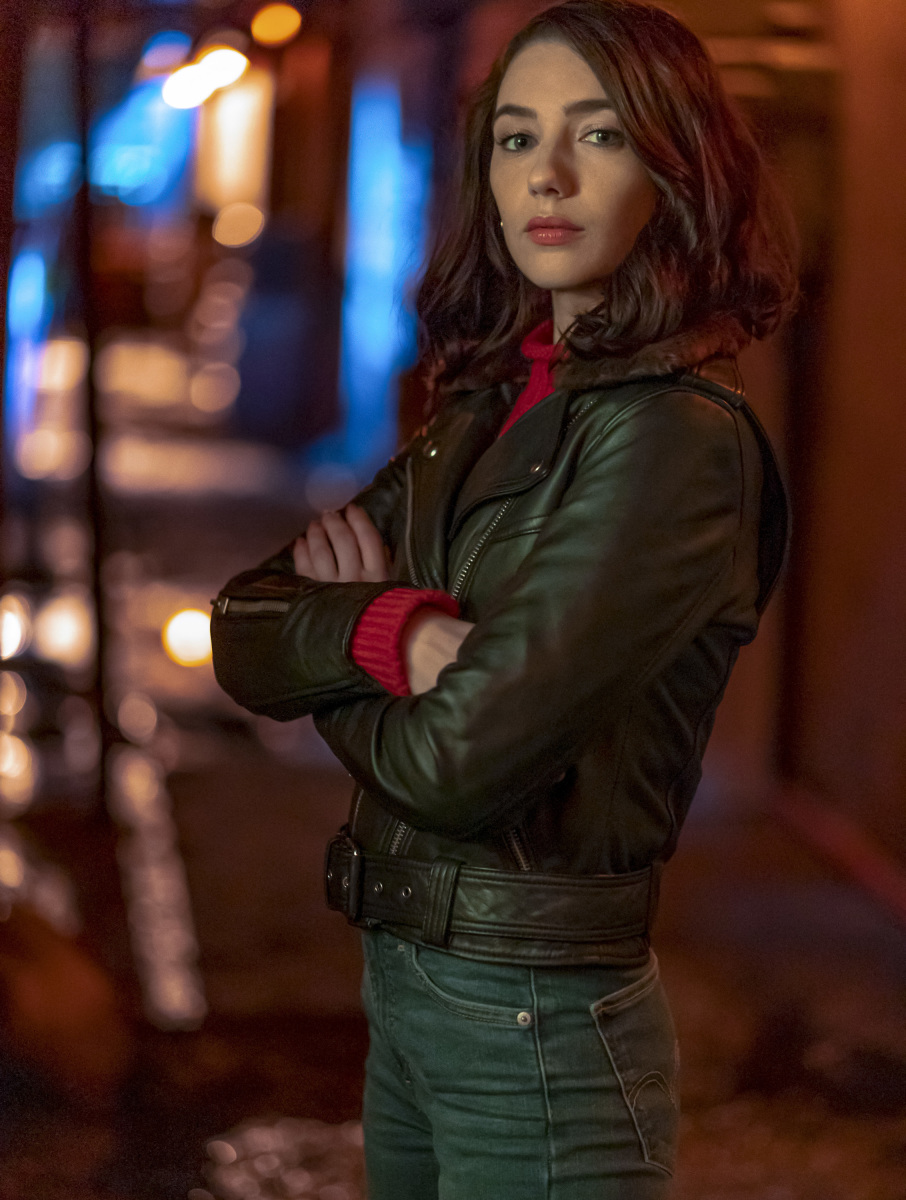 The CW has released an official description for the third episode of The Flash Season 7 which features the return of Natalie Dreyfuss as Sue Dearbon! It'll be interesting to see how they do this without Hartley Sawyer's Ralph character. In any event, the episode is called "Mother" and it airs March 16 on The CW. Here's the description; hopefully we will have some photos soon.
SUE DEARBON RETURNS – As Eva (guest star Efrat Dor) becomes more powerful, Barry (Grant Gustin) and team must find a way to stop her. They are shocked when an old friend – Sue Dearbon (guest star Natalie Dreyfuss) risks her life to help. David McWhirter directed the episode written by Eric Wallace & Kristen Kim (#703). Original airdate 3/16/2021.
Flash #7.2 Spoilers: "The Speed of Thought" Description
Official description with spoilers for The Flash Season 7 episode "The Speed of Thought"
The CW has released an official description for the second episode of The Flash Season 7 which is called "The Speed of Thought." The episode airs on March 9 and hopefully we will have some promotional photos soon.
Here's how The CW describes it:
BARRY GAINS A NEW SKILL – When Barry (Grant Gustin) suddenly gains the power of speed thinking, he attempts to use his new gift to save Iris (Candice Patton). While Barry is thrilled with his new power, Cisco (Carlos Valdes) is hesitant to trust it. Meanwhile, Eva (guest star Efrat Dor) must face a shattering truth. Stefan Pleszczynski directed the episode written by Jonathan Butler & Gabriel Garza (#702). Original airdate 3/9/2021.
John Wesley Shipp Returns As Earth-2 Flash on Stargirl
John Wesley Shipp will be playing The Earth-2 Flash in Stargirl Season 2.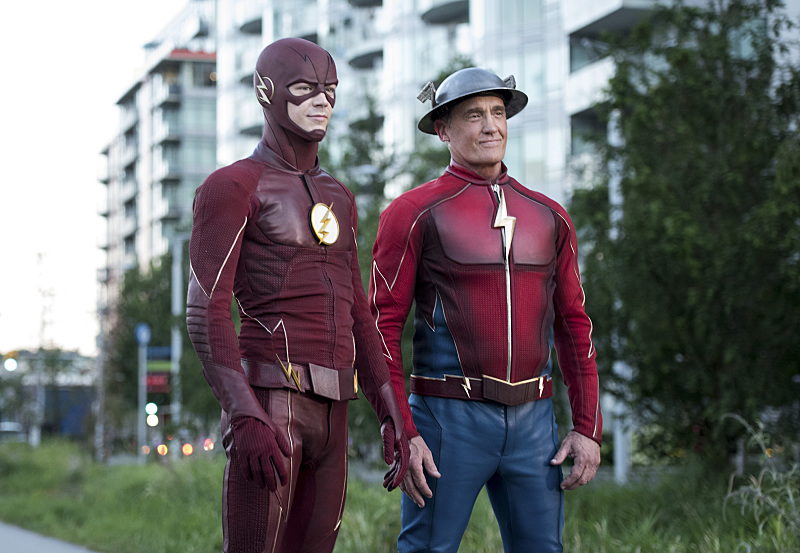 While his Flash of Earth-90 has sped off into the afterlife, John Wesley Shipp still has another old role to return to… with a more familiar background!
Jay Garrick will be firmly established as the Flash of Earth-2 – just like the classic comics – and John Wesley Shipp himself will be playing the role in the ninth episode of Season 2 of DC's Stargirl. Shipp – who starred in the 1990 Flash TV series and later played Henry Allen and Jay Garrick (living on Earth-3) on The Flash – will be reprising his role. EW broke the news today.
This casting, of course, reinforces Stargirl's role in the Arrowverse — yes, we are still calling it that, no matter what The CW wants us to say. The members of Stargirl's new generation of the Justice Society was, of course, seen at the end of Crisis on Infinite Earths as being the heroes of the new Earth-2.
No premiere date for Stargirl Season 2 has been announced yet, so it may be some time before Jay Garrick speeds in.
For more on Stargirl follow our Twitter feed for the show @StargirlTV!