Flash "All-Star Team-Up" Description – Felicity & Ray Visit!
Official CW description for the Flash episode All-Star Team-Up featuring Brandon Routh and Emily Bett Rickards from Arrow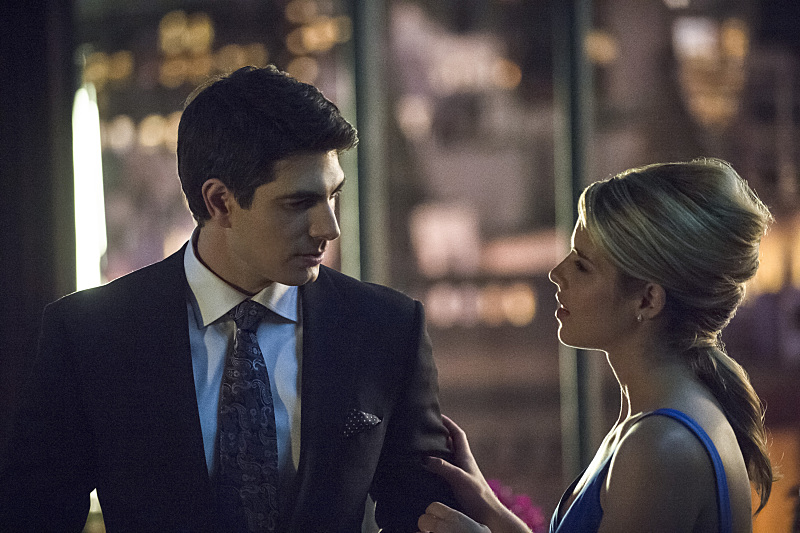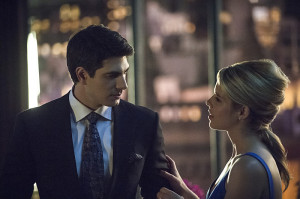 Emily Bett Rickards and Brandon Routh guest star in the April 14 episode of The Flash as Felicity Smoak and Ray Palmer, and it looks like Dr. Tina McGee (Amanda Pays from the original Flash series) is back too!
Here's the official description for "All-Star Team-Up" courtesy of The CW:
ARROW'S FELICITY SMOAK (EMILY BETT RICKARDS) AND RAY PALMER (BRANDON ROUTH) ARRIVE IN CENTRAL CITY; EMILY KINNEY ("The Walking Dead") GUETS STARS AS BRIE LARVIN — Barry (Grant Gustin) is surprised when Felicity Smoak (guest star Emily Bett Rickards) arrives from Starling City along with her boyfriend, Ray Palmer (guest star Brandon Routh), who flies in as the Atom. They've come to visit S.T.A.R. Labs as Ray needs help with his suit. Their timing turns out to be fortuitous because it's all hands on deck after a meta human named Brie Larvin (guest star Emily Kinney) unleashes hundreds of robotic bees to attack and kill her former co-workers, including Dr. Tina McGee (guest star Amanda Pays). A group dinner with Barry, Felicity, Ray, Iris (Candice Patton) and Eddie (Rick Cosnett) turns into a disaster. Kevin Tancharoen directed the episode written by Grainne Godfree & Kai Yu Wu (#118). Original airdate 4/14/2015.
Flash Season 7 Premiere Delayed To March 2
The Flash Season 7 premiere will now air on March 2.
Fans of The Flash might need a time machine, because The CW has pushed the Flash Season 7 premiere to March 2. Originally, the premiere had been set for February 23.
Why the delay?
It appears that the Superman & Lois pilot was running a bit long, so it's in a 90 minute time slot, where it will pair with a special titled "Superman & Lois: Legacy of Hope." As such, they needed the two hours of programming, and that put Flash further down in the schedule. On the bright side, this means that once episodes start going, there's less of a chance for pre-emptions and repeats.
Hopefully we'll still have Flash content, including clips and preview images, in the meantime, so follow @FlashTVNews on Twitter and we'll keep you updated!
Details about the Flash delay and the Superman & Lois special can be found here.
Jon Cor Is Chillblaine In The Flash Season 7
Jon Cor has landed the role of the villain Chillblaine in The Flash Season 7.
Today brings news from TV Line that Jon Cor (Shadowhunters) has been cast in the recurring role of Chillblaine in The Flash Season 7. A character who first appeared in Flash Annual #5 way back in 1992, Chillblaine at one point had possession of Captain Cold's chill gun as given to him by the Golden Glider. Here's how the TV show take on the character will play out, with a description also from TV Line: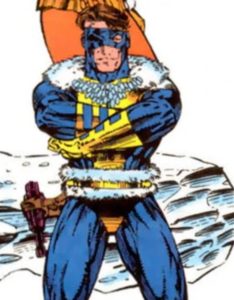 Scientist Mark Stevens is a charismatic bad boy obsessed with cryogenic technology. But when he's not breaking into corporate safes, he's busy breaking hearts with his irresistible charm and roguish style. Armed with his own cold weapons, he'll become a new thorn in the side of Team Flash as the DC Comics villain Chillblaine.
TV Line notes that there is currently no word of Peyton List reprising her role as Golden Glider. (Maybe Crisis on Infinite Earths can cause a recast to the other Peyton List? We're kidding.)
The Flash Season 7 is currently scheduled to premiere February 23 on The CW.
Flash Season 7: First Five Episode Titles Revealed
Titles for the first five episodes of The Flash Season 7 have been revealed.
The titles for the first five episodes of The Flash Season 7 have made their way on to the Internet, and while they're always subject to change prior to an official press release from The CW, these titles could be hints as to what is coming in our future.
The seventh season of The Flash is currently scheduled to premiere February 23, 2021 on The CW; most of the first episode of the season, "All's Well That Ends Wells," was shot prior to this year's COVID-19 pandemic. It has been speculated by some like Pagey that the third episode back, "Mother," is the conclusion of the Mirror Master storyline.
Here's the current schedule, as always subject to change:
Episode #7.1: "All's Well That Ends Wells" (2/23/21)
Episode #7.2: "The Speed of Thought" (3/2/21)
Episode #7.3: "Mother" (3/9/21)
Episode #7.4: "Central City Strong" (3/16/21)
Episode #7.5: "Fear Me" (3/23/21)
Follow @FlashTVNews on Twitter for more Flash Season 7 updates and if you're in the mood for more episode titles, take a look at what may be coming for the show's Tuesday night companion, Superman & Lois!