Flash Season 3 Blu-ray & DVD Cover Art & Extras Revealed
Details about the Flash Season 3 Blu-ray and DVD sets have been revealed.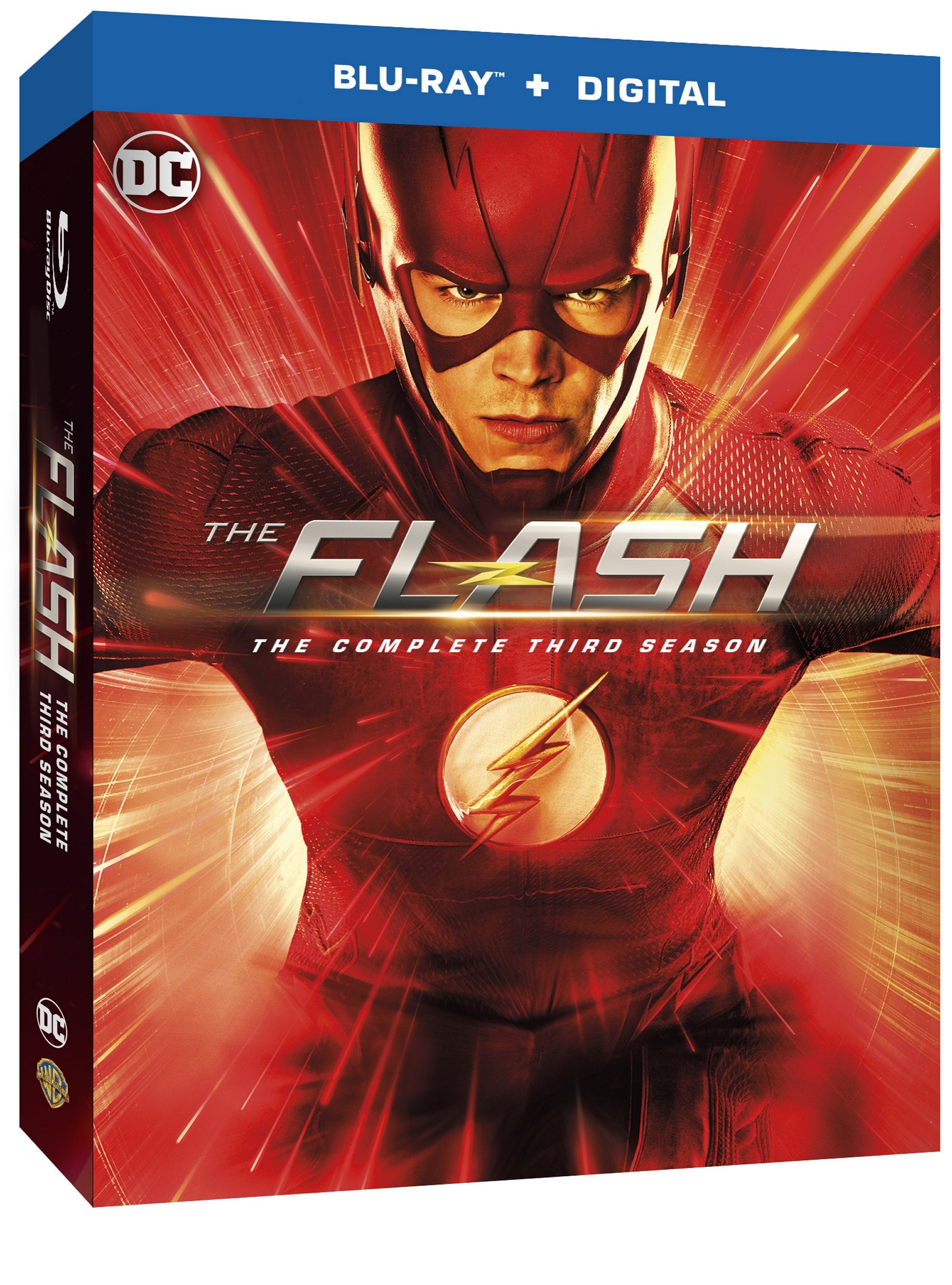 Warner Bros. Home Entertainment has released details and cover art for the September 5 release of The Flash: The Complete Third Season on Blu-ray and DVD.
You can find the press release below; please order through the FlashTVNews Amazon link so we can get a commission – all orders help keep this site alive, and there's a Pre-Order Price Guarantee!
THE FLASH: THE COMPLETE THIRD SEASON
Over Two Hours of Exciting Behind the Scenes Bonus Content, Including Five Crossover Featurettes, Deleted Scenes, Gag Reel, and much more!
Get the Blu-ray™ & DVD September 5, 2017
Before They Dash Off the Shelves
BURBANK, CA (May 31, 2017) – Just in time for the fourth season premiere of the #1 show on The CW, catch the fastest man alive as he zigzags through the action-packed release of The Flash: The Complete Third Season from Warner Bros. Home Entertainment on Blu-rayTM and DVD on September 5, 2017. Delivering 5 million Total Viewers per episode, The Flash is a Top 10 series on all broadcast with Men 18-34 (#7) and Men 18-49 (#10)⃰. Fans will be able to revisit all 23 electrifying episodes from the third season, including the DC-crossover episode, plus over two hours of extra content, including behind-the-scenes featurettes on the "Invasion!" cross over episode and the "Duets" musical episode, a conversation with Andrew Kreisberg and Kevin Smith, deleted scenes, and more. The Flash: The Complete Third Season is priced to own at $49.99 SRP for the DVD and $54.97 SRP for the Blu-rayTM which includes a Digital Copy. The Flash: The Complete Third Season is also available to own on Digital HD via purchase from digital retailers.
*Source: Nielsen National TV View Live + 7 Day Ratings, excluding repeats, specials, and
Struck by the supercharged fallout of a particle accelerator explosion, forensic scientist Barry Allen becomes the fastest man alive: The Flash! With his newfound time-warping speed and help from the S.T.A.R. Labs team – Caitlin Snow, Cisco Ramon and Harrison Wells – and his adoptive family, Detective Joe West and Joe's daughter Iris, the Scarlet Speedster runs circles around other metahumans set on wreaking havoc in Central City, while traveling between alternate universes and protecting our world from otherworldly threats. Last season, new dangers arrived from a parallel earth known as Earth-2, under the direction of an evil speedster named Zoom. In Season Three, Barry faces the unknown – as he irrevocably alters the timeline by saving his mother from the clutches of the Reverse-Flash. The only question now is – as he wrestles with the consequences of his own Flashpoint Paradox, including the wrathful Speed God Savitar – will he be able to find a way out?
"After three seasons, The Flash continues to score in ratings and ranks as the top series for The CW," said Rosemary Markson, WBHE Senior Vice President, TV Marketing. "Loaded with both in-depth and exclusive new bonus content, both fans of the show and DC fanboys will be eager to add the Blu-ray or DVD release to their collections."
With Blu-ray's unsurpassed picture and sound, The Flash: The Complete Third Season Blu-ray release will include 1080p Full HD Video with DTS-HD Master Audio for English 5.1. The 4-disc Blu-ray will feature a high-definition Blu-ray and a Digital Copy of all 23 episodes from season three.
The Flash stars Grant Gustin (Arrow, Glee), Candice Patton (The Game), Danielle Panabaker (Justified, Necessary Roughness), Carlos Valdes (Once), Keiynan Lonsdale (Insurgent), Tom Felton (Harry Potter films), with Tom Cavanagh (Ed, The Following), and Jesse L. Martin (Law & Order). Based on the characters from DC, The Flash is produced by Bonanza Productions Inc. in association with Berlanti Productions and Warner Bros. Television, with executive producers Greg Berlanti (Arrow, Supergirl, Blindspot, Riverdale), Andrew Kreisberg (Arrow, Supergirl, DC's Legends of Tomorrow), Aaron Helbing (Spartacus, Black Sails), Todd Helbing (Spartacus, Black Sails) and Sarah Schechter (Arrow, Riverdale, Supergirl).
BLU-RAY & DVD FEATURES
· The Flash: 2016 Comic-Con Panel
· A Flash in Time: Time Travel in the Flash Universe
· Villain School: The Flash Rogues
· Allied: The Invasion Complex (The Flash)
· Rise of Gorilla City
· The Flash: I'm Your Super Friend
· The Flash: Hitting the Fast Note
· Harmony in a Flash
· Synchronicity in a Flash
· A Conversation with Andrew Kreisberg and Kevin Smith
· Deleted Scenes
· Gag Reel
23 ONE-HOUR EPISODES
1. Flashpoint
2. Paradox
3. Magenta
4. The New Rogues
5. Monster
6. Shade
7. Killer Frost
8. Invasion!
9. The Present
10. Borrowing Problems from the Future
11. Dead or Alive
12. Untouchable
13. Attack on Gorilla City
14. Attack on Central City
15. The Wrath of Savitar
16. Into the Speed Force
17. Duet
18. Abra Kadabra
19. The Once and Future Flash
20. I Know Who You Are
21. Cause and Effect
22. Infantino Street
23. Finish Line
DIGITAL HD
The third season of The Flash is also currently available to own on Digital HD. Digital HD allows consumers to instantly stream and download all episodes to watch anywhere and anytime on their favorite devices. Digital HD is available from various digital retailers including Amazon Video, CinemaNow, iTunes, PlayStation, Vudu, Xbox and others. A Digital Copy is also included with the purchase of specially marked Blu-ray discs for redemption and cloud storage through participating UltraViolet retail services including CinemaNow, Vudu and Flixster Video.
Speculation: Does The Arrowverse "Armageddon" Event Take Place In The Future?
FlashTVNews' Craig Byrne speculates that the "Armageddon" Arrowverse crossover may take place in The Flash's future…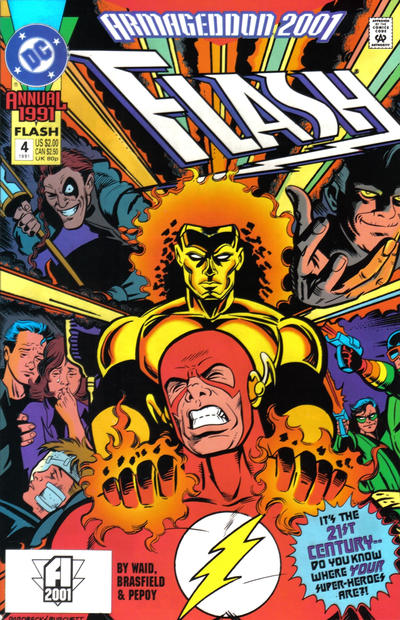 In 1991, DC Comics had a crossover that went through all of their comic book Annuals. The event was called "Armageddon 2001" and took place in the then-far future of the DC Universe. We got to see different outcomes for many characters, and the villainous Monarch was revealed to be one of DC's heroes.
Today, The CW announced this year's crossover event that kicks off The Flash Season 8. It's called "Armageddon" and some old favorites are back to join Barry, Iris, and Team Flash against whatever challenges they face – challenges that include Damien Darhk and Eobard Thawne/The Reverse Flash. Do note that both of those characters are known to travel through time — and that one of the returning heroes, Mia Smoak-Queen, is currently in the year 2040.
Who else is from the future? Recent Flash visitors Nora and Bart, the children of Barry and Iris. They were still in the present when we last saw them at their parents' vow renewal.
So, here's a prediction: What if this is an adaptation of "Armageddon 2001" but is instead "Armageddon 2051" or something like that? It would be a way to tie up loose ends like William's kidnapping from Green Arrow and the Canaries without actually having to see it. Likewise, we don't know for a fact that some of these guests are the 2021 versions; perhaps, for example, Black Lightning is an older Jefferson Pierce from the future, no longer retired?
But this also brings up another question: Where's the Superman & Lois representation?
If it is the future, could the Superman there be Jordan Kent? Or, like DC's recent "Future State" event which in many ways was like "Armageddon 2001" in previewing the future, a Jonathan Kent with powers? Being 20+ years older, it would necessitate a recasting for sure, so that would explain not being in the original announcement.
Surely, we'll know more between now and November when the event premieres. It is a bit weird that, if there is time travel, the Legends of Tomorrow aren't present aside from Ray Palmer who is no longer on the team. In any event, we're very, very curious….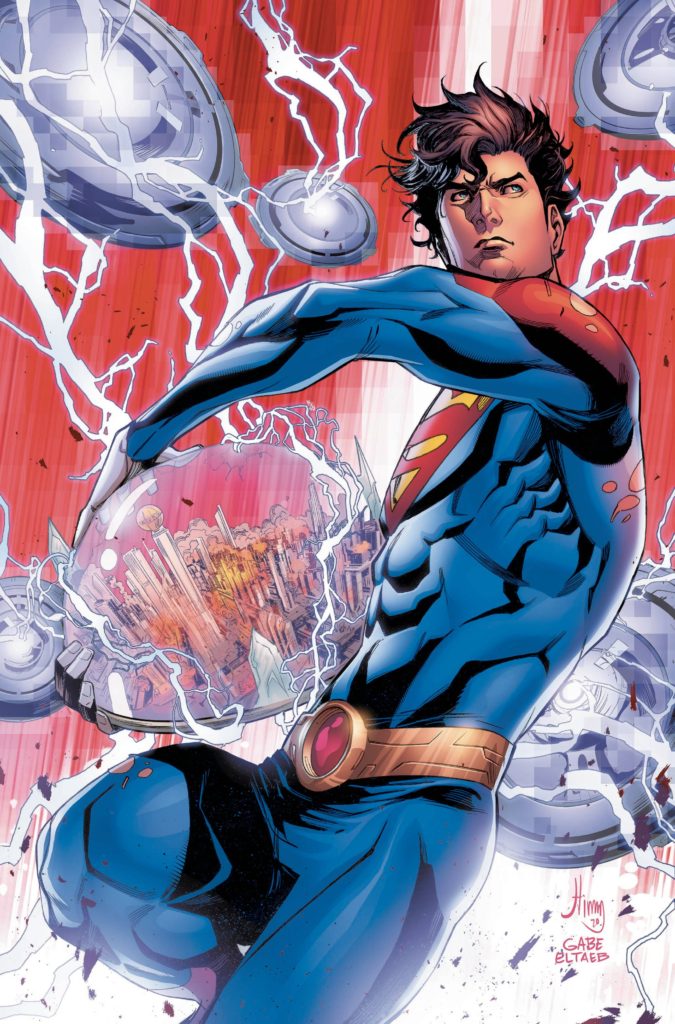 Flash Season 8 Event Details: Arrowverse Characters Return For Armageddon
Kat McNamara, Chyler Leigh, Brandon Routh, Cress Williams, Osric Chau, Javicia Leslie and more will be part of The Flash's "Armageddon" event.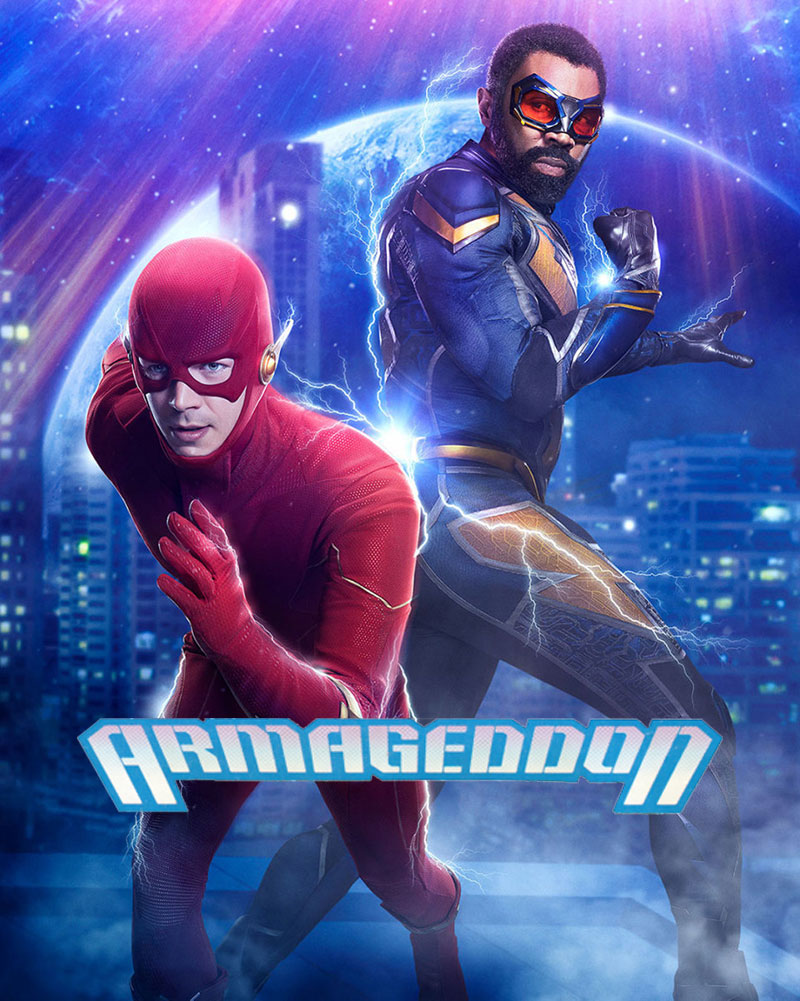 We've all known that The Flash Season 8 would begin with a five-part "event" — now, we know that the new season's crossover-like event will be called "Armageddon," and showing up in this event are some big heroes from across the Arrowverse.
In "Armageddon," a powerful alien threat arrives on Earth under mysterious circumstances and Barry (Grant Gustin), Iris (Candice Patton) and the rest of Team Flash are pushed to their limits in a desperate battle to save the world. But with time running out, and the fate of humanity at stake, Flash and his companions will also need to enlist the help of some old friends if the forces of good are to prevail.
Who's guest starring?
Javicia Leslie as Batwoman
Brandon Routh as The Atom
Cress Williams as Black Lightning
Chyler Leigh as Sentinel
Kat McNamara as Mia Queen
Osric Chau as Ryan Choi
Tom Cavanagh as Eobard Thawne/Reverse Flash
Neal McDonough as Damien Darhk
In some cases, this is the first time we will have seen some of these people in multiple seasons; it's also exciting that we will see Black Lightning and Alex Danvers so soon after the endings of Black Lightning and Supergirl.
Additionally, we will be seeing Mia Queen as played by Kat McNamara — last seen in the final episode of Arrow and whose spin-off Green Arrow and the Canaries did not go to series. Many fans have wanted to see Mia again, and here's their chance!
"Simply put, these are going to be some of the most emotional Flash episodes ever," Flash Executive Producer Eric Wallace said. "Plus, there are some truly epic moments and huge surprises that await our fans. And we're doing them on a scale that's bigger and bolder than our traditional Flash episodes. So yes, 'Armageddon' is a lot more than just another graphic novel storyline. It's going to be a true event for Flash and Arrowverse fans, old and new. Honestly, I can't wait for audiences to see what we've got planned."
The Flash Season 8 premieres Tuesday, November 16 on The CW. Follow @FlashTVNews on Twitter for the latest show updates!
Flash Finale Exclusive Clip: What Does August Heart Want?
Exclusive preview clip for the Flash season finale "The Heart of the Matter, Part 2" featuring Grant Gustin and Karan Oberoi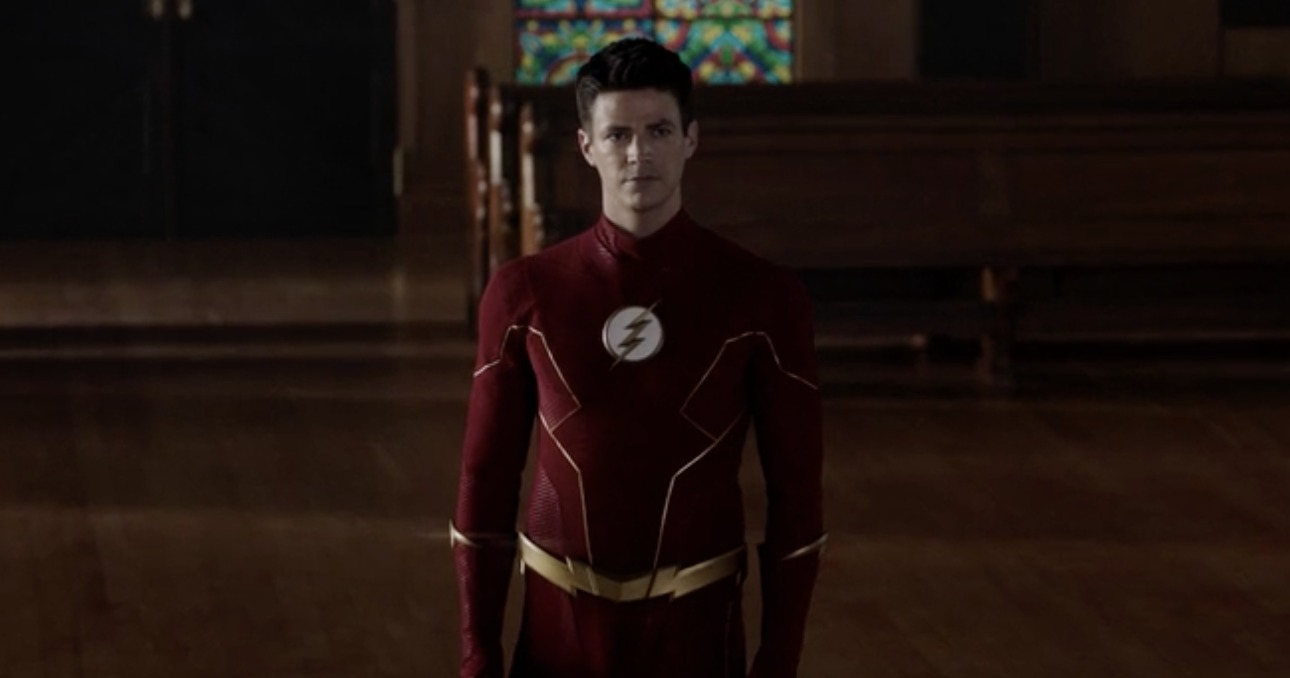 FlashTVNews has an exclusive clip from tonight's season finale of The Flash titled "The Heart of the Matter, Part 2." The episode airs at 8PM ET/PT tonight (July 20) on The CW.
The clip features a confrontation between Barry Allen a.k.a. The Flash (Grant Gustin) and August Heart/Godspeed (Karan Oberoi), where Barry wants to know what August Heart is trying to plan.
You can see the clip below; a description and preview images for "The Heart of the Matter, Part 2" can also be found underneath the clip.
THE FLASH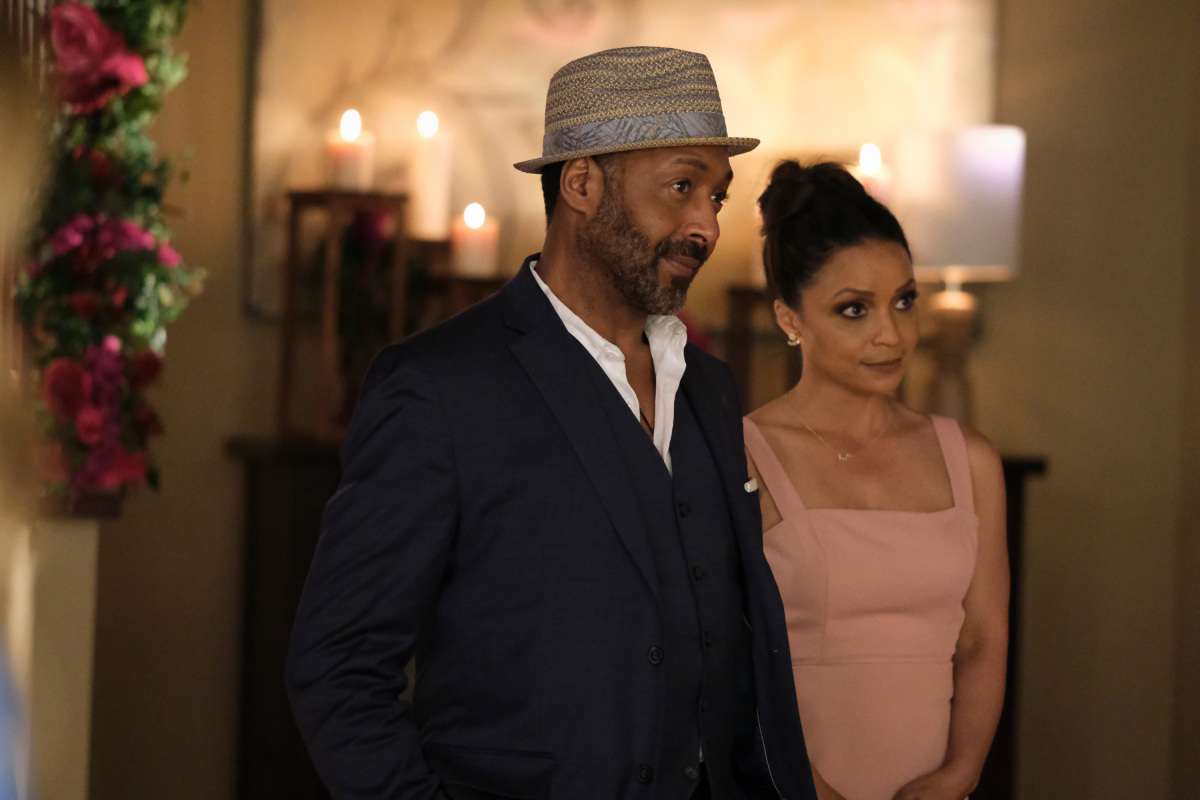 SEASON FINALE — The Flash (Grant Gustin) enlists a host of speedster allies, including Iris (Candice Patton) and his children from the future–Bart (guest star Jordan Fisher) and Nora West-Allen (guest star Jessica Parker Kennedy) — to end the speedster war and defeat a deadly new adversary: the villainous Godspeed (guest star Karan Oberoi). Marcus Stokes directed the episode written by Eric Wallace & Kelly Wheeler (#718). Original airdate 7/20/2021