Flash Spoilers: "Elongated Journey Into Night"
Official CW description with spoilers for the Flash episode "Elongated Journey Into Night"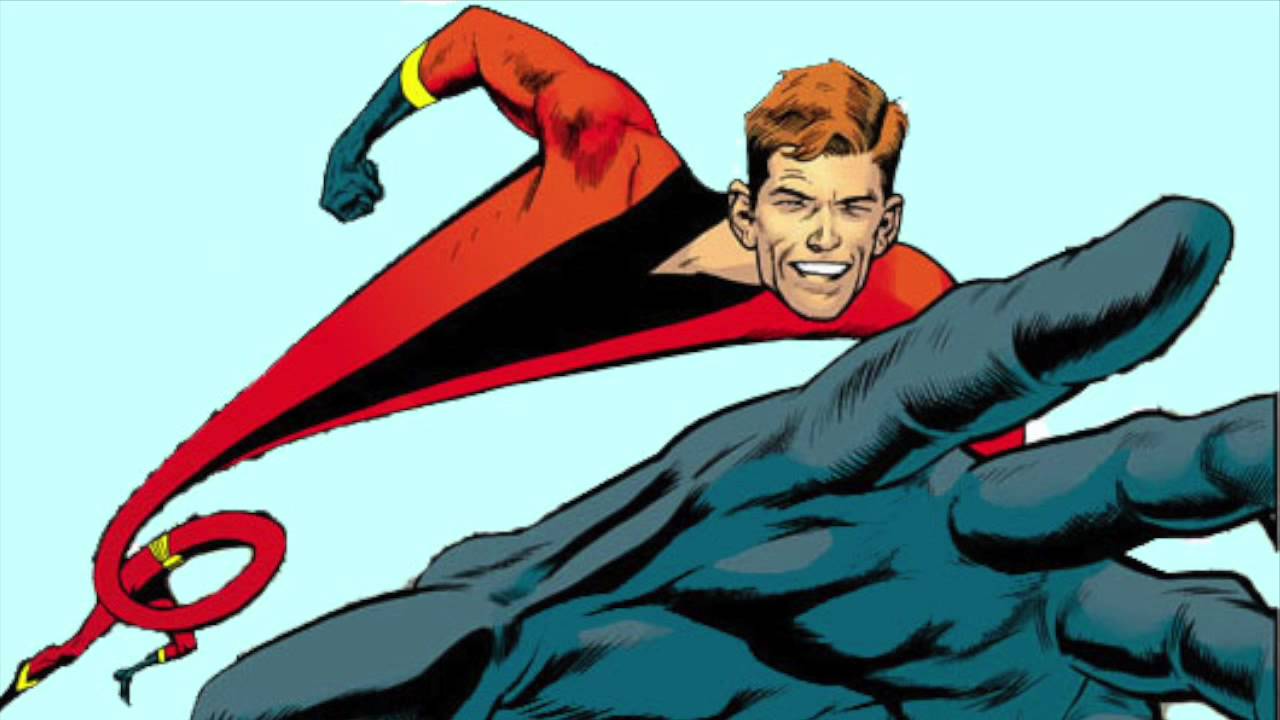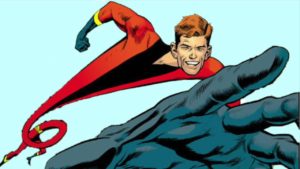 Hartley Sawyer makes his first appearance as Ralph Dibny, a.k.a. the Elongated Man, in the October 31 episode of The Flash.
The episode is called "Elongated Journey Into Night" and here's the write-up that The CW just released with some new spoilers:
TOM CAVANAGH DIRECTS; DANNY TREJO GUEST STARS AS BREACHER — Cisco (Carlos Valdes) is shocked when Gypsy's (guest star Jessica Camacho) father, Breacher (guest star Danny Trejo), shows up on Earth-1. Breacher takes an immediate disliking to Cisco and decides to hunt him. Meanwhile, Barry (Grant Gustin) runs into his old nemesis, Ralph Dibny (guest star Hartley Sawyer). Tom Cavanagh directed the episode written by Sterling Gates & Thomas Pound (404). Original airdate 10/31/2017.
Flash "Enemy at the Gates" Photos Released
Preview images with spoilers for the Flash TV series "Enemy at the Gates" airing June 29 on The CW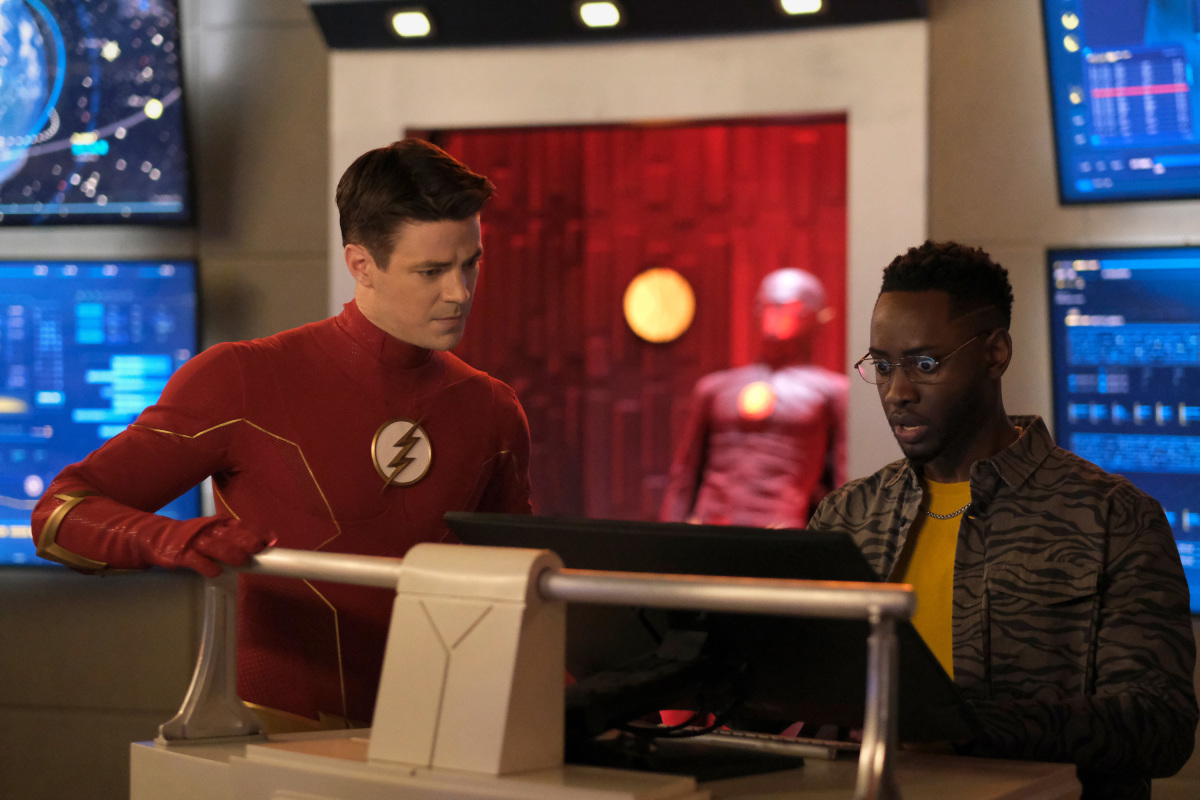 "Enemy at the Gates" is the title of the June 29 episode of The Flash and The CW has released some preview images! There are only six of them so far, but hopefully more are coming.
Here's how the episode is described; the gallery of stills can be found underneath the synopsis.
CHILLBLAINE IS RELEASED FROM PRISON — When an army of Godspeeds attack Central City, Barry (Grant Gustin) and Iris (Candice Patton) must put their family plans on hold and focus on the latest threat to their home. Meanwhile, Chillblaine (guest star John Cor) is released from prison and claims to be reformed but Frost (Danielle Panabaker) has her doubts. Geoff Shotz directed the episode with story by Jason V. Gilbert and teleplay by Thomas Pound (#715). Original airdate 6/29/2021
THE FLASH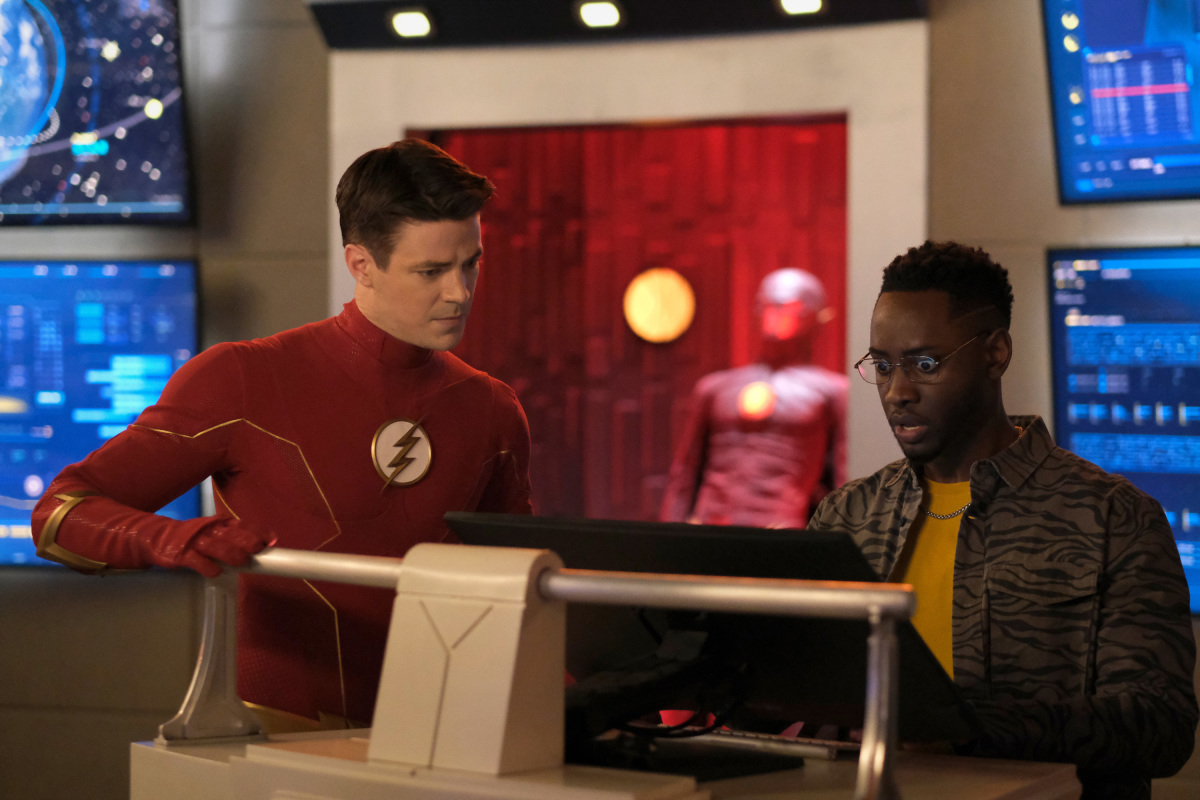 Picture 1 of 5
The Flash -- "Enemy At the Gates" -- Image Number: FLA715a_0070r.jpg -- Pictured (L-R): Grant Gustin as Barry Allen/The Flash and Brandon McKnight as Chester P. Runk -- Photo: Bettina Strauss/The CW -- © 2021 The CW Network, LLC. All Rights Reserved.Photo Credit: Bettina Strauss
Flash "Rayo de Luz" Preview Images Released
Preview images with spoilers for the Flash episode "Rayo de Luz" directed by Danielle Panabaker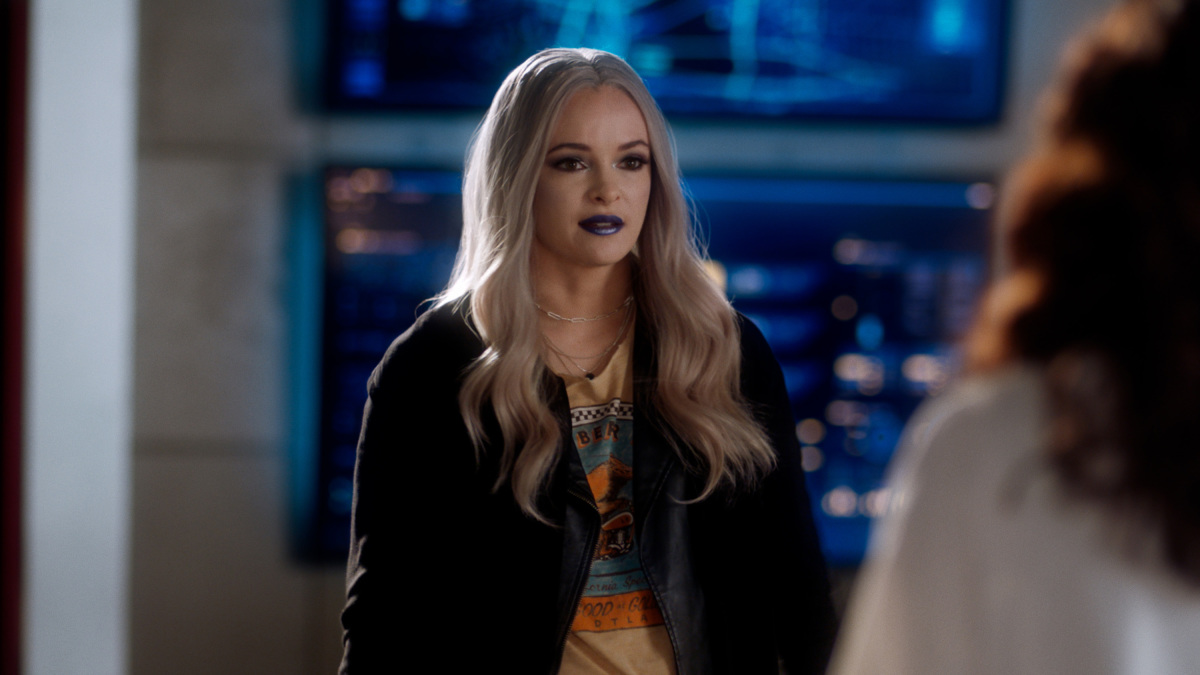 "Rayo de Luz" is the title of the June 22 episode of The Flash and The CW has released some preview images including some behind-the-scenes shots of director Danielle Panabaker!
Here's how the episode is described; the photos follow below.
DANIELLE PANABAKER DIRECTS – When Ultraviolet (guest star Alexa Barajas) returns to Central City, Allegra (Kayla Compton) is determined to find her cousin and change her heart, Meanwhile, Joe (Jesse L. Martin) finds evidence that Kristen Kramer (guest star Carmen Moore) may not be the good cop she appears to be. Danielle Panabaker directed the episode with story by Jess Carson and teleplay by Jonathan Butler & Gabriel Garza (#714). Original airdate 6/22/2021
Flash Post-Mortem: Danielle Nicolet on "Masquerade"
Interview with Danielle Nicolet about the things that happened with Cecile Horton in the Flash TV series episode "Masquerade"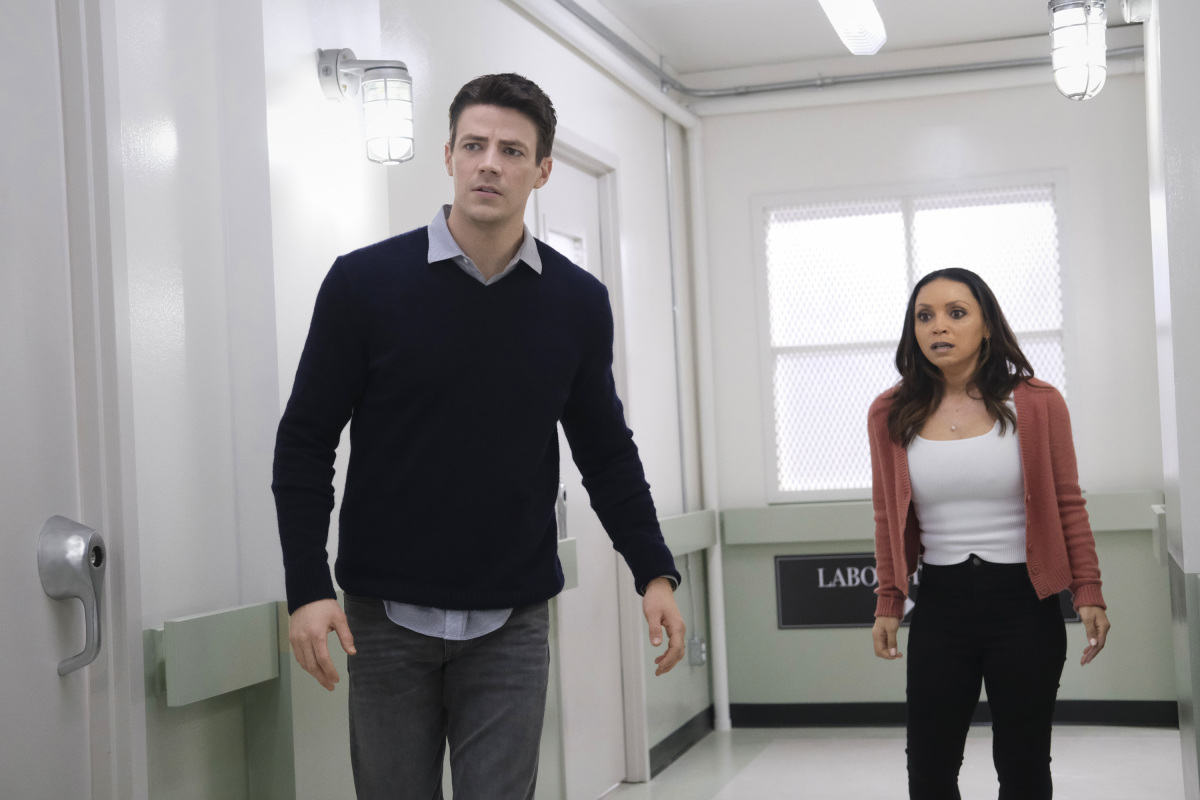 SPOILER WARNING: If you have not yet seen the June 15 episode of The Flash titled "Masquerade" read no further! You might, however, like our preview interview with Danielle Nicolet where we talk about some non-spoilery things!
The June 15 episode of The Flash was a showcase for the incredible talents of Danielle Nicolet who played multiple versions of Cecile all in one installment. When we interviewed her about this episode, there was a lot that had to be saved for after it had aired because so much was spoilery… but here we are for the scoop on what her character went through in "Masquerade!" Enjoy…
FLASHTVNEWS' CRAIG BYRNE: Can you talk about the subtle hints that you might have put into your performance to hint that Cecile is actually not really Cecile at several points in the episode?
DANIELLE NICOLET: There are quite a few, and I'm very curious to see if the audience will notice. It may take a second watch of the episode, because there's so much going on the first time you see it. But yes. I was very particular. I worked really hard with Rachel [Talalay, director of the episode] to decide what these little moments are. And some of it's extremely subtle. Fake Cecile dresses in all black, which is something that up into this point, Real Cecile is not generally a leather pants-wearing [person]. Tribal jewelry, she has like a very specific necklace on, and when Chester describes the history of the Psycho Pirate mask, you can see that it moves its way through Egypt, it's been through African tribes, and little things like that.
Each different iteration of Cecile has a different hairstyle. It's not super obvious, but we try to do little things like that to really physically differentiate Psycho Pirate Cecile. She walks differently than Real Cecile does. So just little things like that, that are beyond just those sort of more like "winks to the camera moments" where she has a line where she's gonna go change her outfit to do a little breaking and entering… I'm very curious to see if people notice.
Can you talk about that heist?
[Laughs] That was a lot of fun. Again, Rachel and I really did our best to collaborate on this. She wanted each of the three elements of the show – the being in the hospital with Barry, the heist aspect of things, and then when Psycho Pirate has Cecile fully in the mask and the transformation is complete… for each of them to have their own separate feel. So the hospital was shot like a horror film, The heist stuff was shot like a heist movie in the tonality, the visuals, and then the rest is shot as a traditional Flash episode.
The heist part was really, really, really fun. I enjoy repelling from the ceiling very much, even if it's in a comedic way. There's some neat stuff in that museum room. For example, I don't know if you're familiar with the original Poltergeist movie, but on one of the tables, there's a book in that movie that in it, they go through it, and they find out about the history of the land, and the fact that the housing complex was built on an ancient Indian burial ground all of that. That same book is in that scene, and it's open to the same page. It's our little personal homage to horror movies. There's lots of little stuff like that.
How awesome was it for you to see Cecile in the mask, and was it hard for you to see while the mask was on?
I had no peripheral vision, and as tough guy as I was behaving in those scenes, just know that I had to be walked to set with people holding my hands on either side of me, so as to not bump into the wall.
When you first signed on as a guest star on The Flash several years ago, did you ever expect to have such deep material and character building for Cecile?
I always knew I was signing on to a show that had really next level writing, so I certainly was hopeful. What I didn't know when I signed on initially was that Cecile was going to end up with powers. It was right about the time that I decided that I would do the show full time; I got a call from the showrunner at the time saying "hey, I want to pitch you this notion," and I don't think I've ever been so excited. I tried really hard not to scream on the phone with him, and I remember writing down on a piece of paper that I had on the dining table, in Sharpie, "THEY'RE GIVING ME POWERS" in all caps, and holding the paper up to my husband and jumping up and down, while I was trying to pretend like I was cool, calm, and collected on the phone at the same time.
What was your reaction when you read about Cecile's backstory in this episode?
I loved it. Eric Wallace, our showrunner, had given me a heads up that this was coming for quite some time. And, boy, when I got the first draft of the script, it was even better than what he told me was coming. I just couldn't believe it. Everything from the honest approach to mental health issues, and facing things like anxiety and depression, and the notion that we are afraid to share how we feel and that people will judge us, and so we suppress it, and we end up manifesting that anxiety and depression in other unexpected ways in our lives. That, in and of itself, is such an important message to me, just personally, I know personally to Eric, and the fact that he could take something as cool as the Psycho Pirate mask showing up on the Cecile and at the same time, have this be a story about the importance of mental health awareness and us taking care of ourselves and each other… that was, to me, it was one of the best scripts I've ever read. I'm so I'm so pleased, and I'm so proud that my character got to be the one who played it.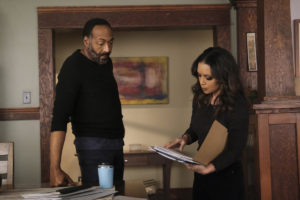 What is it like to work with an icon like Jesse L. Martin in so many scenes?
He sings all the time, just randomly, and he has no idea how amazing that is for everyone around him. So when he sings, you just sort of like sit down and let him go. [Laughs]
Jesse and I, from the moment we started working together, we've always just had a really good energy and vibe with each other. He's just such a profoundly talented human being. It's a gift to get to work with him. I'm really lucky. I get to work with some super awesome people on this show.
Did you want to say anything specific about working with Grant Gustin so much this week?
Oh, I had the time of my life. We both did. Grant knows – it's no secret that he's one of my top 10 favorite people on the planet. He knows how much I adore him. We really felt like we were making a little movie all by ourselves for a few days of this episode, and we both really, really enjoyed it. The few days that we were trapped in that hospital together were some of my favorite acting days on this show, in all the years that I've been on it.
And what was it like to be able to act opposite yourself?
Pretty challenging! [Laughs] It was really neat to learn the process of that. Our director, Rachel Talalay, is so experienced and so talented, and she allowed me to just hang around all the time, so I got to learn how we were going to do this. There is a whole other person who looks like me, and very physically similar to me, who was an amazing actress, and she learned all of my material for the entire episode, the same as me, and so, whenever I was acting to myself, this other actress was performing my lines for me, and then I would go change and turn around and do it on the other side, and then she would be the other me. And then sometimes, it had to be both of us with Grant. So, poor Grant, he had to have "me squared" at all times.
The process of how that's done, technically, in order for it to play the way it does, was really, really neat to learn. Some of it's like new school technical and some of it was straight up old school, like "Dani, go stand there in the corner, and we're gonna turn the camera really fast, so that we can't tell that that other one isn't really you."
Will we ever see Cecile's older daughter Joanie again?
I hope so. I think that in the comics, Joanie is a speedster, so I imagine that there may be an opportunity for her to find her way back to the show in an in an interesting way. I really think that is an Eric Wallace question more than it is me, but he always seems to find really fantastic ways to bring characters back.
When are Joe and Cecile going to get married already?
That is a very good question that I highly recommend you run past Eric Wallace, our showrunner, who will laugh when you do, because I asked him the same question all the time.
Do you think Cecile should be the one to propose?
Oh, my gosh. Craig, that's such a good idea! Am I allowed to steal that? Because I will one hundred percent call Eric and say "hey, guess what? How about this?" That's such a cool idea. Yes, I definitely think that Cecile should propose.
Our thanks to Danielle Nicolet for taking the time to speak with us! New episodes of The Flash air Tuesdays on The CW.