Grant Gustin Thanks The Fans & His Fellow Castmates
Grant Gustin has penned a heartfelt message to his fans.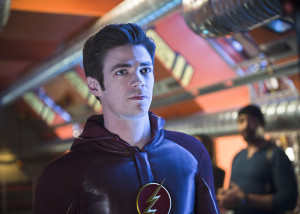 In anticipation of Tuesday's Flash season finale, Grant Gustin took to Facebook and proved that he is one of the kindest and most gracious actors in the television universe.
Here's what he posted. Needless to say, we thank YOU, Grant, for doing such a great job with Season 1, creating a Barry Allen that we can all root for. (Don't mess up the timeline too much on Tuesday though, okay?)

It's happening, guys. The finale is finally here. THIS TUESDAY. It was a long, emotional season and it's all about to come to an end. Well, there will be some closure at least. It is the season finale of The Flash after all.. it can't be ALL sunshine and smiles. You'll just have to come back for season 2.

Check out the trailer if you please. I do suppose it could be considered SOMEWHAT spoilery. As usual though, it does not reallyyyyyy give away any of the big reveals..

AGAIN, I thank all of you from the bottom of my heart for tuning in to our show all season and making it the hit that it has become. Every time I stop and think about the fact that I get to play The Flash and Barry Allen and there are people out there that love our show… I can't even fully explain it to be honest. It almost feels like I'm watching it happen to someone else at times. I will always feel grateful for getting to do what I love to do and now I have all of you to thank for helping me get to do that, AND on what I think is a ground breaking show led by geniuses Greg Berlanti, Andrew Kreisberg & Geoff Johns. I really believe they are the perfect people to be bringing this iconic character to life. They love this character & they're incredibly passionate about getting him right. They're also pretty okay guys and I love working with them. I feel incredibly lucky.

I also feel very lucky to get to work with the cast & crew every single day on this show. We have spent some lonnnggggg days & nights together and we all know how challenging it was to make every single one of the 23 episodes we made this season. I have so much respect for every person I got to work with on this first season. It was no joke.

I especially love our cast. Jesse, Tom, Candice, Danielle, Los & Pretty Ricky. The "we moved to Canada to make this tv show" group. I love you all. You inspire me every day and getting to work with you is a dream. Our show doesn't accidentally rock. It's because you all bust your butts because you want to and it's fun. I can't wait to start season 2 with you.

I can't not mention awesome cast members John Wesley Shipp, Patrick Sabongui, Robbie Amell, Stephen Amell, Emily Bett Rickards, Brandon Routh, Paul Blackthorne, Katie Cassidy, Wentworth Miller, Dom Purcell, Victor Garber, Liam McIntyre, Malese Jow, Clancy Brown, Michelle Harrison, Logan Williams, Greg Finley, Chad Rook, Nicholas Gonzalez, Andy Mientus, Emily Kinney, Paul Anthony, Anthony Carrigan, Dani Nicolet, Britne Oldford, Micah Parker, Devon Graye, Chase Masterson, Doug Jones, Peyton List, Kelly Frye, Roger Howarth, Michael Smith, Matt Letscher, Michael Reventar, Amanda Pays, Isabella Hofmann, Jeremy Schuetze, Robert Knepper, Vito D'Ambrosio, Al Sapienza, David Ramsey, William Sadler & Mark Hamill. I realize that's a long list of people, but for me being relatively "new" to the business and having never been a regular a show before, getting to work with all of those actors and watching them help bring our show to life always made it feel like that much more of an authentic world to me. Those are some heavy hitters and bad ass actors on that list. SO i guesses I should also thank David Rapaport for bringing all of them to us and for jump starting this opportunity for me as well.

OKAY.

I apologize for the ramble.

Thank you for putting up with it if you made it through all of my poor grammar and absurd train of thought.

Point is…thank you & watch the season finale please.
Jon Cor Is Chillblaine In The Flash Season 7
Jon Cor has landed the role of the villain Chillblaine in The Flash Season 7.
Today brings news from TV Line that Jon Cor (Shadowhunters) has been cast in the recurring role of Chillblaine in The Flash Season 7. A character who first appeared in Flash Annual #5 way back in 1992, Chillblaine at one point had possession of Captain Cold's chill gun as given to him by the Golden Glider. Here's how the TV show take on the character will play out, with a description also from TV Line: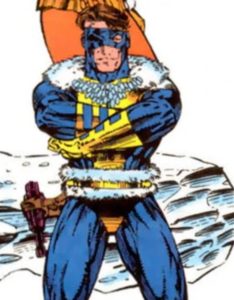 Scientist Mark Stevens is a charismatic bad boy obsessed with cryogenic technology. But when he's not breaking into corporate safes, he's busy breaking hearts with his irresistible charm and roguish style. Armed with his own cold weapons, he'll become a new thorn in the side of Team Flash as the DC Comics villain Chillblaine.
TV Line notes that there is currently no word of Peyton List reprising her role as Golden Glider. (Maybe Crisis on Infinite Earths can cause a recast to the other Peyton List? We're kidding.)
The Flash Season 7 is currently scheduled to premiere February 23 on The CW.
Flash Season 7: First Five Episode Titles Revealed
Titles for the first five episodes of The Flash Season 7 have been revealed.
The titles for the first five episodes of The Flash Season 7 have made their way on to the Internet, and while they're always subject to change prior to an official press release from The CW, these titles could be hints as to what is coming in our future.
The seventh season of The Flash is currently scheduled to premiere February 23, 2021 on The CW; most of the first episode of the season, "All's Well That Ends Wells," was shot prior to this year's COVID-19 pandemic. It has been speculated by some like Pagey that the third episode back, "Mother," is the conclusion of the Mirror Master storyline.
Here's the current schedule, as always subject to change:
Episode #7.1: "All's Well That Ends Wells" (2/23/21)
Episode #7.2: "The Speed of Thought" (3/2/21)
Episode #7.3: "Mother" (3/9/21)
Episode #7.4: "Central City Strong" (3/16/21)
Episode #7.5: "Fear Me" (3/23/21)
Follow @FlashTVNews on Twitter for more Flash Season 7 updates and if you're in the mood for more episode titles, take a look at what may be coming for the show's Tuesday night companion, Superman & Lois!
Report: The Flash Temporarily Pauses Production
Deadline is reporting that The Flash has temporarily paused production due to a positive COVID-19 test.
Deadline is reporting that The Flash production in Vancouver has temporarily paused after someone working on the series has tested positive for COVID-19. Here's what they had to say about what has happened:
"The asymptomatic diagnosis was confirmed through the rigorous testing protocols implemented by The Flash studio Warner Bros. TV for all of its production employees. Out of an abundance of caution, production on The Flash has been temporarily suspended and contact tracing has been initiated. According to sources, the studio is currently evaluating adjustments to the production schedule in order to resume filming without the affected employee and potential close contacts, who are self-isolating."
The Deadline piece also noted that The Flash isn't the only show to shut down production for this reason. Each series that has returned to production has implemented strong safety protocols which involve their casts and crews frequently testing. It is our hope that this team member remains asymptomatic and that everyone stays safe and healthy on The Flash and every other production that has resumed.
The Flash Season 7 is scheduled to premiere February 23 on The CW.