The Flash: Eight Things About The Supergirl Musical Crossover "Duet"
Eight teases about the Flash/Supergirl musical crossover titled "Duet"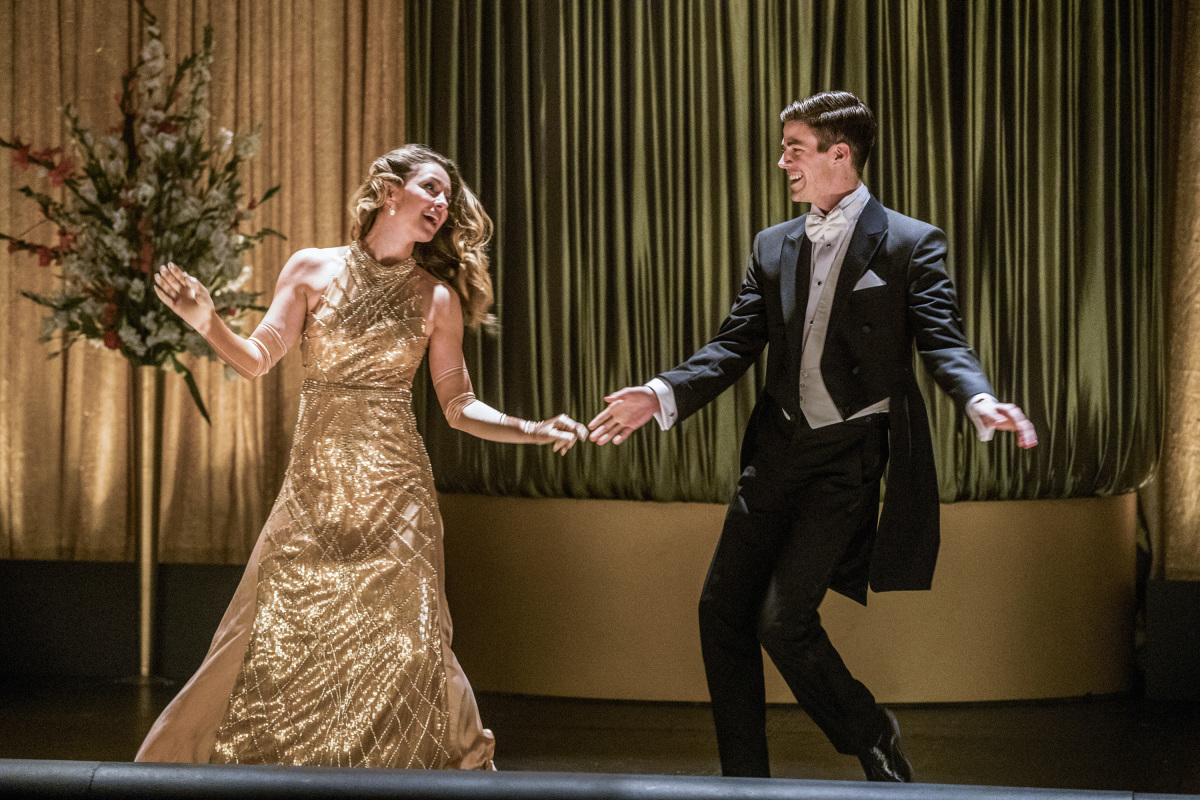 The Flash finally took advantage of the fantastic voices in the Arrowverse (and beyond) with this Tuesday's episode "Duet" which sees the characters in a musical setting and brings Supergirl's Melissa Benoist and fellow cast members from her show into The Flash's world.
My own personal review is being hosted at ComicBook.com, but beyond that: How about eight teases on what to look forward to?
Broken Hearts. Barry and Iris just called off their engagement. Kara recently learned that Mon-El had been lying to her for months. What better way to soothe a hurting heart than a musical? Bonus: There's even a flashback to Nora Allen (Michelle Harrison) and Barry watching "Singin' In The Rain" at the top of the episode.
There's No Place Like Home. While Barry and Kara are themselves in the musical, other characters may look like people they know, but they aren't. John Barrowman is a club owner/gangster with a son named Tommy, which I assume is an inside joke, even if not an intentional one. Victor Garber is also a part of that world, as are Carlos Valdes and Jeremy Jordan. Jesse L. Martin is there, too, but there's a surprise involved with that which should lead to a lot of amusement. There may be another character or two who exists in that musical world, but you'll have to watch and discover it for yourself.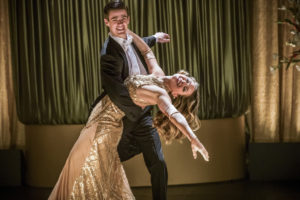 The Songs. Without looking it up, I'm assuming "I'm Your Super Friend" is the song written by Crazy Ex-Girlfriend's Rachel Bloom because it felt like it was right out of that show. Gustin and Benoist perform separately on some songs, but this one in particular highlights and takes advantage of their musical talent and chemistry together. "Runnin' Home To You" sung by Grant Gustin and written by the award-winning Benj Pasek and Justin Paul is the song to look for with the most emotional resonance.
A Musical Past Remembered. Caitlin brings up that she knows Barry has a great voice — a callback to that Season 1 episode where they did karaoke together.
Snow in Central City. Vancouver was getting a rare snow at the time of this episode's filming, so if you'd like to see what Kid Flash, Vibe, and the Martian Manhunter vs. a villain in the snow looks like, you'll be in luck.
Speaking of the Martian Manhunter… Other characters' reaction to him is fun.
Darren Criss! That's all that I need to say there. I'm surprised there wasn't a slushie joke.
Watch To The Very Last Minutes. Again, self-explanatory.
The Flash "Duet" airs this Tuesday, March 21 on The CW, with some setup happening in Monday's Supergirl. Photos from the Flash episode can be found below.
Flash Spoilers: "The People v. Killer Frost"
Official CW description with spoilers for The Flash episode "The People v. Killer Frost"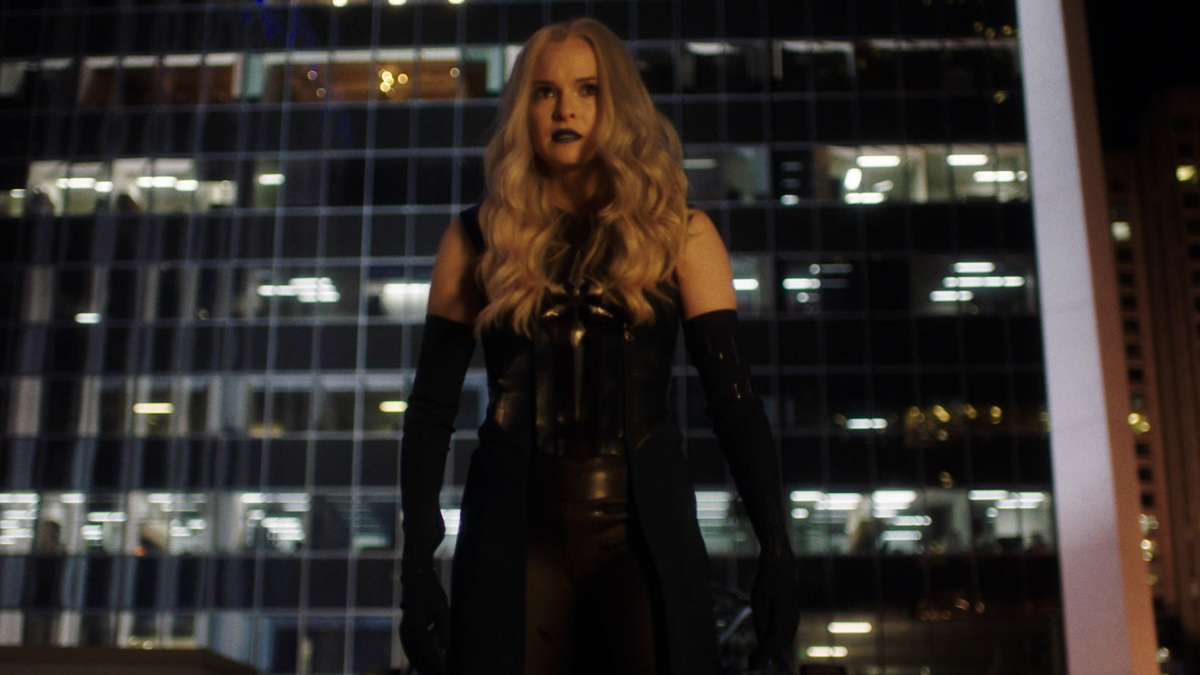 "The People v. Killer Frost" is the title of the Tuesday, May 4 episode of The Flash and The CW has released a spoiler description to promote it! Hopefully that means we'll have some photos as well. Here's the description:
CAITLIN FIGHTS TO CLEAR FROST – With Frost (Danielle Panabaker) facing an unjust punishment for her past crimes, Caitlin goes to great lengths to save her sister. Meanwhile, Barry's (Grant Gustin) efforts to protect Speed Force Nora (guest star Michelle Harrison) lead to a shocking discovery. Sudz Sutherland directed the episode written by Jonathan Butler & Gabriel Garza (#708). Original airdate 5/4/2021
Follow @FlashTVNews on Twitter to keep up with Flash updates!
Flash "Growing Pains" Preview Images Released
Preview images with spoilers for the Flash episode "Growing Pains"
Show me that smile again…. The CW has released official photos from a Killer Frost-centric episode of The Flash airing April 13 which is called "Growing Pains."
You can find the gallery of photos below; but first, a description:
FROST MUST FACE HER PAST — When a mysterious ice powered enemy frames Frost (Danielle Panabaker) for a brutal crime, she must find a way to clear her name. Meanwhile, Barry (Grant Gustin) and Iris (Candice Patton) have a surprise houseguest, and Joe (Jesse L. Martin) continues to deal with Kristen Kramer (guest star Carmen Moore). Alexandra La Roche directed the episode written by Sam Chalsen & Jess Carson (#707). Original airdate 4/13/2021.
Flash Photos: "The One With The Nineties"
Preview images with spoilers for The Flash TV series episode "The One With The Nineties"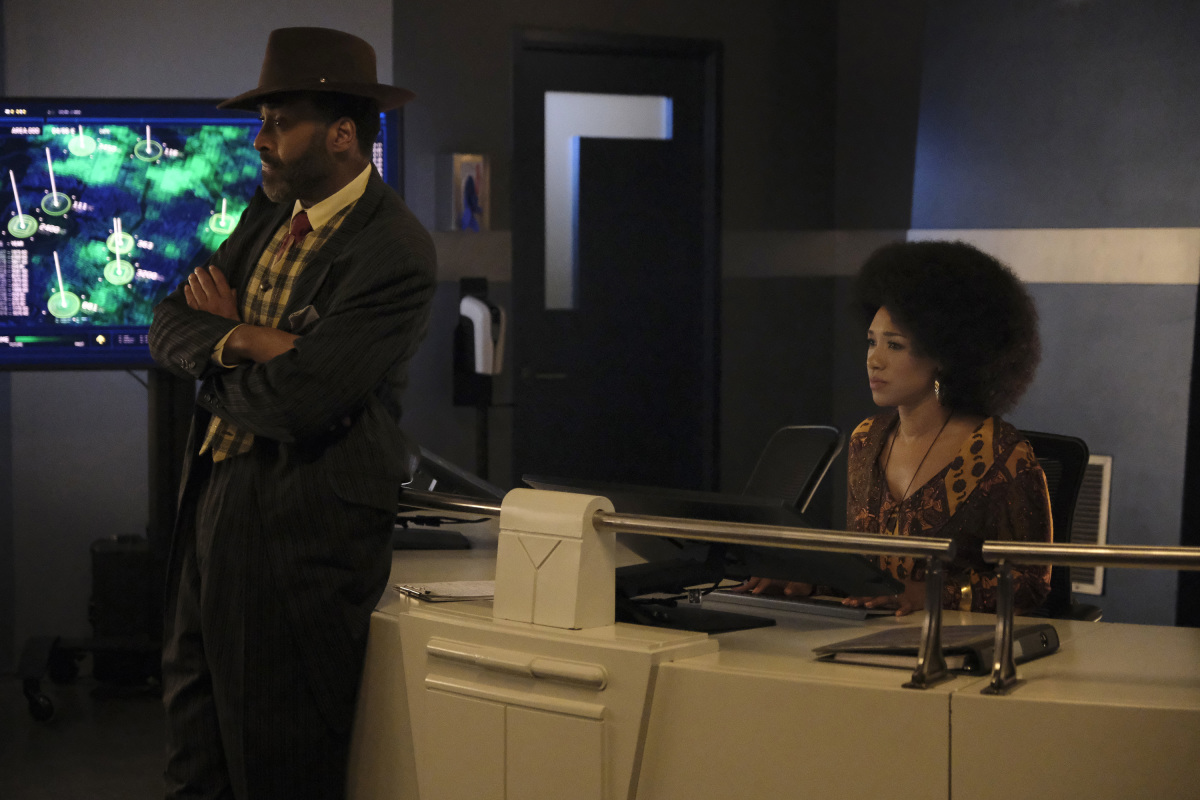 The CW has released some photos to promote the April 6 episode of The Flash which is called "The One With The Nineties"… and we're over here wondering, "why does Iris look like she's styled from the Seventies?"
In any event, the gallery of photos can be found below, and a description with some spoilers for the episode can be found underneath the gallery. Enjoy!
Follow @FlashTVNews on Twitter to keep up with the latest Flash TV news!
THE FLASH
Picture 1 of 13
The Flash -- "The One With The Nineties" -- Image Number: FLA706a_0018r.jpg -- Pictured (L-R): Michelle Harrison as Nora Allen, Grant Gustin as Barry Allen, Candice Patton as Iris West - Allen and Danielle Panabaker as Caitlin Snow -- Photo: Katie Yu/The CW -- © 2021 The CW Network, LLC. All rights reserved
CISCO AND CHESTER GO BACK IN TIME — Cisco (Carlos Valdes) and Chester (Brandon McKnight) travel back in time and get stuck in 1998, repeating the same day over and over again. The key to returning home is at Chester's childhood home but he refuses to visit. Meanwhile, Iris (Candice Patton) forges a connection with the speed force. Jeff Byrd directed the episode written by Kelly Wheeler & Emily Palizzi (#706). Original airdate 4/6/2021.