1990s Barry Allen John Wesley Shipp Talks About Grant Gustin & The Flash
John Wesley Shipp reflects on playing the Flash and looks forward to Grant Gustin's take on the role.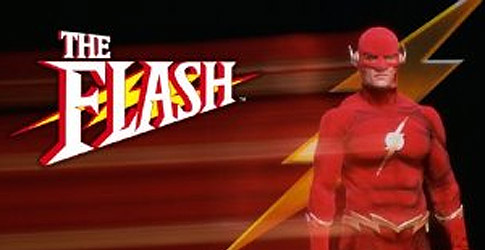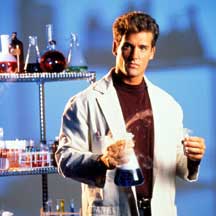 Twenty-three years ago, CBS premiered a high-budget series based on The Flash that they had so much confidence in, they put it on Thursday nights opposite some of the toughest competition on television. At the time, it was one of the most expensive TV series ever.
Playing Barry Allen in that series was John Wesley Shipp, who many may remember from his many other roles which have included soaps, Dawson's Creek, and even a short recent run on MTV's Teen Wolf.
Shipp recently did a guest spot on the "Out Loud and Live!" podcast with J.C. Alvarez, where he looked back on his Flash experience but also looked to the future, as Grant Gustin who, after 22 years of no Flash on TV, finally takes up the red suit.
"The first thing I thought when I saw Grant, I thought he's aerodynamic," Shipp said about his reaction to the casting of TV's new Barry Allen. "That's the modern sensibility. Back in the 90's, everything had to be big muscle, but let's face it: We had to cut down the suit. If you'll watch, we pared it down as it went on, because it just didn't make sense. But I thought he's very aerodynamic, the way he's built. It's a good look."
The former Flash is also aware of the many connections he and Grant Gustin have. "There are striking similarities between Grant and I. People were complaining. 'Why is this guy playing a superhero? He just got through playing a villain!' Well, both my Emmys were as a psychotic would-be rapist and a woman abuser. We were both born in Norfolk, Virginia. How's that for a coincidence?" Mr. Shipp enthused.
Shipp has encouraged his fans to watch the Barry Allen Arrow episodes if they want to see more of the character and an actual spin-off show. "I wish him all the best. In fact, I've said 'come on. How long have we waited? You want a Flash series? You better get into Arrow and support Grant, because they can say they're gonna spin off, but you need to give him and them support so the series actually materializes," he said.
If a Flash series does go, would Mr. Shipp be willing to return to Central City sometime, in a different role?
"If it was the right fit. You know what? I'm not holding my breath. In fact, I so wanted my audience not to go in critically judging Grant so that I put a series of things saying that. 'Let's get behind him, let's support him,' and I stopped, because people began to say 'well, you need to be on that show, and if you're not on that show…' and I said 'Okay. Now it's looking like I'm campaigning to be on that show, which I'm not'," he said. "If that happens and it works, that's great. And if it doesn't, that's great and I wish them well."
You can listen to the entire [very fascinating] podcast appearance of John Wesley Shipp on "Out Loud and Live!" here.
Report: The Flash Temporarily Pauses Production
Deadline is reporting that The Flash has temporarily paused production due to a positive COVID-19 test.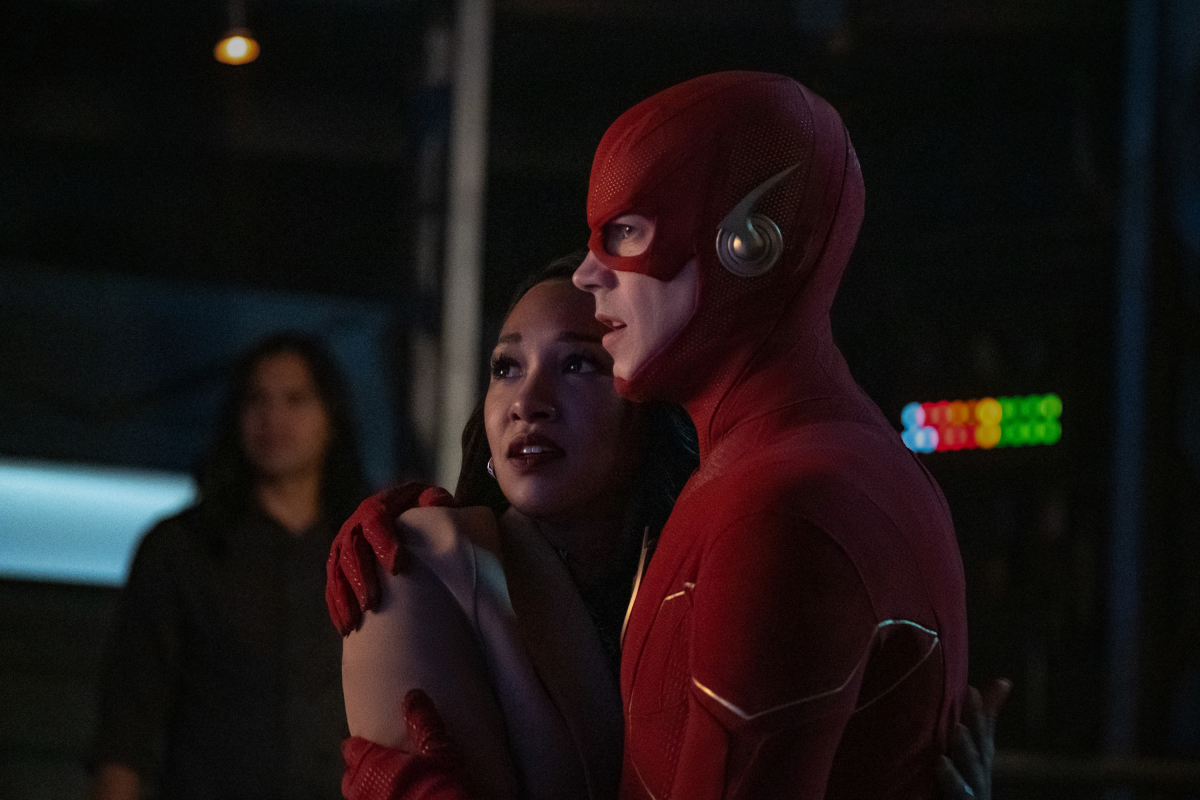 Deadline is reporting that The Flash production in Vancouver has temporarily paused after someone working on the series has tested positive for COVID-19. Here's what they had to say about what has happened:
"The asymptomatic diagnosis was confirmed through the rigorous testing protocols implemented by The Flash studio Warner Bros. TV for all of its production employees. Out of an abundance of caution, production on The Flash has been temporarily suspended and contact tracing has been initiated. According to sources, the studio is currently evaluating adjustments to the production schedule in order to resume filming without the affected employee and potential close contacts, who are self-isolating."
The Deadline piece also noted that The Flash isn't the only show to shut down production for this reason. Each series that has returned to production has implemented strong safety protocols which involve their casts and crews frequently testing. It is our hope that this team member remains asymptomatic and that everyone stays safe and healthy on The Flash and every other production that has resumed.
The Flash Season 7 is scheduled to premiere February 23 on The CW.
Flash Season 7 Premiere Date Revealed
The CW has revealed a premiere date for The Flash Season 7.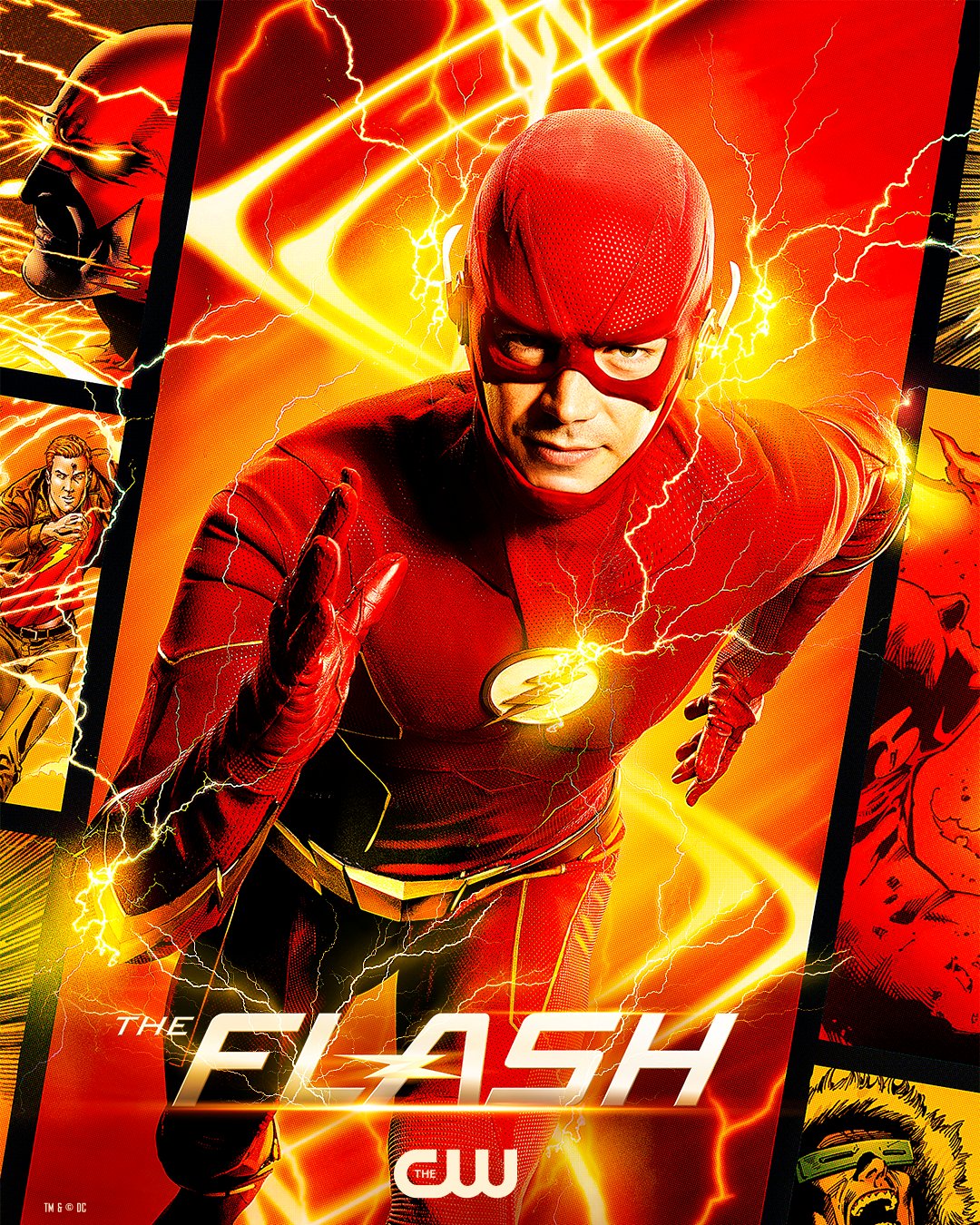 We finally have a date for the return of The Flash as The CW has announced a February 23 return for the Scarlet Speedster!
This may seem a bit late, but look at it this way: We'll have fewer repeats and the show will be paired with the series premiere of Superman & Lois starring Tyler Hoechlin and Elizabeth Tulloch as that other superhero/journalist wife team!
As The Flash Season 7 begins, the show will wrap up the Season 6 storylines that were so rudely interrupted by COVID before taking the Scarlet Speedster (Grant Gustin) on to new journeys.
You can find the full list of CW premiere dates here.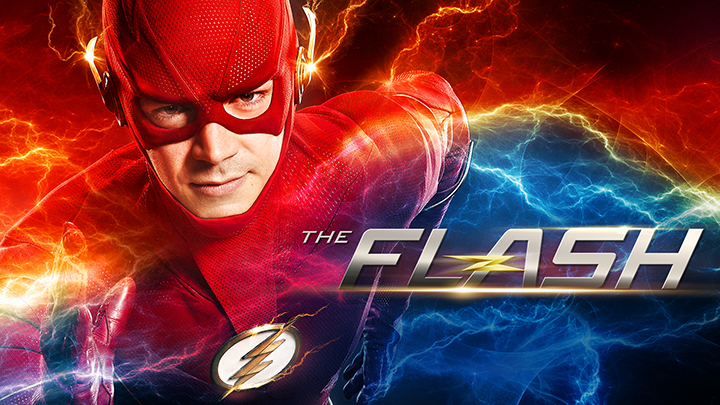 Barry Allen (Grant Gustin) lived a normal life as a perpetually tardy C.S.I. in the Central City Police Department. Barry's life changed forever when the S.T.A.R. Labs Particle Accelerator exploded, creating a dark-matter lightning storm that struck Barry, bestowing him with super- speed and making him the fastest man alive — The Flash.
After a thrilling cliffhanger last season which saw the new Mirror Master (Efrat Dor) victorious and still-at-large in Central City, The Flash must regroup in order to stop her and find a way to make contact with his missing wife, Iris West-Allen (Candice Patton). With help from the rest of Team Flash, which includes superheroes Caitlin Snow (Danielle Panabaker), Cisco Ramon (Carlos Valdes) and Nash Wells (Tom Cavanagh), as well as the Flash's adoptive father Joe West (Jesse L. Martin), Meta-Attorney Cecile Horton (Danielle Nicolet), tough cub reporter Allegra Garcia (Kayla Compton) and brilliant tech-nerd Chester P. Runk (Brandon McKnight)… Flash will ultimately defeat Mirror Master. But in doing so, he'll also unleash an even more powerful and devastating threat on Central City: one that threatens to tear his team—and his marriage—apart.
Based on the characters from DC, THE FLASH is from Bonanza Productions Inc. in association with Berlanti Productions and Warner Bros. Television, with executive producers Greg Berlanti ("Arrow," "Supergirl," "Riverdale"), Eric Wallace ("Teen Wolf," "Eureka") and Sarah Schechter ("Arrow," "Supergirl," "Riverdale").
Blu-ray Review: The Flash: The Complete Sixth Season
Review of The Flash Season 6 Blu-ray set from Warner Bros. Home Entertainment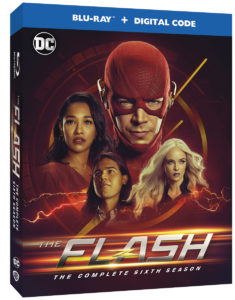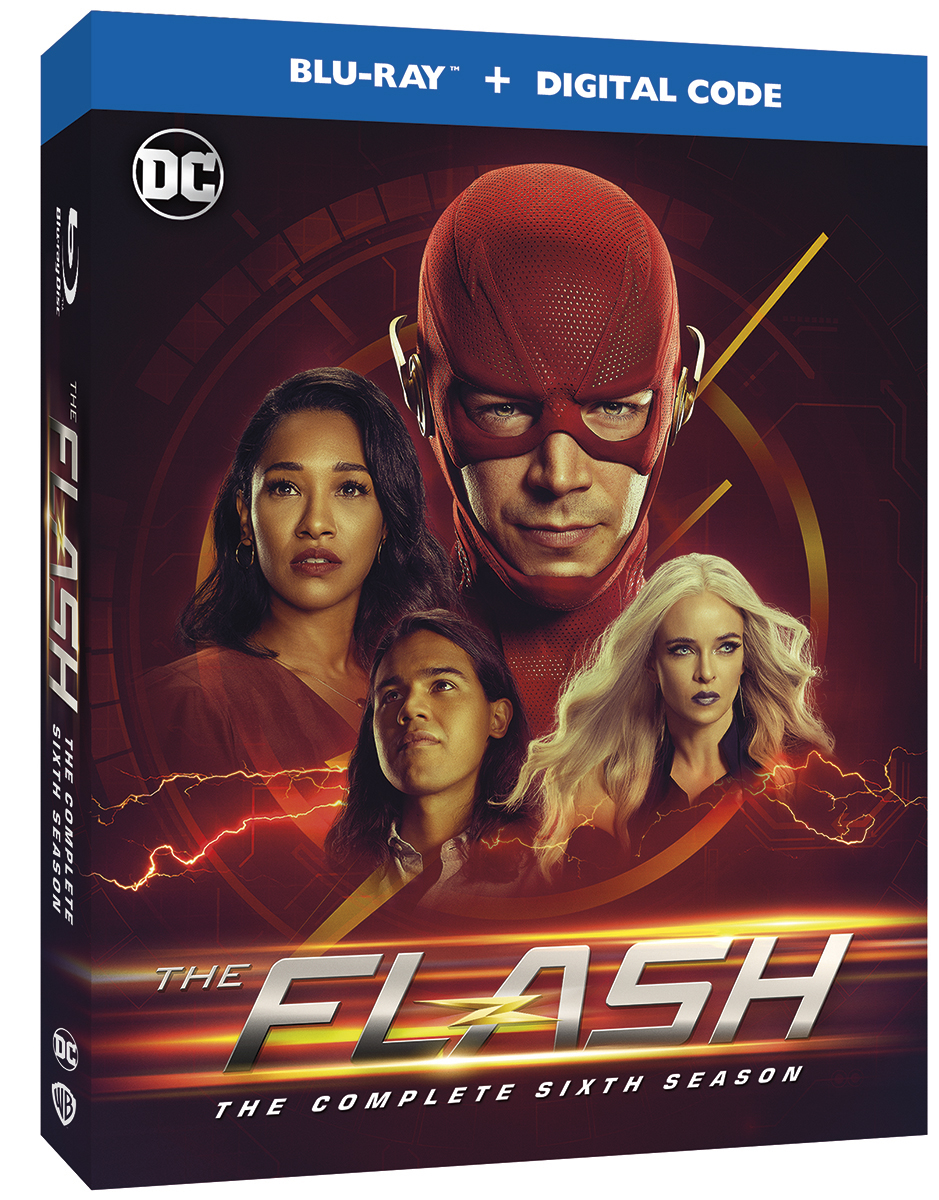 The Flash: The Complete Sixth Season is now available on Blu-ray, DVD, and Digital from Warner Bros. Home Entertainment, and we have been provided with a copy of the set to review on the site!
The set features all 19 episodes of The Flash Season 6 plus extras — the Blu-ray includes all of the Crisis on Infinite Earths crossover!
Here's what's up:
Packaging & Design: Starting with this because it's probably the first thing you'll notice. The box art for this set has changed since the original press release — the fired Hartley Sawyer's Ralph Dibny is no longer on the packaging. While I understand the show distancing themselves — Ralph was indeed an important part of Season 6, with his Sue Dearbon story, and I'm not 100% sure how I think they should have handled it. As it is, it looks odd with just the other four members of Team Flash on it. Though, to be fair, Nash Wells isn't on the cover either.
With that said, The Flash sets usually have some of the best designed packaging and menu art and this set is no exception.
The Episodes: Also seems I am repeating myself but the Blu-ray presentation on The Flash is loads better than what we see on TV and is pretty cinematic. All 19 episodes of Season 6 are here, and — spoiler warning — because of COVID-19, they were cut off at 19 episodes, so that means some storylines aren't completely wrapped. With that said, this season saw Eric Wallace taking over as showrunner, and with him came a new tactic that he referred to as "graphic novels." The first "graphic novel" included the character Bloodwork (Sendhil Ramamurthy) as characters are facing death, and the second, after Crisis, dealt with a new "Mirror Master."
I will say that The Flash under Eric Wallace has a great vision and I love his enthusiasm, which you can actually hear on the "Kiss Kiss Breach Breach" commentary. He's as big of a geek as we are, and I mean that in the absolute best way. The only thing I'd have to say negative about Season 6 is that the mirror storyline has gone on way too long — and I wonder, if they had known all along that we'd end with 19 episodes (an impossibility, because who would?), it might have been a bit shorter.
This "graphic novel" set-up, however, does offer the chance to binge the season in parts, which is pretty cool, and the Blu-ray bonus disc of all of Crisis on Infinite Earths is a good thing to throw in the middle to tee up Graphic Novel #2.
The other thing I will say about Season 6 is that I really liked some of the new characters that are set up. Chester P. Runk, Sue Dearbon, Kamilla, and Allegra — all fun characters that add to rather than detract from the series.
The Extras: The set includes a bonus black and white noir version of "Kiss Kiss Breach Breach" with commentary by Eric Wallace. Commentaries don't happen too often these days, so I'm so glad they put something on this set. There is also a gag reel and deleted scenes. And, of course, all of Crisis which has a lot of great Flash content!
Is It Worth It? If you're a Flash completist or want to see the most recent season in high definition, sure. You might want to start at the very beginning, though. Still, I think The Flash is on its way back to its former glory and Season 6 is the start of that journey. Can't wait for Season 7, and for now, this set will be revisited often.
Get your copy of the Blu-ray from Amazon.com at a discounted price and support FlashTVNews!