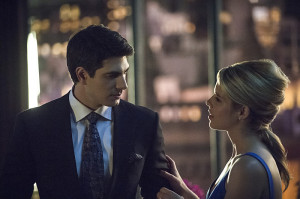 A new Variety interview with the producers of Arrow revealed that Emily Bett Rickards' Felicity Smoak will be returning to The Flash, and she'll be bringing Brandon Routh's Ray Palmer with her.
The episode, Flash's 18th, will be called "All-Star Team-Up." Here's what Andrew Kreisberg had to say about it:
"In episode four of 'Flash' when Felicity came by, it wasn't just a gag to have Felicity come by. It really was integrated into the story. When you reach what's going on in 'The Flash' at that point in the season, Barry is really at a crossroads. Having Felicity come by exactly when he needs her really plays into the whole storyline. It's fine because as Marc said, Ray Palmer is all about technology and STAR Labs is all about technology. We get to see Ray so happy to be in STAR Labs… With Cisco [Carlos Valdes] and Ray, they're new best friends. The STAR Labs team is going to help Ray further his ATOM project."
You can read the Variety interview here. And now – let's take bets on whether or not this will be the episode where Ray becomes The Atom?