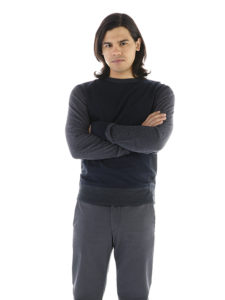 Carlos Valdes (Cisco) recently did a panel at the MegaCon in Orlando, Florida, and the "Nerds And Beyond" website managed to get video of the half-hour-long event.
You can see video of the panel below; most interesting is that Carlos talked a little bit about what we can expect from The Flash Season 3.
"All I'm going to tell you is things are going to be different, way different. Not in a bad way; I think in a really exciting way, and it's that difference that's going to inform Barry's trajectory throughout the season, and I think people are going to like it," Carlos teased.
Could this mean we'll be getting The Flashpoint Paradox?
"I think there's every chance of a Flashpoint paradox'," he said without completely confirming it. "Some people expressed reservation about that, like: 'Why are we going there?' And some people are all about it. I can say, without a doubt, wherever we go from here, it's going to be unique and it's going to be different. It's going to honor the original chronology and the original lore while at the same time providing a new spin on it and I think it's that spirit that's allowed our shows to do as well as they do so I ask the fandom to have faith."
Here's the video: