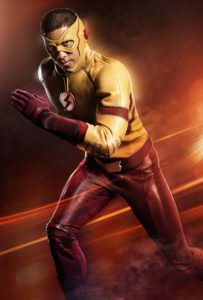 In our other post earlier today, we promised two interview videos, didn't we? Here's #2!
Even though Carlos Valdes is seen in this video interview from the Vancouver set of The Flash, it's Keiynan Lonsdale who does all the talking, as he previews Wally West's current struggles and how it relates to the dreams he is having of Kid Flash in tonight's new episode, "Shade." ("Shade" airs at 8PM ET/PT on The CW, and you can join the forum countdown here!)
"For Wally, before we even met him, he's always been missing something in his life, and originally, that was his father and sister, even despite not knowing about them," Keiynan recalled when talking about that emptiness that Wally may be feeling. "Now that he has that, now it's discovering that there's something missing within him, and I think he has always felt a little bit unsure of his place and what he's supposed to do in this world, and now especially dealing with the fact that he is sort of having dreams and knows that there's potentially another path for him, he's sort of battling with that."
Don't assume that Wally might behave recklessly for no reason. "We'll see his passion, and obviously there's a desperation there because he wants to prove himself, and I think we start to understand why he is reckless," Keiynan said. "I think he sometimes maybe doesn't put enough value on his own life, which is something that he needs to learn, but, yeah. It's definitely going to go deeper and deeper, and as the dreams go for further and I guess start to manipulate in different ways, he'll definitely be more affected — not necessarily more reckless, but it will strike a strong chord with him."
You can see video of the interview below.