A few weeks back we visited the Vancouver sets of The Flash, talking to cast members and even seeing some production from an upcoming episode. While there we spoke with actors Keiynan Lonsdale (Wally West) and Carlos Valdes (Cisco). In this first of two interview videos we'll be posting before tonight's new episode of the series, "Shade," the two actors talk about the new version of Harrison Wells, "H.R." as played by Tom Cavanagh, and how he's actually a writer rather than a scientist.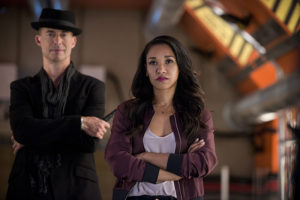 "It's certainly going to give Tom Cavanagh a lot of play time, and has given him a lot of play time so far," Carlos said of the "new" H.R.. "I think viewers can expect a lot of H.R.'s business and backstory to be rooted in some of this writing of his, and specifically, the narrative that he's tackling will reveal itself over the coming episodes," he teased.
"It's also fun because it's not a Wells that we can easily count on all the time," Keiynan added. "Maybe that's something that's quite different to the other worlds, in terms of him not being a scientist."
There's also another factor that won't work in Wells' favor: "I mean, he's already wearing the face of a man that's burned us, so the odds are against him," Carlos Valdes noted.
You can watch the video below. Is there a reason Carlos Valdes is hiding his clothing underneath? Probably not, but you're still free to speculate. Subscribe to our YouTube channel for more videos as they become available! Photos from "Shade" can be found here.