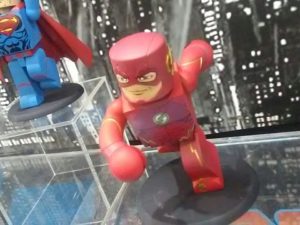 Diamond Select Toys has provided FlashTVNews with an exclusive First Look at upcoming DC Vinimates Vinyl Figures spotlighting characters from The Flash! It's the first of many releases planned that will tie into the world of DC Comics television.
The first assortment includes The Flash, Reverse Flash, and Captain Cold, and you can see the solicitation information below. The estimated release date is Winter 2017/2018. If you're attending Comic-Con, be sure to swing by the Diamond Select Toys booth for some more previews of what's to come!
UPDATE: The artwork for The Flash vinyl figurine previously posted here on FlashTVNews was incorrect. This post is now updated with an image of the Grant Gustin version of the character from the TV series. Our apologies for the misinformation.
DC Vinimates Flash TV Vinyl Figures
A Diamond Select Toys release! The DC Vinimates line is off to a racing start as it barrels full-speed into the world of DC TV shows! This assortment of Flash characters is based on the hit CW TV show and includes 4-inch versions of Flash, Reverse Flash and Captain Cold! Sculpted in the block-figure style, each pre-posed vinyl figure comes packaged in a full-color window box.
Flash Vinyl Figure SRP: $9.99
Reverse Flash Vinyl Figure SRP: $9.99
Captain Cold Vinyl Figure SRP: $9.99
Estimated Release Date: Winter 2017/2018