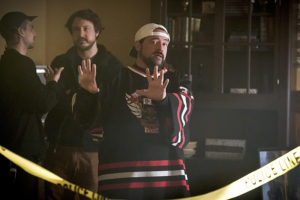 The CW today released some preview images for "The Runaway Dinosaur," a new episode of The Flash airing on May 10. This episode is extra special as it is directed by Kevin Smith (Clerks, Mallrats, Chasing Amy, Dogma, Jay & Silent Bob Strike Back, and all things Askew!)
The new photos include some behind the scenes shots of Smith filming the show, as well as some heartwarming shots of Michelle Harrison returning as Nora Allen. Also: WestAllen!
You can see the new pics below.
An official description for "The Runaway Dinosaur" complete with spoilers can be found here.