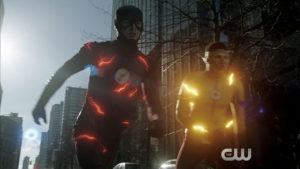 We may not yet have any official photos to promote the March 28 episode of The Flash, titled "Abra Kadabra," just yet… but we DO have screen captures from the episode's trailer courtesy of Mr. Video.
Look for Abra Kadabra within, and you'll also spot the return of Jessica Camacho as Gypsy.
Follow @FlashTVNews on Twitter for updates on when some official photos are out!