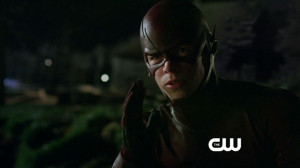 The CW has just released another preview clip for the October 7 series premiere of The Flash.
It's called "City of Heroes" and you can find the clip at the bottom of this article. For those of you who want some stills, we've got a lot of 'em – as usual, if you like them, instead of copying elsewhere please link to FlashTVNews.
The clip features Grant Gustin as Daredevil – we mean, The Flash; Tom Cavanagh as Harrison Wells; Carlos Valdes as Cisco; Danielle Panabaker as Caitlin; and guest star Chad Rook as Clyde Mardon, the proto-Weather Wizard.
The Flash is now less than a day away!
Here are the screencaps:
Here's the clip: