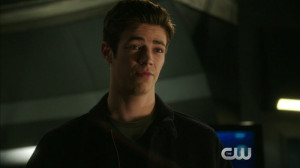 "Revenge of the Rogues" is almost here – did you catch our interview with Dominic Purcell and Wentworth Miller? – and The CW has released yet another clip from the episode, which airs at 8PM tonight.
This particular clip features Grant Gustin as Barry and Tom Cavanagh as Dr. Wells.
You can find that clip below, and as a bonus, thanks to Mr. Video, we have a gallery of screen captures! Find them right beneath the video.