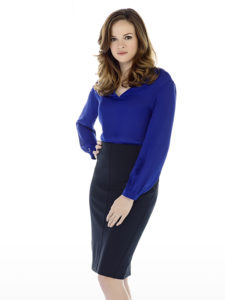 A few weeks ago, we visited the Vancouver sets of The Flash, and that evening, we spoke with members of the cast in a building adjacent to a filming location from that night.
Today, we share our interview with Danielle Panabaker, who first talks about what it's like to know that her character might someday be "Killer Frost."
"I think it's really exciting," she told us. "What's so cool about this show is how, at least in my experience, how faithful they are being to all the comic book lore. They're so respectful of the stories that have been told and it's exciting. I mean, the thought that goes into The Flash costume and all of that, it would be exciting to be a part of that," she said.
Danielle also addressed the notion of whether or not the other characters suspect what Harrison Wells is really up to. "It's hard for me as an actor,  because obviously I see the whole script and now I'm seeing the episodes, but, you know, Caitlin doesn't know that," she explained. "She comes back to STAR Labs because she believes in Wells. If you think about STAR Labs and the vastness of it and how many scientists were working there and how many people were there, the fact that she and Cisco were the only two that show up again, just in a very sort of silent way, demonstrates their belief in him. We're starting this journey with the upmost respect and passion for him, and I don't know that they're at a place where they want to see Wells' flaws, if that makes sense," she said.
Watch the video below where Danielle talks about these topics and more, and be sure to watch a new episode of The Flash TONIGHT on The CW!