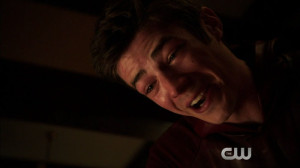 Is Barry going to cause Flashpoint to happen? And hey, look: Ronnie and Martin Stein are both present!
Thanks to Mr. Video, we have screencaps from the extended 30-second version of the Flash season finale trailer. The episode is called "Fast Enough," and these caps will hopefully tide you over until official photos come in. The 20-second version of the trailer can be found here.
Enjoy. "Fast Enough" airs May 19 on The CW.