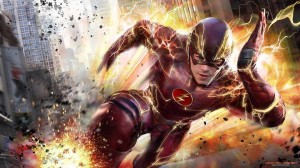 The season finale of The Flash airs in one week, May 19 on The CW. Chances are good we'll get a Legends of Tomorrow preview while we're at it… but also… all of the events from the first season are going to lead into what will surely be some big things. (You think everything with Wells is done after tonight's ep? We don't either.)
The finale looks like something very Flashpoint-y… already!
The finale is called "Fast Enough." Official images have not yet been released but we imagine those will be available soon. We do, however, have screen captures.
In the meantime, enjoy this trailer, and if you'd like to talk about the Flash episode that aired tonight, "Rogue Air," come by our forum!