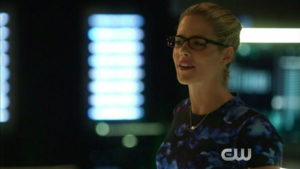 You can watch the actual video of the trailer here, but if still frames are more your thing, we have some screen captures from the promo trailer for the October 11 episode of The Flash, titled "Paradox."
What's Cisco doing in grief counseling? Is Visiting Felicity the same awesome Felicity we knew in the early seasons of Arrow? What's the deal with Iris and Joe? Those answers are bound to come next week. Oh yeah, and in these still frames we get to see Doctor Alchemy!
We send our thanks to Mr. Video for the screen captures. And, as mentioned before, if you'd like to talk about the season premiere with other fans, come by our Flash forum!