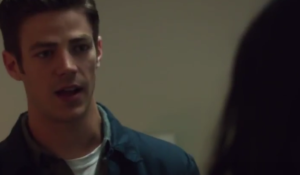 So, that was quite a season premiere, wasn't it?
If you're curious what's happening next, The CW has aired a trailer for next week's show, "Paradox," which you can find below. How much did Barry Allen change in his trips through time? That's a paradox that is sure to be discovered. Arrow's Emily Bett Rickards guest stars as Felicity Smoak!
If you've just finished watching "Flashpoint" and want to talk about with other fans, we'd love to have you on our message forum. Before we get to the trailer, though, how about some preview images!
(Oh, and hey… did you recognize the new police captain?)
THE FLASH