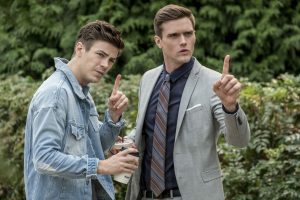 Danielle Nicolet isn't the only new series regular added for the fifth season of The Flash.
Hartley Sawyer who was introduced in The Flash Season 4 as Ralph Dibny, the stretching Elongated Man, has been announced as a series regular for Season 5. Viewers of the show saw Ralph's growth last year, and seeming death before there was a way to bring Ralph back for the season finale.
Unless something changes, The Flash Season 5 will also star Grant Gustin as Barry Allen, Candice Patton as Iris West-Allen, Danielle Panabaker as Caitlin Snow, Carlos Valdes as Cisco Ramon, Jesse L. Martin as Joe West, and Tom Cavanagh as yet another version of Harrison Wells, in addition to the new series regulars. Season 5 will likely premiere in October on The CW.