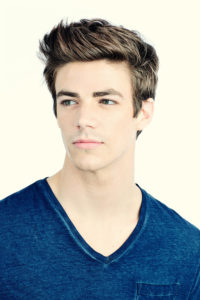 All of you who voted in our poll the other day? You called it.
Grant Gustin of GLEE fame has landed the coveted role of Barry Allen in three episodes of Arrow Season 2, and if all goes well, he'll be getting his own series as Barry Allen for the 2013-2014 TV season. The news was broken by TVGuide.com and The Hollywood Reporter this afternoon, and confirmed by the studio shortly thereafter.
Here is how the studio describes the character that Gustin will be playing in Episodes 8, 9, and 20 of Arrow Season 2:
Gustin led our online poll by a large margin, surely brought on, in part, by a huge fan base that enjoyed his other work.
BARRY ALLEN is a Central City assistant police forensic investigator who arrives in Starling to look into a series of unexplained robberies that may have a connection to a tragedy in his past.  A comic book fan boy, Barry is obsessed with the Arrow unaware that working with Oliver and Felicity to solve the crime has brought him right into the dangerous world of the vigilante.
Grant Gustin's first episode playing Barry Allen will start shooting September 30.What do you think of the casting? Leave some comments below!