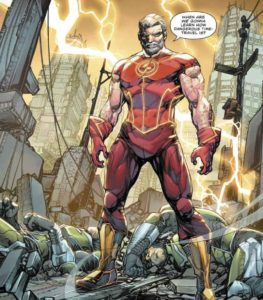 The seventh season of The Flash is the last one on Grant Gustin's current contract — but don't worry, speedsters: Appearing on Michael Rosenbaum's "Inside of You" show, Grant Gustin confirmed that they already had been talking about more.
"The conversations actually had started already, for adding a potential 8th and 9th, and then this pandemic happened, and everything has stopped," Grant revealed, adding that first, everyone needs to know about the show's immediate future.
"We don't know when we're going back, and we didn't finish our last episodes of Season 6. And now, we might do those scripts when we go back for [Season] 7 to lead into what we were going to film anyway. I don't know what the plan is. We don't know when we're back, and I don't know when we're going to continue the negotiation talks," he continued.
Showrunner Eric Wallace has also indicated in recent interviews that he has plans for multiple additional seasons of the show — so hopes are high that we'll be saying "keep running, Barry, keep running!"
You can watch Grant's visit to "Inside of You" below. Fun trivia: Though he's most famous for playing Lex Luthor on Smallville, Michael Rosenbaum was also the Flash, voicing Wally West in the Justice League animated series. In this interview, Grant and Michael talk a little bit about their respective Flashes.