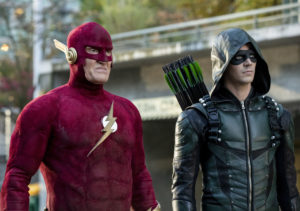 TV Insider (the website of TV Guide Magazine) has confirmed that John Wesley Shipp will be returning for this Fall's Crisis on Infinite Earths crossover. Rumblings of Shipp's appearance were first floated on Pagey's YouTube channel.
Last year for the 2018 Elseworlds crossover, fans were surprised that he was playing the Barry Allen of Earth-90… in other words, the same character that he played on the classic Flash TV show from 1990. It is not yet known if he will be playing that character again, or if he'll be Jay Garrick, another role he has played on The Flash. Henry Allen, Shipp's first Arrowverse role, could always be a possibility.
It seems that they are pulling out all of the stops for this crossover. In addition to LaMonica Garrett as both the Monitor and the Anti-Monitor, the crossover will feature Brandon Routh reprising his role as Superman from Superman Returns, Burt Ward from the classic Batman TV series, Black Lightning, and the returns of the Arrowverse's Superman and Lois Lane as played by Tyler Hoechlin and Elizabeth Tulloch. Tom Cavanagh, who has already played dozens of different characters on The Flash, will be Pariah. Look for the crossover to begin in December.