The new STAR Labs facility seen in "Invasion!" looks a bit like the Superfriends' legendary Hall of Justice, and there is a good reason for that!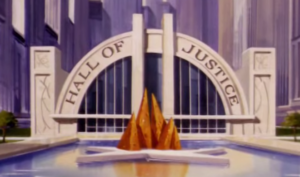 "We were talking about where to put it — maybe it was an old warehouse or whatever," Arrow and DC's Legends of Tomorrow Executive Producer Marc Guggenheim told a group of reporters yesterday at the offices of The CW. "Someone said something that made me think, 'You know, there's this building in Cincinnati that is the basis for the Hall of Justice in the Super Friends. I'm sure there's stock footage that we could then alter.' That's what we ended up doing," he said, confirming that the look of the facility was definitely intentional.
"I was so giddily happy," he said. "It's probably my favorite thing in the whole crossover: the Hall of Justice. Props to Encore who did an amazing job of altering it in all the right ways. Putting the waterpool in the front and the sculptures. There were some shots they turned dusk to day or day to night, made all that footage work great. 10-year-old me can die happy."
The Invasion! continues tomorrow on Arrow. Come talk about The Flash portion on our forum for the show!