Yesterday, The CW hosted a screening for the first episode of The Flash Season 6 "Into The Void" — you can see some preview images here — and following the screening, new showrunner and Executive Producer Eric Wallace talked to press in a Q&A. But before he began his interview, he told us of his overall plan for what fans should get from The Flash Season 6 as a whole.
"Usually, one of about two or three things happen in the sixth season of a hit show: snooze-ville, and it goes into cruise mode, and you know, no one really cares, but you kinda watch it because it's habit. You make your beans while you watch it, you eat it, no big deal," Wallace illustrated. "Or crash and burn! 'Oh my! That used to be my favorite show, and I can't stand it anymore!' Or third, hopefully [laughs], what we're going for this season, we're not looking at this as Season 6 of a show. We're looking at it as Season 1 of a show. I'm trying very hard, my staff's trying very hard, the cast and crew, everybody, to reward all of the fans who've been watching for five years. And as a thank you, we're going to try and not give them the exact same thing they've gotten for five years, not that it wasn't great. We love it. I truly love it, because I was a fan of the show before I started working on it."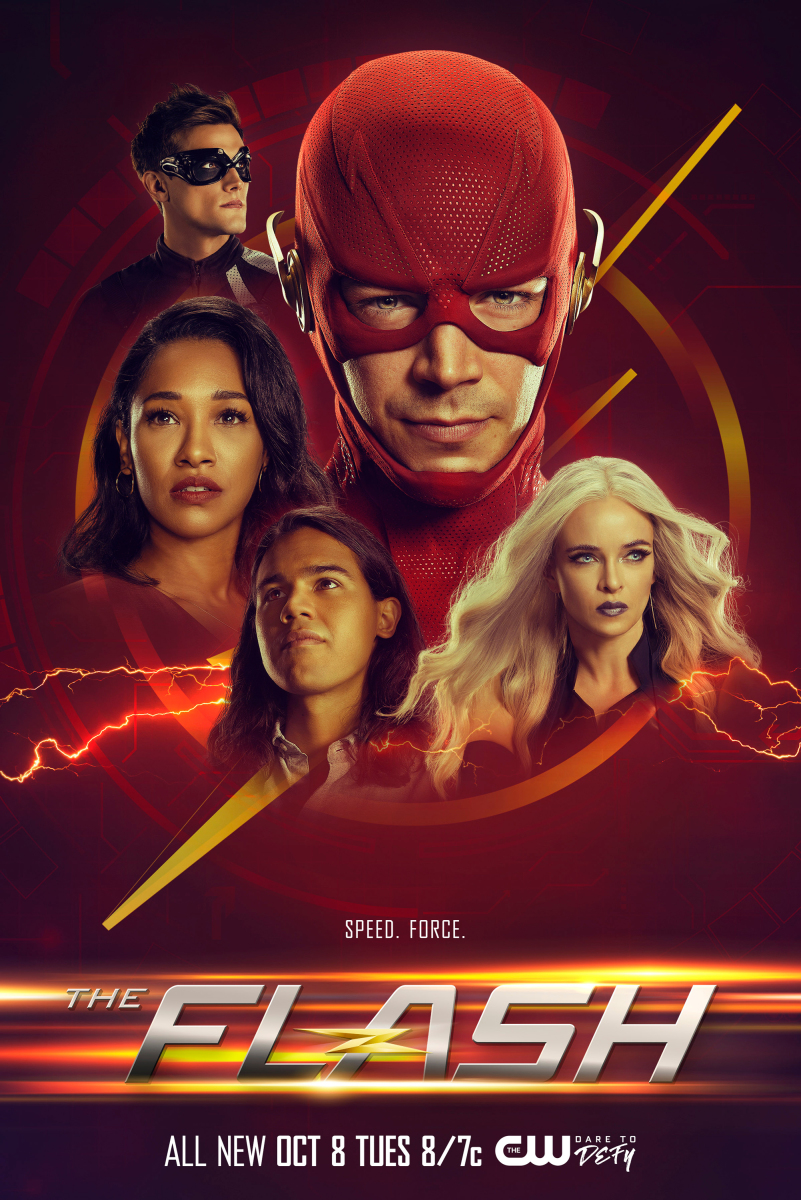 "But as a reward, we're trying some new things," Wallace continued. "I don't know if you guys heard at Comic-Con, this is the season of thrills and chills. … But that is kind of the goal. But it's one of those things where we want to not just keep the joy and the spectacle and the tears. We want to expand upon it. This is the season opener, so there's only so much you can do in one episode. But the new format of the show, which is graphic novel number one, which just began here…it's a self-contained story," he said, pointing to the Ramsey Rossa (Sendhil Ramamurthy) story that begins in the season premiere.
"His story begins, it burns very hot," Wallace explained. "By the time we get to 603, 604, we're in cuckoo town, essentially. I mean that in the best way, because the story ends in 608. That's wrapped up. The end. We go to Crisis. And then, starting at 610, it's a brand new story, graphic novel #2… so it's given, I think, the season, again, [has] a new fresh energy that I'm hoping is that reward to all the people who've been watching for five seasons. I've been watching for five seasons, too. I love Zoom, Reverse Flash, Savitar, all the gang. But sometimes me and my wife and my child will watch and go, 'Dude, shouldn't he have caught him by now? It's like Episode 17.' It's normal. It's perfectly normal to think that. And it's part of the fun, because it's 22-episode season. But I think folks are in for a little bit of a fresh surprise. We hope everybody enjoys it," he said.
The Flash Season 6 premieres Tuesday, October 8, and you can find our video interview with Eric Wallace from Comic-Con below. Read more Flash Season 6 coverage here!