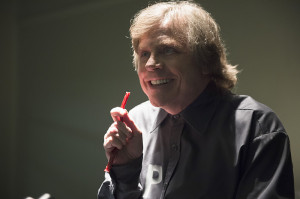 A few decades ago, the world knew Mark Hamill best as the first David Bradford in the pilot episode of Eight is Enough the heroic Jedi Luke Skywalker in Star Wars. Later this year, Mark Hamill reprises the Skywalker role in Star Wars: The Force Awakens… and that's not the only former role he's returning to.
Hamill appeared in two episodes of the original CBS Flash television series as James Jesse, a villain known as the Trickster, and those two episodes are among the most well-loved of the season-long series. Now, he's returning to the world of The Flash and James Jesse for the March 31 episode of The Flash, which is called "Tricksters."
The CW has released some photos today, complete with some Hamill goodness and also featuring a copycat Trickster played by Devon Graye. A lot of these photos also feature classic Flash John Wesley Shipp, which always makes us happy. This is going to be a great one.