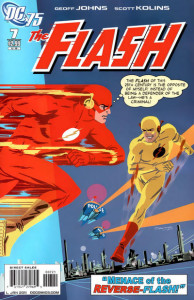 Not letting the Vibe news be the only Flash casting news to come out today, and coming after they broke the news that Iris West and her father would be African-American, the folks at Bludhaven Banter have landed another Flash pilot scoop, that the pilot is casting a detective named Eddie Thawne… surely a reference to good old Reverse-Flash Eobard Thawne.
(Guess Hunter Zolomon was busy)
According to the casting breakdown, Detective Eddie Thawne will be played by someone in their late 20's to early 30's and he came to the Central City Police Department as a transfer from Keystone. He's the star of the precinct and manages to get accolades that Barry can't take credit for himself. However, the breakdown warns "his past is a mystery and he harbors a dark secret."
Let's guess… he likes wearing the color yellow?
You can read the Bludhaven Banter post that broke this news here.
(The Bludhaven Banter post also mentions an openly gay character. Hartley Rathaway/Pied Piper, anyone?)