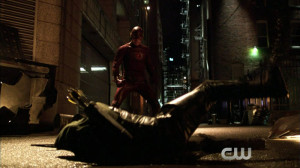 If you follow our Flash and Arrow Twitter feeds, you might have seen a few of these screen captures already… and thanks to Mr. Video, we have a whole gallery of 'em already: Screen captures from a new trailer for next week's "Flash vs. Arrow" event. It's not the longer trailer that we've just posted, but it should do as far as some nice still shots go.
The fun happens December 2 and 3 on The CW.
Enjoy the caps, and if you just finished this week's episode, come talk about it on our Flash forum!