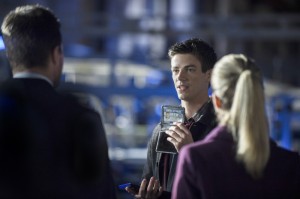 The CW will be doing something a little different with their schedule on February 13.
Instead of their usual line-up of The Vampire Diaries and Reign, they are instead showing a repeat of The Originals followed by "The Scientist" episode of Arrow – yep, the episode that introduced Barry Allen (as played by Grant Gustin) to the show. It will air at 9PM that night.
If we were making bets, we're assuming that "Three Ghosts" will be re-aired the following week at some point.
So, if you missed Barry Allen's Flashy Arrow debut, you get another chance! Maybe if it does well, Flash could be on Thursdays at 9 in Fall 2014? Guess we'll have to wait and see…