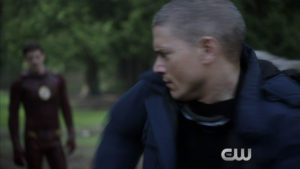 "Infantino Street" is the title of the May 9 episode of The Flash, and while we wait for some official promo images, how about some screen captures courtesy of Mr. Video?
The actual trailer can be found here, but if still frames are more your thing, you're in luck. Lots of Wentworth Miller guesting as Captain Cold goodness. Enjoy. Hopefully The CW will release some official stills within the next day or two; you can follow @FlashTVNews on Twitter for updates on when they might come.
DRASTIC TIMES CALL FOR DRASTIC MEASURES – Barry (Grant Gustin) takes drastic measures to stop Savitar. Meanwhile, H.R. (Tom Cavanagh) continues to push Tracy Brand (guest star Anne Dudek) to design the trap for Savitar and Killer Frost (Danielle Panabaker) returns with an interesting proposal. David McWhirter directed the episode written by Judalina Neira & Lauren Certo (#321). Original airdate 5/9/2017.