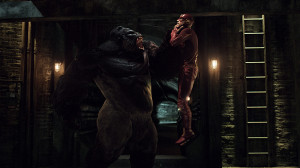 How did "Grodd Lives!" do in the overnight ratings?
As always, the numbers could be adjusted, but at the current moment it looks like the show had 3.64 million viewers and a 1.6/4 in the Ages 18-49 demographic. The show beat Hell's Kitchen on FOX.
If you've seen "Grodd Lives" and want to talk about it with other fans, come by our forum for the show!
Next week's episode should be big. You can find a trailer and photos for that one here.