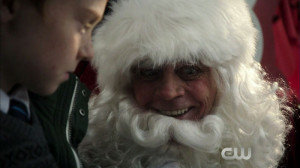 Star of the #1 movie of 2016 (unless someone is playing a cruel trick on us), Mark Hamill, returns as the Trickster in next week's episode of The Flash, and he, Captain Cold (Wentworth Miller), and the Weather Wizard (Liam McIntyre) are all present for some holiday shenanigans!
This is also the episode that brings in Keiynan Lonsdale as Wally West. You can see some officially released photos from the episode here.
Tonight during Arrow, a trailer for "Running To Stand Still" aired. Thanks to Mr. Video, we have screen captures that you can see first; video of the trailer can be found below.