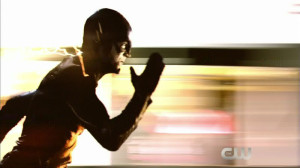 Thanks to Mr. Video, we now have screen captures from the one-minute version of the Flash Season 2 "Other Worlds" trailer, which contains peeks at Patty Spivot, Atom-Smasher, the Flash of Earth-Two (Jay Garrick), and more.
You can see the actual trailer here.
The Flash Season 2 premieres Tuesday, October 6 on The CW! We've seen the season opener and it's really good!
Officially released photos from the season premiere can be found here.