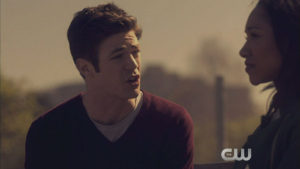 Kevin Smith directs next Tuesday's new episode of The Flash, and while The CW has not yet released any official promotional stills for the episode, we do have some screen captures from the episode's extended promo trailer courtesy of Mr. Video.
Video of a shorter version of the promo can be found here.
You can enjoy the new screencaps from the episode, titled "The Runaway Dinosaur," below. Within you can see the book that surely gave this episode its name!