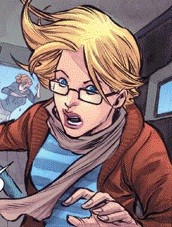 TV Line has the first Flash Season 2 spoiler of the season: Barry's getting another love interest.
This one is named "Wendy," and she's "spunky, fun and funny." The casting notice reads "Think Felicity Smoak from Arrow." She's also described as bright and scientific-minded, and it's a "major recurring role." Wendy is also a cop with the Central City PD… maybe taking Eddie's place? (RIP, Eddie.)
In the comics, as our friend Steven has pointed out, Barry has a spunky, fun and funny love interest, and her name is Patty Spivot. Could "Wendy" be a code name trying to cover up that character's casting?
In any event, look for the character in Episode 2.2. You can read TV Line's article that broke the news here.