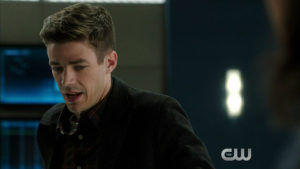 After tonight's airing of The Flash episode "Monster" The CW aired a promo trailer for the November 15 episode, which is called "Shade." (The Flash isn't new on November 8, we assume because of Election night.)
The trailer can be found below, and as a bonus we have some screen captures from an extended version of the promo trailer courtesy of Mr. Video. Look for those beneath the trailer. If you're looking for official photos, you can find them here.
As always, you should come by our Flash forum to talk about tonight's episode!