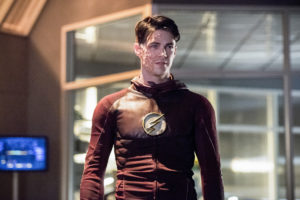 "Infantino Street" is the title of a new episode of The Flash airing at 8PM tonight (May 16) on The CW.
Official photo stills from the episode can be found here and we've already got the countdown set up on our Flash discussion forum, if you'd like to join us!
The CW has now released an "Inside" video and a clip from the episode, and you can find both of those things below. Enjoy!
THE COUNTDOWN BEGINS; WENTWORTH MILLER RETURNS AS CAPTAIN COLD – With only 24 hours left until Savitar murders Iris (Candice Patton), Barry (Grant Gustin) struggles to save the woman he loves and makes the choice to use any means necessary to do so. Realizing he has one option left to save her, The Flash turns to Captain Cold (Wentworth Miller) for help. Michael Allowitz directed the episode with story by Andrew Kreisberg and teleplay by Grainne Godfree (#322). Original airdate 5/16/2017.