Blu-ray Review: The Flash: The Complete Second Season
Review of The Flash Season 2 complete season Blu-ray set, now available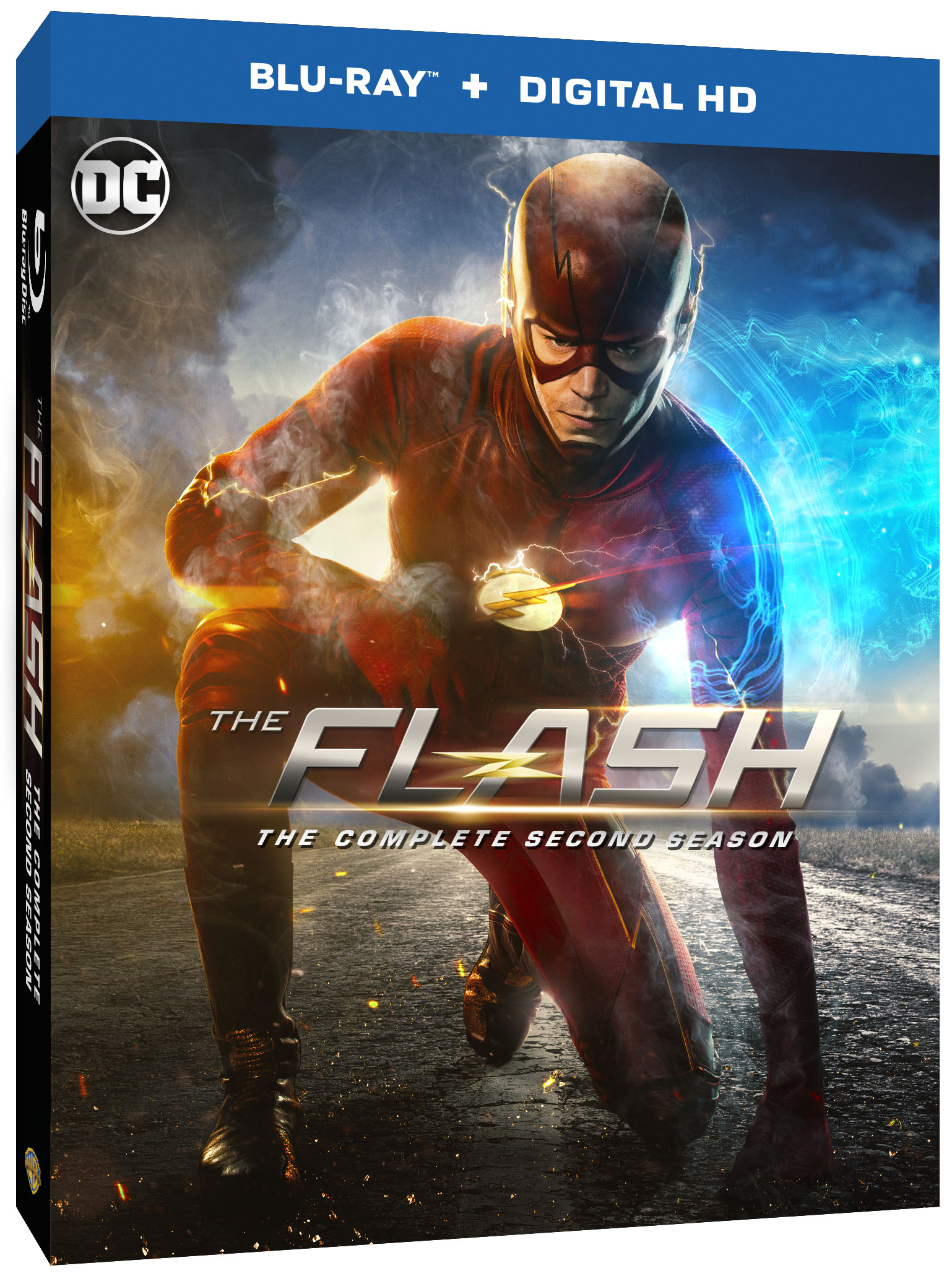 The Complete Second Season of The Flash arrived on Blu-ray and DVD earlier this week and may be one of the most extras-packed sets in the history of the medium.
Here's our review. Disclaimer: This Blu-ray set was provided to us by Warner Bros. Home Entertainment; opinions here are solely our own.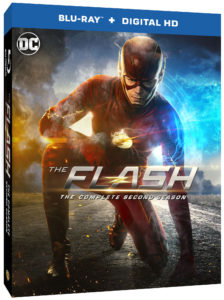 The Episodes: Spread across four discs, the set includes all 23 Season Two episodes and the episode of Arrow that was part of the November crossover (sadly, the episode of Supergirl featuring Grant Gustin was not included). While the season itself wasn't as consistent as the first, there are some wonderful stories within, from the season premiere to a cool Dr. Light story, the introduction of Wally West, a trip to Earth-2, a Rogue team-up, and more. Most excitingly, The Flash Season 2 introduced the audience to Earth-Two… a world that is different from the one we know, with different characters and situations.
I cannot stress enough times how much of an asset Grant Gustin is as Barry Allen. Barry makes mistakes – a lot of them, actually – but he's played with such charisma and goodness by Grant that you still can't help but root for him. Really, this whole cast elevates the material on what is already a good show to begin with.
I do admit I wasn't as invested in this year's "Big Bad" Zoom as I was with Harrison Wells/Eobard Thawne in Season 1, but that's not the fault of the actor who is revealed to be behind the mask (spoilers removed to protect the innocent and the unspoiled). It is just that I felt such depth in the character that Tom Cavanagh played; a character who you just didn't want to be bad. I will say, watching these episodes again and knowing now how the Zoom story would pan out, I'm noticing a lot of subtleties in the performance of [spoiler] that make it a lot more fun.
Still, The Flash might be the best comic book based show on broadcast television, and if you watch both this season and Season 1, you'll certainly understand why.
The Extras: Warner Bros. Home Entertainment went all out here. I do question the inclusion of some of the features, as they seemed to have been created during Season 1 or the pre-production of the show, but hey, any Flash is good Flash. One of those dated features is Grant Gustin's screen test with Emily Bett Rickards, which takes you back all the way to Arrow Season 2. In total, there are 23 bonus features spread over the 4 discs, and that's not even counting the deleted scenes.
About those deleted scenes, by the way: While occasionally these clips are extraneous, with The Flash they were all quite good. It makes me wish The CW could just drop a "Dare to Defy" trailer out of the mix so we could get longer episodes so scenes like these could be included in. I think my favorite, of course, is a deleted clip from the premiere between Barry and his father, but there's good stuff all around.
The bonus features feature interviews with a lot of talents behind and in front of the camera, including the amazing VFX work by Armen Kevorkian, but to be honest, there are two that stand out more than anything else.
One is the blooper reel. Usually, these are not funny, and involve people making weird faces and a blahblahblah tongue move to the camera, which stopped being humorous after the 2nd DVD or Blu-ray to include the reels. But The Flash… they went all out. For starters, the gag reel begins with opening credits in the style of the original 1990 Flash TV show starring John Wesley Shipp, complete with the theme song. It's amazing. But secondly, this cast is full of such likable, funny people that there's no way it is not enjoyable.
The other great feature – clocking in at almost an hour – is called "Chasing Flash," about the journey of Kevin Smith as the director of "The Runaway Dinosaur." Bonus points for emulating the Chasing Amy logo in the design for that one, but more than that, it's just really in-depth, with interviews with many producers and cast members. I've been a big fan of Kevin Smith's since Mallrats and I think I could watch this feature 37 times. It's that good.
The set also comes with a redemption code to download the first three episodes of The Flash Season 3 when they become available… for free.
Packaging & Design: The cover art is great, though I wish the individual discs were more colorful, which they rarely seem to be with Blu-ray.
Is It Worth It? Even though you can watch the episodes on Netflix soon enough? Absolutely. Warner Bros. seems to realize that if they still want people to buy Blu-rays, they need to have good reasons, and this is full of good reasons.
Order The Flash: The Complete Second Season on Blu-ray at a discounted price and support FlashTVNews!
DC FanDome: Official Flash Season 8 Costume Photo Revealed
The Flash gets a costume upgrade for Season 8 in a new photo revealed at DC FanDome.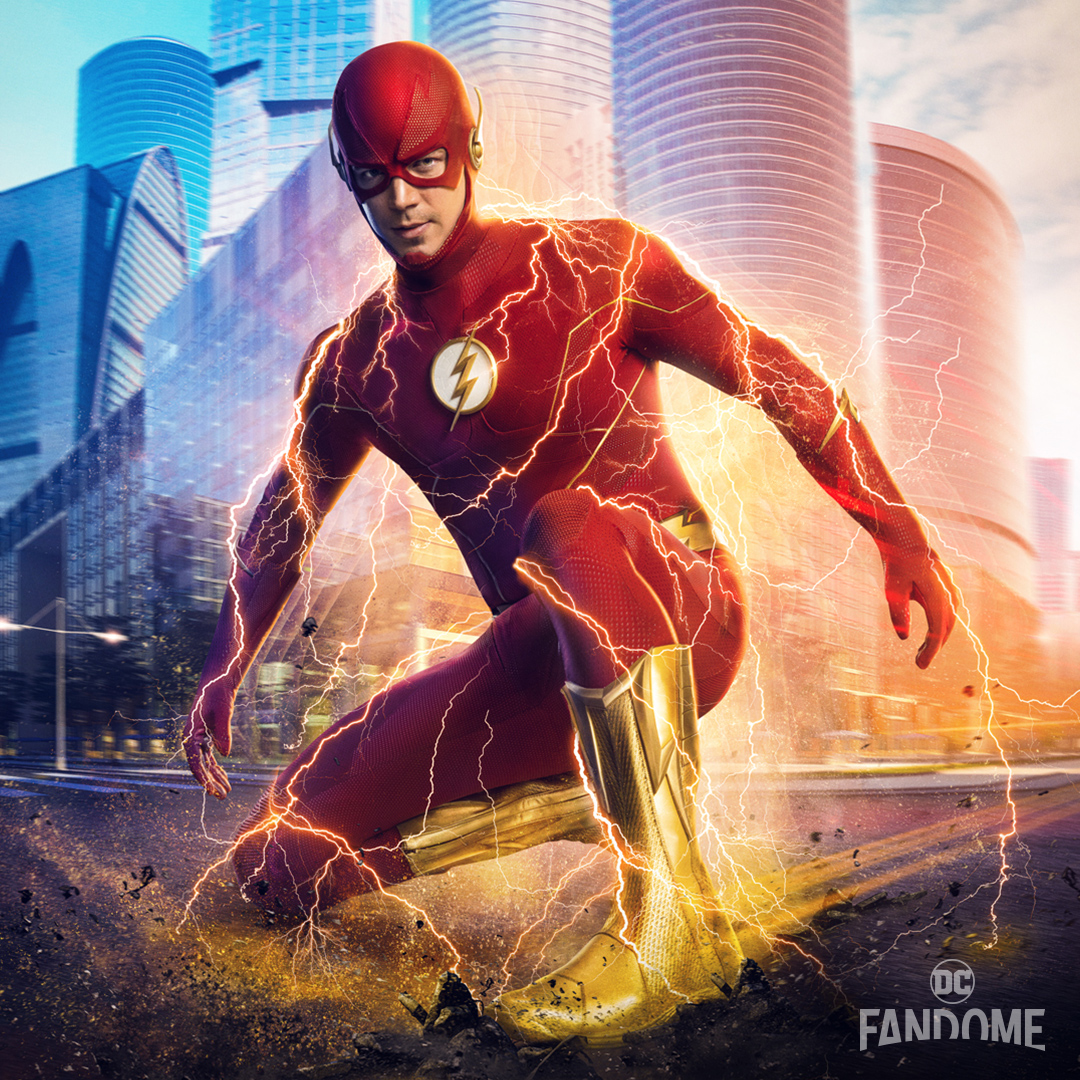 Today at the DC FanDome virtual event, the new boots for Barry Allen a.k.a. The Flash for Flash Season 8 were revealed… and Barry finally has his iconic gold boots in his TV incarnation.
We've come a long way from the original burgundy costume with the red background of the insignia, hafven't we?
When asked about the upgrade at DC FanDome, Grant Gustin described them as "the final element that's been missing."
"I've loved all the versions of The Flash suit we've had on the show, but the suit we have now is the closest to the many iterations you see in the comic books — with the exception of those gold boots! I've always felt that those boots would be the final touch," he added.
With the announcement, DC FanDome unveiled an official first look at the new suit, which also includes a newly designed center crest and wings. You can see the new look photo below.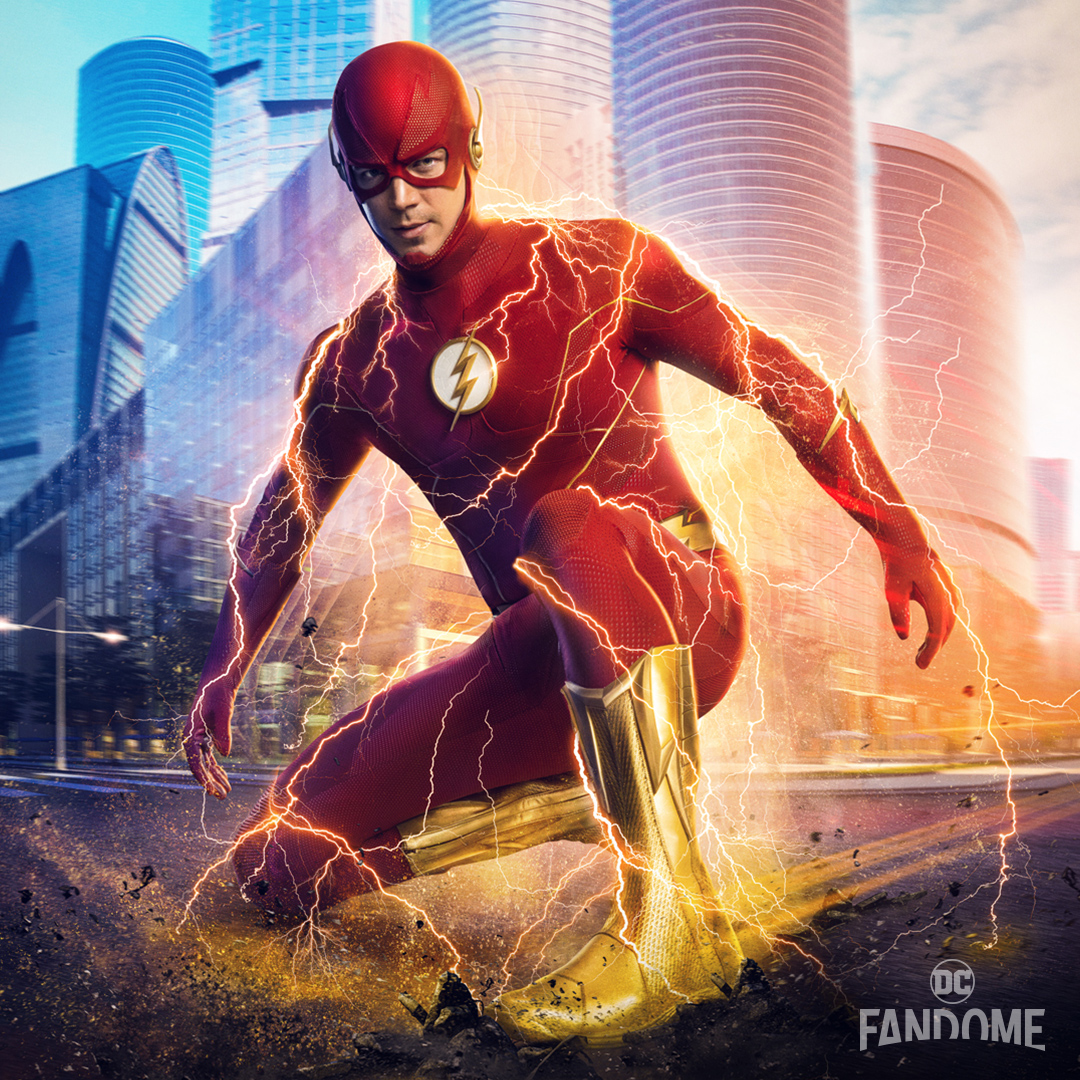 From Berlanti Productions in association with Warner Bros. Television, The Flash returns for Season 8 with the five-part "Armageddon" mega-event beginning Tuesday, November 16, at 8/7c on The CW. Based on the DC characters, the series is executive produced by Greg Berlanti, Eric Wallace, Sarah Schechter, Jonathan Butler and Gabriel Garza.
Speculation: Does The Arrowverse "Armageddon" Event Take Place In The Future?
FlashTVNews' Craig Byrne speculates that the "Armageddon" Arrowverse crossover may take place in The Flash's future…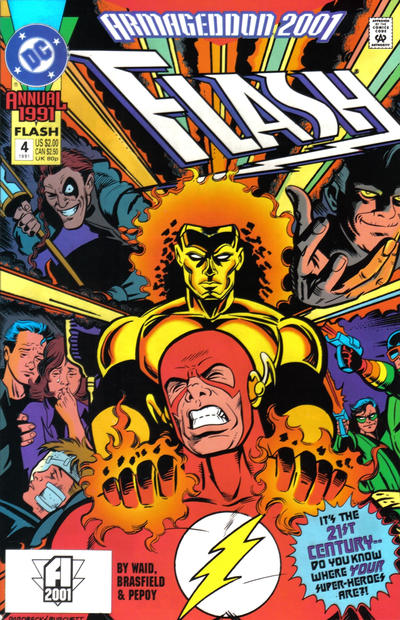 In 1991, DC Comics had a crossover that went through all of their comic book Annuals. The event was called "Armageddon 2001" and took place in the then-far future of the DC Universe. We got to see different outcomes for many characters, and the villainous Monarch was revealed to be one of DC's heroes.
Today, The CW announced this year's crossover event that kicks off The Flash Season 8. It's called "Armageddon" and some old favorites are back to join Barry, Iris, and Team Flash against whatever challenges they face – challenges that include Damien Darhk and Eobard Thawne/The Reverse Flash. Do note that both of those characters are known to travel through time — and that one of the returning heroes, Mia Smoak-Queen, is currently in the year 2040.
Who else is from the future? Recent Flash visitors Nora and Bart, the children of Barry and Iris. They were still in the present when we last saw them at their parents' vow renewal.
So, here's a prediction: What if this is an adaptation of "Armageddon 2001" but is instead "Armageddon 2051" or something like that? It would be a way to tie up loose ends like William's kidnapping from Green Arrow and the Canaries without actually having to see it. Likewise, we don't know for a fact that some of these guests are the 2021 versions; perhaps, for example, Black Lightning is an older Jefferson Pierce from the future, no longer retired?
But this also brings up another question: Where's the Superman & Lois representation?
If it is the future, could the Superman there be Jordan Kent? Or, like DC's recent "Future State" event which in many ways was like "Armageddon 2001" in previewing the future, a Jonathan Kent with powers? Being 20+ years older, it would necessitate a recasting for sure, so that would explain not being in the original announcement.
Surely, we'll know more between now and November when the event premieres. It is a bit weird that, if there is time travel, the Legends of Tomorrow aren't present aside from Ray Palmer who is no longer on the team. In any event, we're very, very curious….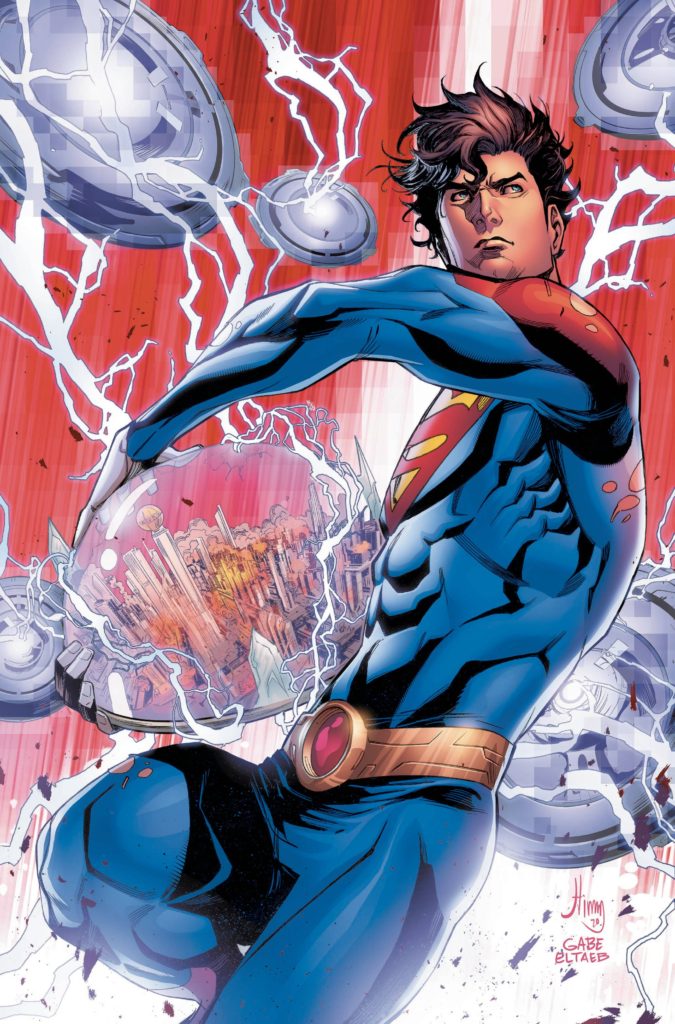 Flash Season 8 Event Details: Arrowverse Characters Return For Armageddon
Kat McNamara, Chyler Leigh, Brandon Routh, Cress Williams, Osric Chau, Javicia Leslie and more will be part of The Flash's "Armageddon" event.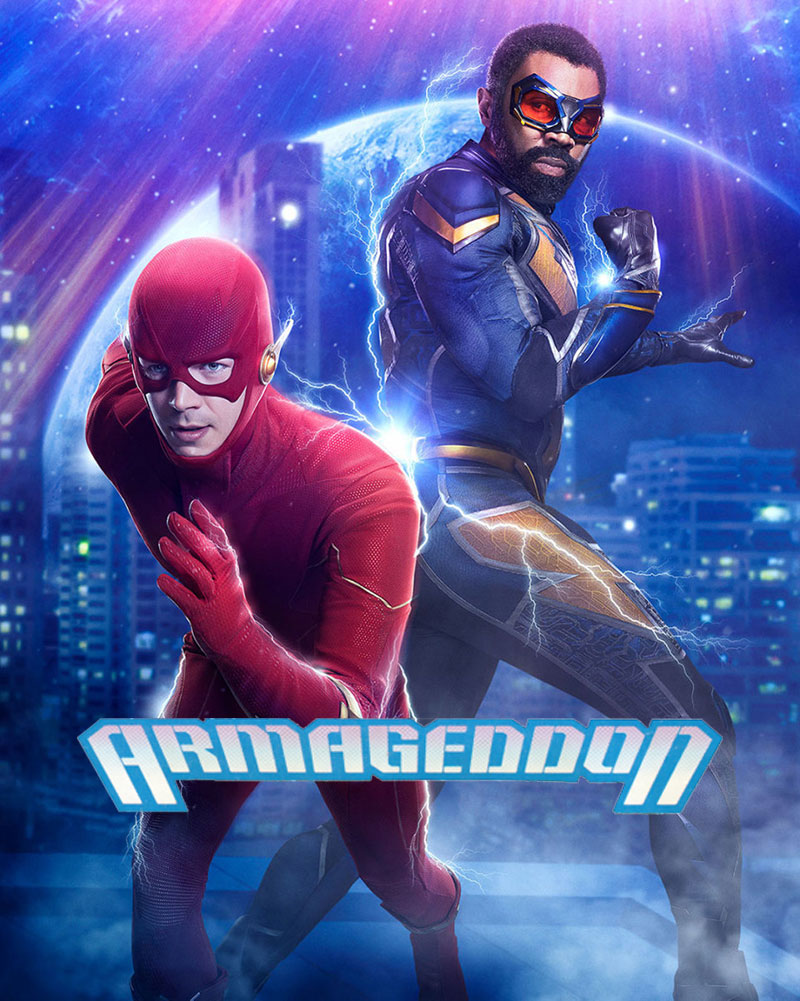 We've all known that The Flash Season 8 would begin with a five-part "event" — now, we know that the new season's crossover-like event will be called "Armageddon," and showing up in this event are some big heroes from across the Arrowverse.
In "Armageddon," a powerful alien threat arrives on Earth under mysterious circumstances and Barry (Grant Gustin), Iris (Candice Patton) and the rest of Team Flash are pushed to their limits in a desperate battle to save the world. But with time running out, and the fate of humanity at stake, Flash and his companions will also need to enlist the help of some old friends if the forces of good are to prevail.
Who's guest starring?
Javicia Leslie as Batwoman
Brandon Routh as The Atom
Cress Williams as Black Lightning
Chyler Leigh as Sentinel
Kat McNamara as Mia Queen
Osric Chau as Ryan Choi
Tom Cavanagh as Eobard Thawne/Reverse Flash
Neal McDonough as Damien Darhk
In some cases, this is the first time we will have seen some of these people in multiple seasons; it's also exciting that we will see Black Lightning and Alex Danvers so soon after the endings of Black Lightning and Supergirl.
Additionally, we will be seeing Mia Queen as played by Kat McNamara — last seen in the final episode of Arrow and whose spin-off Green Arrow and the Canaries did not go to series. Many fans have wanted to see Mia again, and here's their chance!
"Simply put, these are going to be some of the most emotional Flash episodes ever," Flash Executive Producer Eric Wallace said. "Plus, there are some truly epic moments and huge surprises that await our fans. And we're doing them on a scale that's bigger and bolder than our traditional Flash episodes. So yes, 'Armageddon' is a lot more than just another graphic novel storyline. It's going to be a true event for Flash and Arrowverse fans, old and new. Honestly, I can't wait for audiences to see what we've got planned."
The Flash Season 8 premieres Tuesday, November 16 on The CW. Follow @FlashTVNews on Twitter for the latest show updates!