Confirmed: Flash's Danielle Panabaker & Carlos Valdes To Appear On Arrow – With Quotes From Marc Guggenheim
Two actors from the Flash pilot will be appearing on Arrow.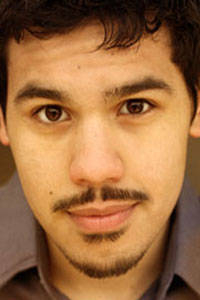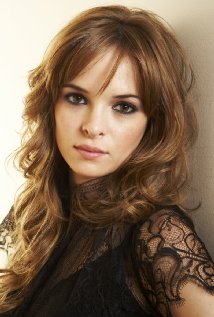 We have just returned from an Arrow screening and Q&A session where one of the Arrow Executive Producers, Marc Guggenheim, talked to us a bit about what's coming up. (You can read more about that at GreenArrowTV momentarily). One of the topics that was discussed was the notion that leaked this weekend, and is now officially confirmed, that Carlos Valdes and Danielle Panabaker – Cisco Ramon and Caitlin Frost from the Flash pilot will be appearing in the 19th episode of Arrow's second season, which will also feature a S.T.A.R. Labs presence.
The episode is called "The Man Under The Hood" and we will be seeing it in April. Here's what Guggenheim had to tell us, starting with why he never posted the episode script's title page on Twitter like he usually does:
"The reason I've been holding off on tweeting the title page for 19 is [because] 19 is co-written by Geoff Johns, Andrew Kreisberg, and Greg Berlanti, the team behind the Flash, and I felt like if I tweeted that, the jig would be up," he said. "Little did I know the jig would get out itself," he laughed, before confirming that the rumors are indeed true.
"Danielle Panabaker who plays Caitlin and Carlos Valdes who plays Cisco, two members of S.T.A.R. Labs who are part of the regular cast of The Flash, do make an important appearance in Episode 19 of Arrow [Season 2]. This was something that really came about because obviously Barry is in a coma at the end of Episode 9. That pretty much made it impossible for Barry to appear in Episode 19, 20, pick an episode of Arrow, because he's got to stay in a coma until October of next year!" he laughed. "Which, by the way, whenever people would ask 'is Barry gonna show up on the show' I'd be like 'he's in a coma! What do you want?' One of our writers had a great pitch for bringing in a couple of the S.T.A.R. Labs characters, Cisco and Caitlin, and even though the circumstances of that pitch changed, the idea of bringing in those characters really, really appealed to us, because it allowed us to honor our original intention that we had at the beginning of the year, which is doing something Flash related around episode 19 or 20, without, of course, having Comatose Barry and basically paying Grant Gustin a lot of money to sit around with his eyes closed, unconscious the whole episode. We wrote that episode. It's really boring," he joked.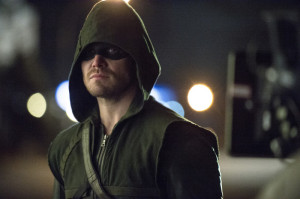 "But this episode is really cool, and it allows us to further flesh out the Flash universe in Arrow. We get to see their dynamic," he continued. "They actually shot their scenes for the Arrow episode contemporaneous with shooting the Flash pilot. Both episode 19 and The Flash were in production at the exact same time. Which isn't why we did it; in fact, that was an added producing slash logistical complication, but it's just so much fun to see these characters before. It's like previewing Boba Fett in the [Star Wars] Holiday Special. Hopefully Episode 19 will be a little bit better than the Holiday Special, but you see the analogy."
Read more about upcoming Arrow episodes at GreenArrowTV and please be sure to be following our @FlashTVNews for the latest on the Flash universe!
The Flash: Eric Wallace Discusses Barry's Coming Crisis
The Flash EP Eric Wallace discusses what the Crisis on Infinite Earths will mean for Barry and Iris.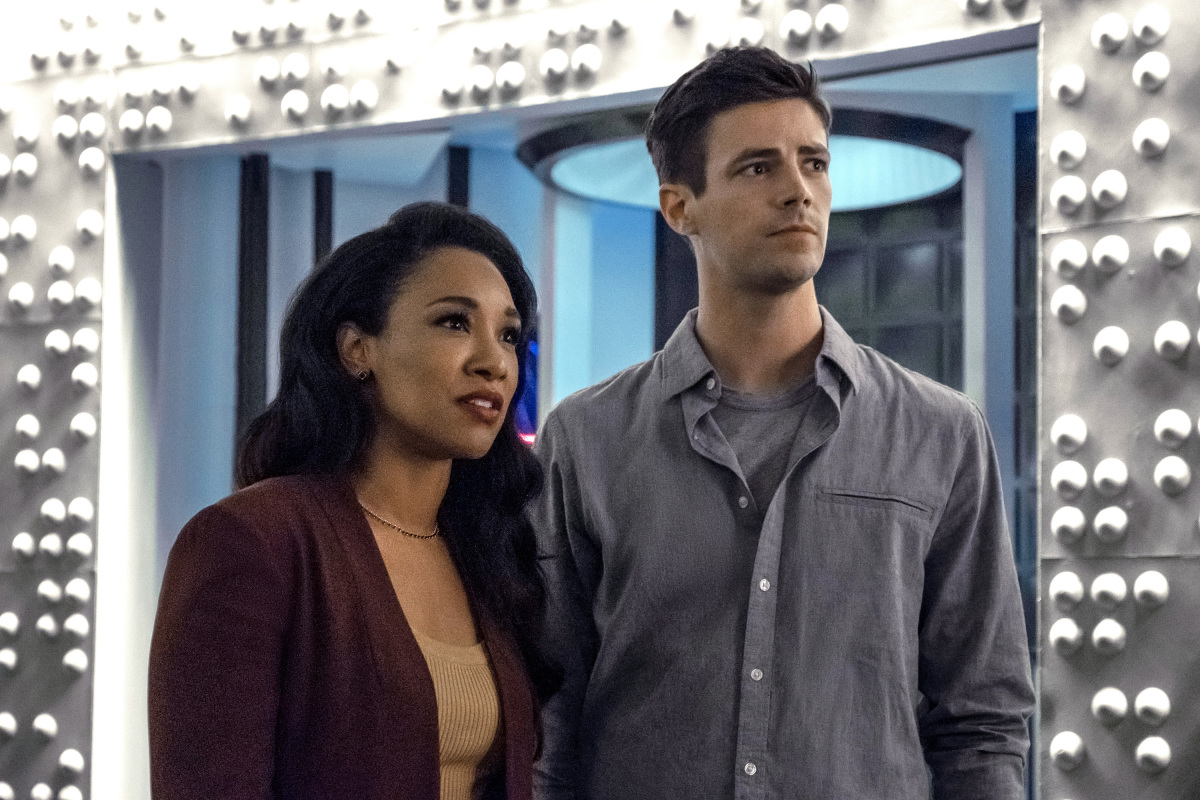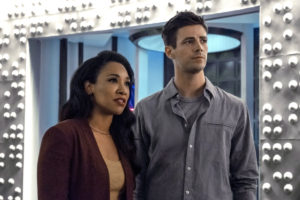 Warning: Spoilers for the Flash Season 6 premiere "Into the Void" are being discussed here.
A Crisis is coming… Crisis on Infinite Earths, that is… and on December 10, 2019… Barry Allen is destined to die. And the story engine will guide The Flash Season 6 toward exciting places.
"Crisis turned out to be the best thing that could have happened — I can't speak for the other shows, but I certainly speak for The Flash — because it created an immediacy to things," Executive Producer Eric Wallace recently said in a group Q&A. "We know that December 10, 2019, The Flash will die. He just said it. We're not messing around. So as a married couple, [Barry and Iris] can count the number of days and weeks. The countdown begins next week. What kind of urgency does that give them? An extreme one. It turns the dial up to 10, and it makes you think, 'Is every moment together our last? What can we do? Should we fight this? Is it inevitable? These are all the things that they're grappling with for these next seven episodes, because eight ends, and it's Crisis time, and it's time to go off to, literally, cosmic war. So the relationship is strained. But it's also going to bring them closer together than ever before, because that's what tragedy does," he continued.
And how is this different from Season 3, when they saw that Iris was destined to die?
"You should watch next week, when that exact question is asked and answered," Wallace explained. "That is literally the plot. What this story has enabled us to do is to look back at any other time when somebody was facing life and death, and see how they reacted then. So in the writers' room, we had a lengthy discussion about how it's the other side of the coin. We know how they reacted with Iris. How will they react next week? And I will tell you — no spoilers — it's different. It's not the same, because of what they learn next week. That's the great part of the story. The Monitor showing up and kind of making a cosmic pronouncement drives you to extremes in order to fight against or accept the coming Crisis. And every episode this season – 602, 3, 4, 5 and 6, especially — are all about, 'Do I accept death? Or do I fight it?;' That's also the reason why Bloodwork is the villain this season. The villain, as we now know, has HLH cancer and is dying. So for the first time in the show's history, we have a villain and a protagonist who are going through the same thing. It's the reason Bloodwork was chosen as a villain this season. It was very deliberate, because they're going to learn about halfway through the season, 'Maybe we're not so different? And what does that mean?"
And finally, do Barry and Oliver know about their respective interactions with The Monitor (LaMonica Garrett) this season?
"No, and boy, I wonder what will happen when they both find out. [Laughs] It's good stuff. It's so great, 'cause I can't tell you when it happens," Wallace said excitedly. "But I will tell you that is a scene that happened and is a moment, and it is coming. Lets just say people might get pissed off a little," he laughed.
The Flash airs Tuesdays on The CW.
Flash EP Discusses Killer Frost's New Status Quo
Eric Wallace discusses the new status quo for Killer Frost in The Flash Season 6.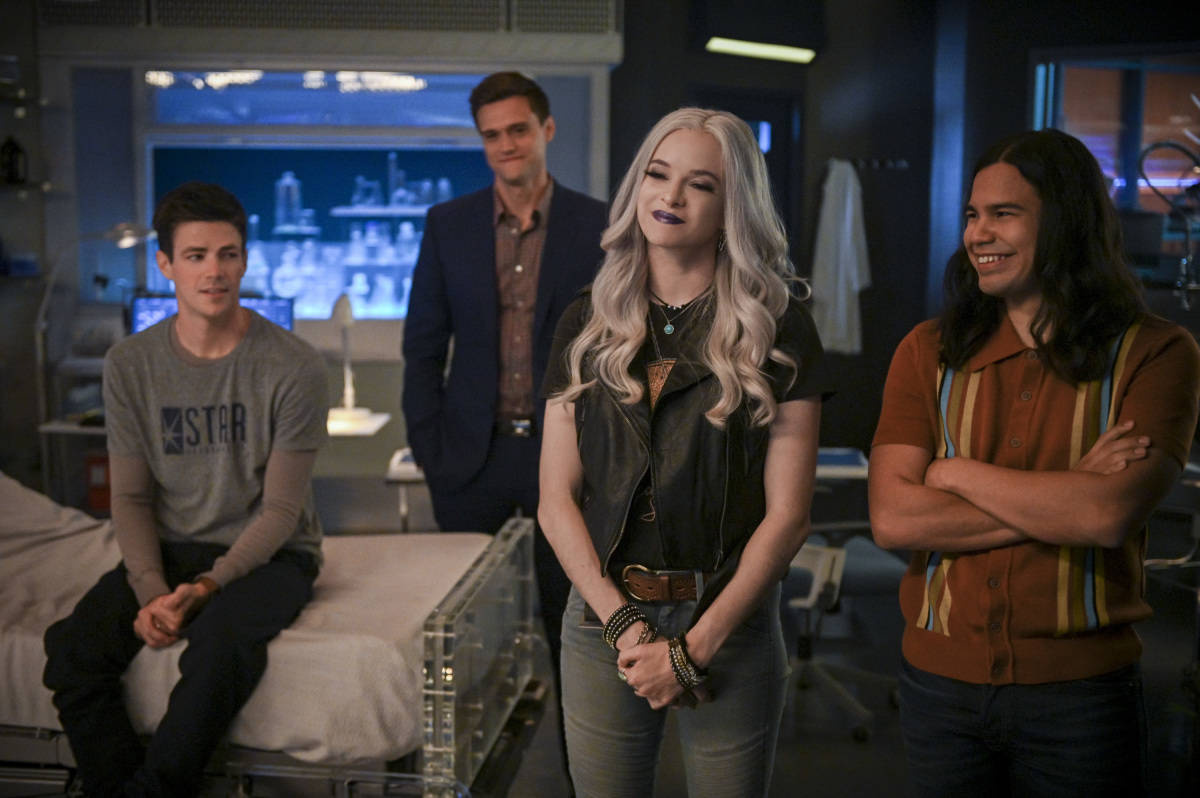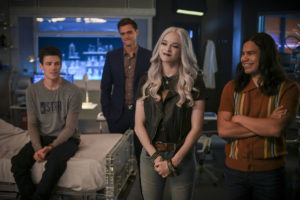 As we saw in tonight's Flash season premiere "Into the Void," Killer Frost (Danielle Panabaker) is going to be able to live a little bit of a life of her own. What does that mean for her future?
New showrunner Eric Wallace was asked that very question.
"Now that she has a life coach?" he joked, referring to Ralph's offer. "I will tell you, and again, no spoilers, it has been a pure delight writing Killer Frost this season, because she's much more in the forefront than Caitlin is."
"That life coach stuff starts next week in 602," Wallace teased. "It's like the second scene and we honor the promise of the premise.We deliver. And it's it's led to these hilarious situations. Because basically, it's like when we talked of her almost as a teenager who finally got the keys to the car but doesn't know how to drive. We've got to drive to go to the store, to get the groceries, to get some wine, to meet your boyfriend, or to go to the movies, or whatever. So everything is new through her eyes, which means she's gonna make some mistakes, which is great, it's gonna lead to some more tears, but then at the end, she's going to grow into something that didn't exist before. Maybe you do lose that Killer. Maybe it's just Frost waiting down the line."
Photos from the second episode of The Flash Season 6, "A Flash of the Lightning," can be found here.
New Showrunner Eric Wallace Outlines His Plan For The Flash Season 6
New Flash showrunner Eric Wallace talks about his plan for The Flash Season 6.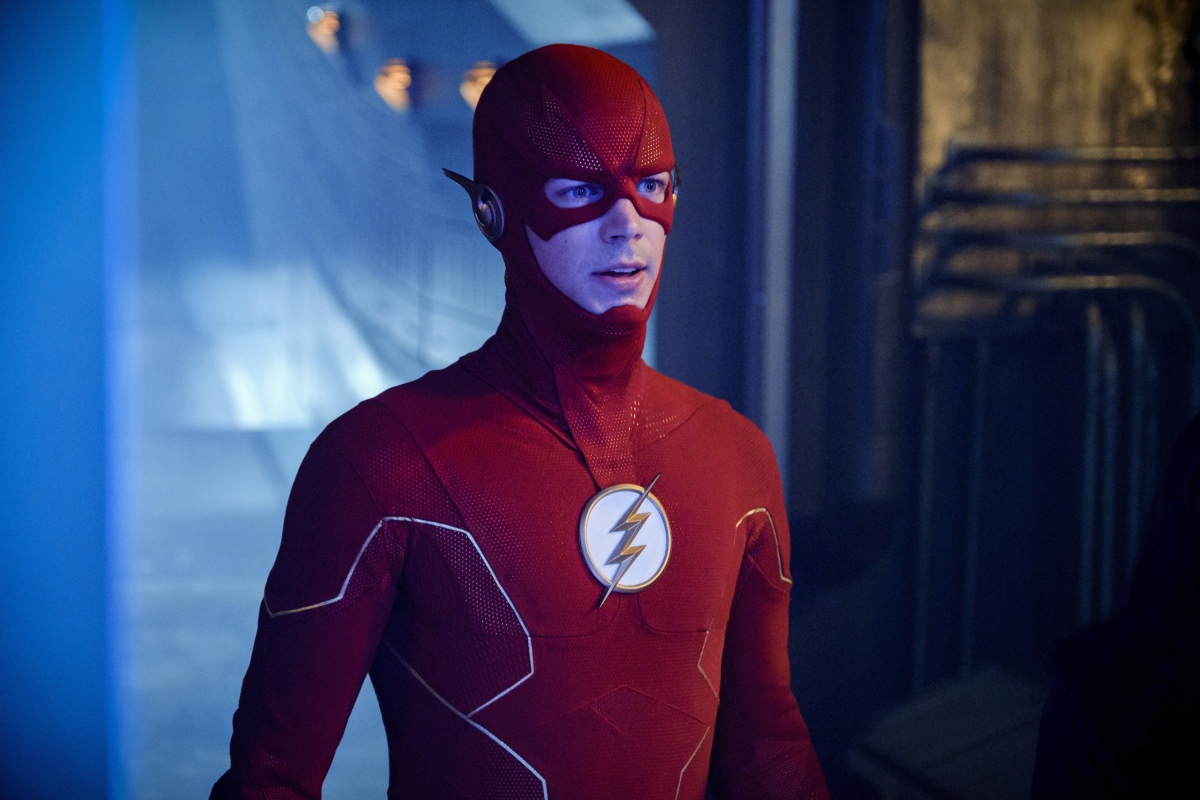 Yesterday, The CW hosted a screening for the first episode of The Flash Season 6 "Into The Void" — you can see some preview images here — and following the screening, new showrunner and Executive Producer Eric Wallace talked to press in a Q&A. But before he began his interview, he told us of his overall plan for what fans should get from The Flash Season 6 as a whole.
"Usually, one of about two or three things happen in the sixth season of a hit show: snooze-ville, and it goes into cruise mode, and you know, no one really cares, but you kinda watch it because it's habit. You make your beans while you watch it, you eat it, no big deal," Wallace illustrated. "Or crash and burn! 'Oh my! That used to be my favorite show, and I can't stand it anymore!' Or third, hopefully [laughs], what we're going for this season, we're not looking at this as Season 6 of a show. We're looking at it as Season 1 of a show. I'm trying very hard, my staff's trying very hard, the cast and crew, everybody, to reward all of the fans who've been watching for five years. And as a thank you, we're going to try and not give them the exact same thing they've gotten for five years, not that it wasn't great. We love it. I truly love it, because I was a fan of the show before I started working on it."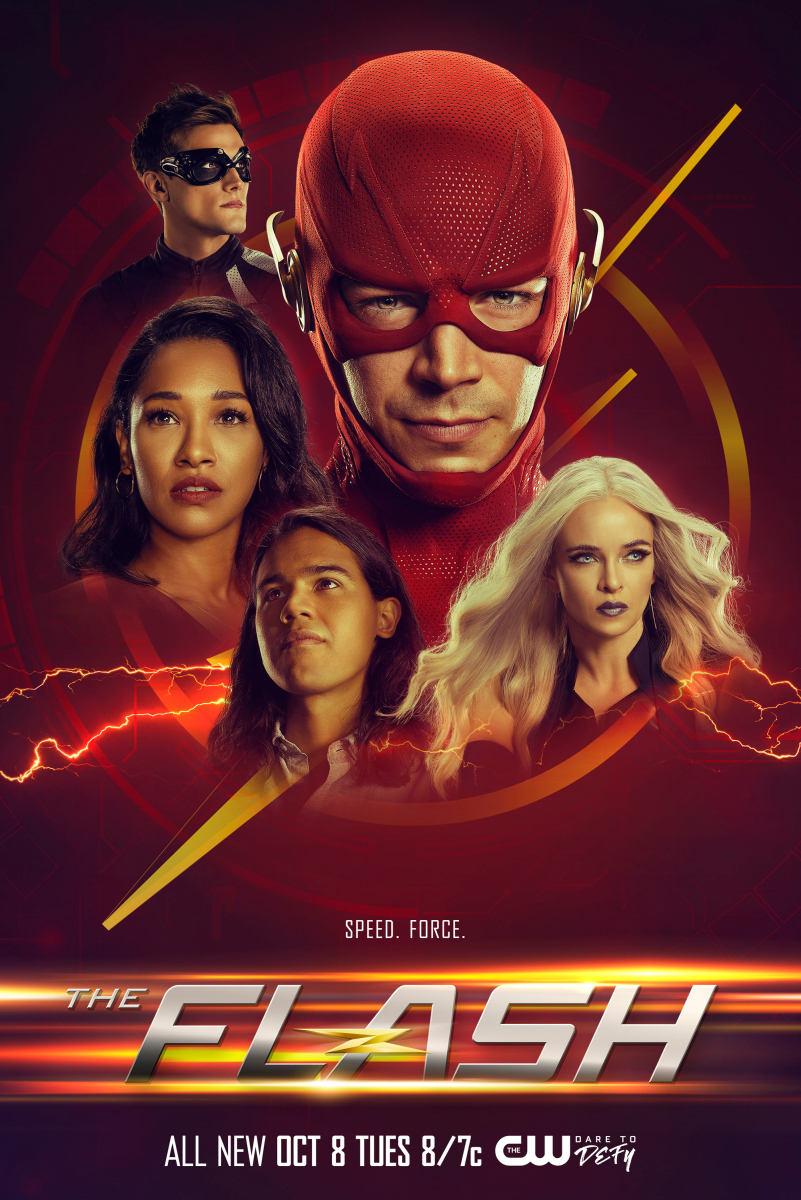 "But as a reward, we're trying some new things," Wallace continued. "I don't know if you guys heard at Comic-Con, this is the season of thrills and chills. … But that is kind of the goal. But it's one of those things where we want to not just keep the joy and the spectacle and the tears. We want to expand upon it. This is the season opener, so there's only so much you can do in one episode. But the new format of the show, which is graphic novel number one, which just began here…it's a self-contained story," he said, pointing to the Ramsey Rossa (Sendhil Ramamurthy) story that begins in the season premiere.
"His story begins, it burns very hot," Wallace explained. "By the time we get to 603, 604, we're in cuckoo town, essentially. I mean that in the best way, because the story ends in 608. That's wrapped up. The end. We go to Crisis. And then, starting at 610, it's a brand new story, graphic novel #2… so it's given, I think, the season, again, [has] a new fresh energy that I'm hoping is that reward to all the people who've been watching for five seasons. I've been watching for five seasons, too. I love Zoom, Reverse Flash, Savitar, all the gang. But sometimes me and my wife and my child will watch and go, 'Dude, shouldn't he have caught him by now? It's like Episode 17.' It's normal. It's perfectly normal to think that. And it's part of the fun, because it's 22-episode season. But I think folks are in for a little bit of a fresh surprise. We hope everybody enjoys it," he said.
The Flash Season 6 premieres Tuesday, October 8, and you can find our video interview with Eric Wallace from Comic-Con below. Read more Flash Season 6 coverage here!