The Flash Season 3 Premiere Advance Review: "Flashpoint"
Advance review of the Flash Season 3 premiere, titled "Flashpoint"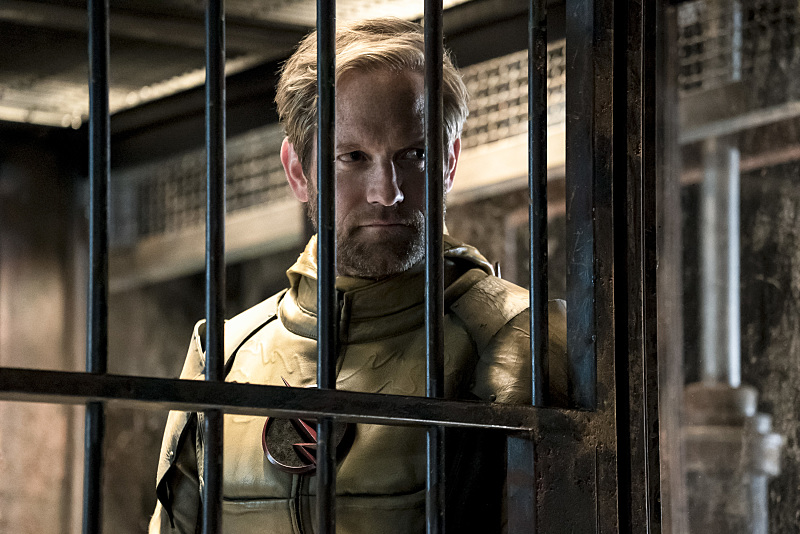 There are only a few days left until the Season 3 premiere of The Flash, titled "Flashpoint," and those familiar with DC Comics history as well as the Flash Season 2 finale know what that title entails: Barry Allen has gone back in time and prevented the Reverse-Flash from killing his mom, creating a new reality in the process.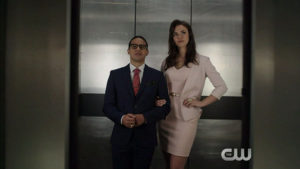 Much of that "new reality" has been revealed in trailers: Wally West is Kid Flash, though he hates that name, and he has a possibly surprising partner in crimefighting. The Rival (Todd Lasance), a speedster dressed in black, is determined to make it so that no others can outmatch his speed. The other world's Cisco is a billionaire. And Barry Allen's beloved parents, Nora and Henry, are both still alive, happy, and wanting him to move out of the house already.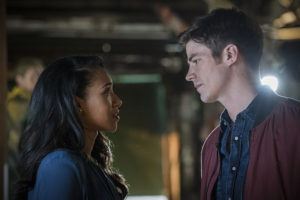 Barry Allen has almost everything he wants in this new world… except for one thing: Iris, who doesn't really know him well in this altered reality, yet seems drawn to him in the same way he is to her. This season premiere might be one of the best uses of Candice Patton's Iris in the series, giving her ample and deserved screen time as an important part of Barry Allen's life (or lives). In a world of unreality, Iris seems to offer Barry a dose of reality, and I like that The Flash recognizes that Iris (and Candice) are an integral part of this story.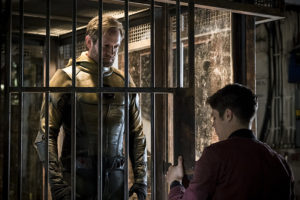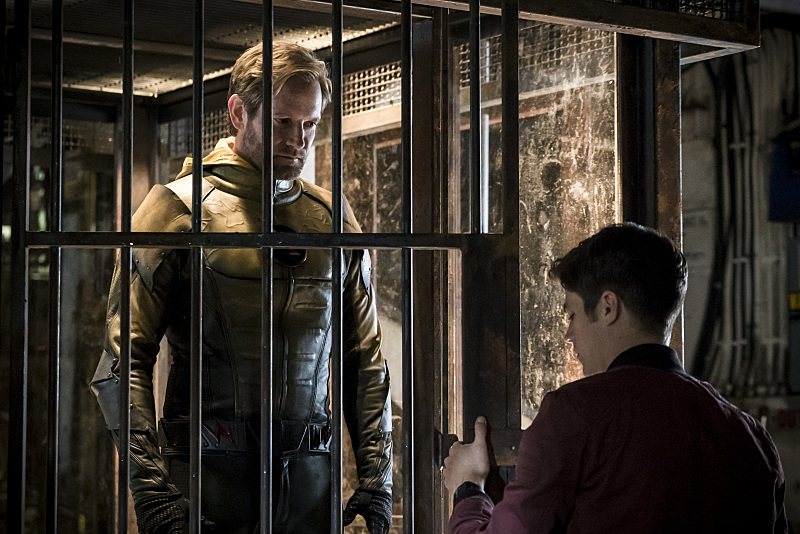 Matt Letscher's Reverse-Flash is around and tormenting Barry with the changes he has wreaked. Much has been written about the notion that even though he always has the noblest of intentions, Barry has in some ways been the villain of this story, and Eobard is more than happy to tell him that. Letscher is menacing as Eobard Thawne, and I'm still impressed by how much he reminds me of Tom Cavanagh's take on the character in Season One. (Harrison Wells of any universe sadly seems to be absent in the premiere. Boo! Hiss!) The best villains, to me, are the ones who think they are doing the right thing; Eobard Thawne, in his own twisted way, seems to be that, and Letscher is one of the MVP's of this first hour.
What else is there to say? Joe West in the Flashpoint world is a shell of the Joe we know; also, there is a surprise guest appearance that I don't think has been spoiled yet. I hope it is not spoiled because it had me grinning from ear to ear. And, yes, Keiynan Lonsdale's Wally is Kid Flash and the costume looks really cool – though his frequent blurring is a little distracting. If the mask doesn't hide his face enough, then maybe he needs a better mask.
Having lost a parent myself at age 19, I would give anything to be able to change history to see my dad again. But, as Barry Allen may learn, you need to be careful what you wish for. In addition to being a good episode of a superhero drama series, "Flashpoint" also has a lot of heart that is also present in every episode of the show. A lot of that is due to Mr. Grant Gustin himself, who plays Barry with a vulnerability and heart that really does make him perfect for this take on the role. I will warn, though: This episode made me, a man in his thirties, teary-eyed, as The Flash sometimes does, so prepare the tissues.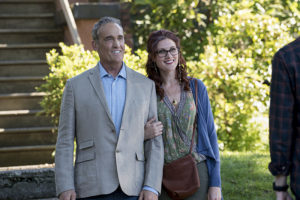 Is the finale perfect? It's pretty darn good. There are mechanics of time travel in the Arrowverse that I will never totally understand; for example, I don't understand how Barry Allen still has his speed powers if what happened to his mother never occurred, unless the same accident happened in the Flashpoint universe. (I'm thinking not, since the STAR Labs building, now owned by Ramon Industries, looks pristine) But if we can turn our brains off and not think about it too much, again, it's a really good hour of TV. I'm curious what will happen next, but then again, it's not like I wouldn't be watching The Flash — one of my favorite shows on TV — anyway. Still, there's a reason this is The CW's #1 show — it's really well done, with good actors, great effects, writing, directing… it's a fine package.
The Flash "Flashpoint" airs October 4 on The CW. See some preview images below, and check out our interview with the show's Executive Producers here!

Flash References In New Grant Gustin Commercial
The Flash actor Grant Gustin has appeared in a new commercial for MNTN with former Green Lantern Ryan Reynolds.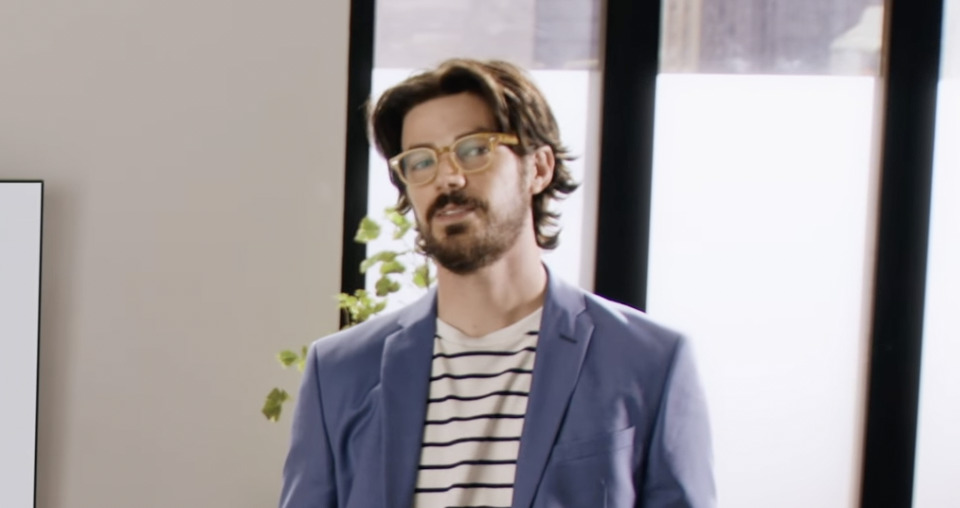 The Flash Grant Gustin is in a new trailer for MNTN alongside Ryan Reynolds, who, of course, played another DC hero, Green Lantern, back in the day. In the trailer, Grant plays a character named "Seymour Roas" but despite this, Reynolds can't resist making a few Flash puns at Grant's expense.
The commercial is quite fun and ends with the thoughts many of us have had, with Reynolds saying to Grant "you'll always be my Barry," only to have Grant respond with "you'll always be my Hal." If only we had gotten to see this team-up in an actual film; maybe it would have redeemed the awful Green Lantern movie and given us a Flash we all love rather than the person who headlined this year's flop.
You can see the trailer below.
No, That Was Not Teddy Sears In The Flash Movie
Flash TV series actor Teddy Sears confirms that was not him playing Jay Garrick in The Flash movie.
SPOILER WARNING: The Warner Bros. Pictures film The Flash is being discussed in this post.
The Flash is currently speeding onto movie screens, and considering the box office, it might be speeding out of theaters just as fast, but there is one particular thing that fans of The Flash TV series have been wondering: Did we see a cameo of Teddy Sears as Jay Garrick in The Flash movie?
The answer is: No. TVLine did their due diligence in finding out from Sears himself what is going on.
"People kept telling me that I was in the new Flash movie…," Sears told TVLine in an article posted on their website. "I mean, I'm sleep-deprived with a newborn at home, so my memory is a little foggy. But I'm pretty sure I would have remembered shooting a major DC Studios film."
"Sadly, I'm not in this," he continued. He did acknowledge that the likeness does look like him.
There are some other cameos – sadly, not Grant Gustin or John Wesley Shipp, either. The movie is currently playing in theaters worldwide. As for Teddy Sears? Look for him in the DC Animated feature Justice League: Warworld where he will voice Travis Morgan, a.k.a. The Warlord. That comes out in July.
The Flash Season 9 & Complete Series Blu-rays Announced
Flash Complete Series and Season 9 Blu-ray sets are coming out in August 2023.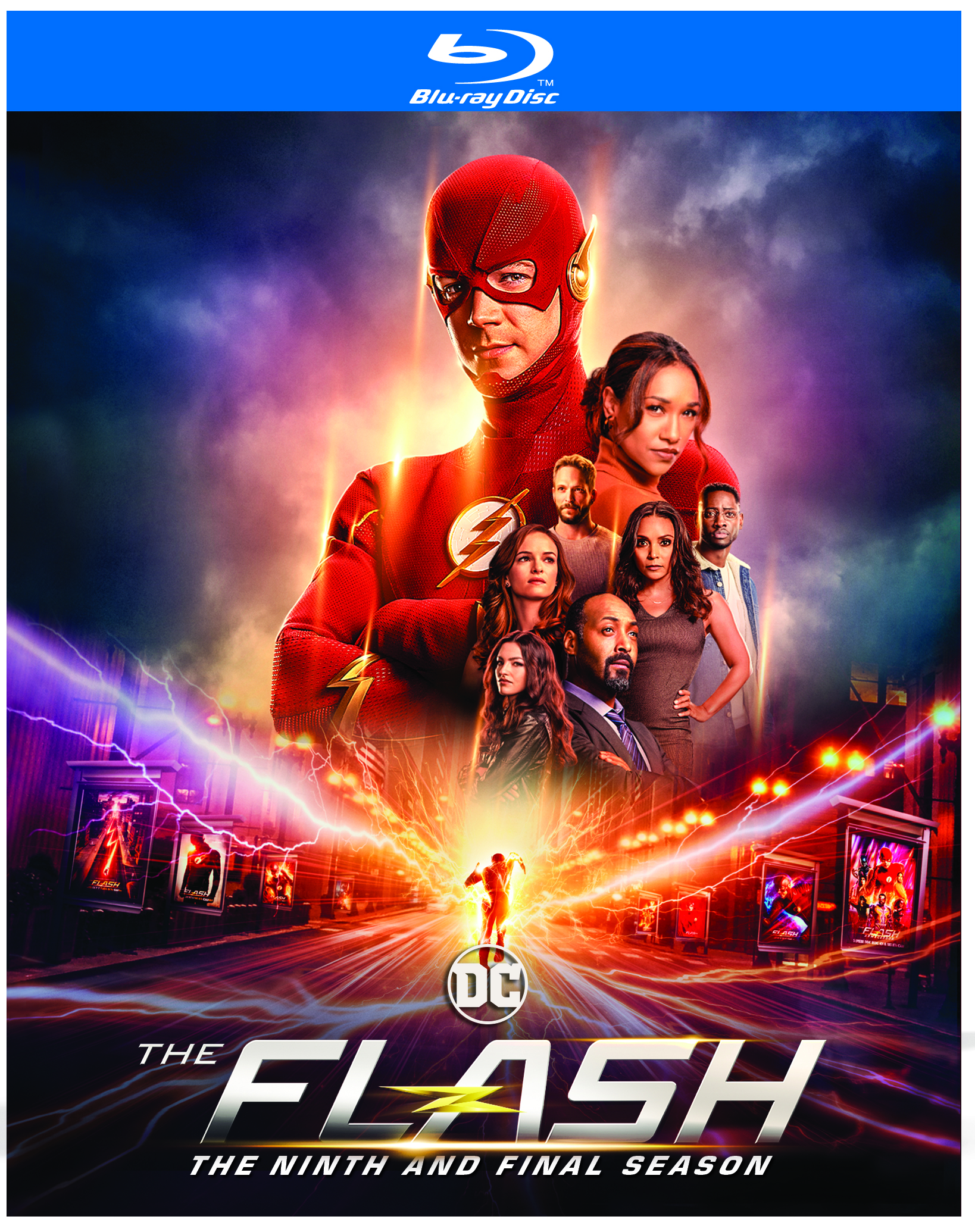 The Flash: The Ninth and Final Season and The Flash: The Complete Series are both coming to Blu-ray and DVD on August 29. Extras for the Season 9 set have also been revealed, as has box art for both. The Complete Series box art is a bit odd: While it's truth in advertising for the final seasons to have Cecile front and center, the lack of Carlos Valdes (Cisco) or Tom Cavanagh (as any Wells) is.. a choice.
Here's the press release with more info:
BURBANK, CA (June 1, 2023) – The fast-paced DC Super Hero drama ends its nine-season run as The Flash: The Ninth and Final Season arrives on Blu-rayTM Disc and DVD on August 29, 2023. The action continues through all 13 episodes of the final season along with brand-new bonus content. The season is also available to own on Digital via purchase from digital retailers. 
Also available on August 29, is The Flash: The Complete Series on Blu-ray Disc and DVD, which includes 184 episodes from the exhilarating DC series along with hours of bonus content from all nine seasons in one complete set.
After defeating the Reverse Flash once and for all, the ninth season of The Flash picks up one week after their epic battle, and Barry Allen aka The Flash and Iris West-Allen are reconnecting and growing closer than ever. When a deadly group of Rogues descend on Central City, led by a powerful and unknown new threat, The Flash and his team including Meta-Empath Cecile Horton, the light-powered meta, Allegra Garcia, brilliant tech-nerd Chester P. Runk and reformed cryogenics thief Mark Blaine, must once again defy the odds to save the day. But as The Rogues are defeated, a deadly new adversary rises to challenge Barry Allen's heroic legacy. In their greatest battle yet, Barry and Team Flash will be pushed to their limits, to save Central City one last time.
The Flash stars Grant Gustin (Arrow, Glee), Candice Patton (The Game), Danielle Panabaker (Sky High, Friday the 13th), Danielle Nicolet (Central Intelligence), Kayla Compton (Making Moves), Brandon McKnight (The Shape of Water) and Jon Cor (Shadowhunters). Based on the characters from DC, The Flash is produced by Berlanti Productions in association with Warner Bros. Television, with executive producers Greg Berlanti (Arrow, Supergirl, DC's Legends of Tomorrow, Riverdale), Eric Wallace (Teen Wolf, Z Nation, Eureka), Sarah Schechter (Batwoman, Riverdale, Black Lightning, Supergirl), Jonathan Butler, and Sam Chalsen (Sleepy Hollow).
SPECIAL FEATURES INCLUDE:
The Flash: The Saga of the Scarlett Speedster (featurette)
Deleted Scenes
Gag Reel
The Flash: The Complete Ninth Season and The Flash: The Complete Series will be available to purchase August 29, 2023 on Blu-ray Disc and DVD both online and in-store at major retailers. The series is also available now to purchase Digitally from Amazon Prime Video, AppleTV, Google Play, Vudu and more. 
The Flash: The Ninth and Final Season
Includes 13 one-hour episodes:
Wednesday Ever After
Hear No Evil
Rogues of War
The Mask of the Red Death, Part 1
The Mask of the Red Death, Part 2
The Good, the Bad and the Lucky
Wildest Dreams
Partners in Time
It's My Party and I'll Die if I Want To
A New World, Part 1
A New World, Part 2
A New World, Part 3
A New World, Part 4
Pre-order today and support FlashTVNews and the related site network!
The Flash: The Ninth and Final Season – The Flash: The Complete Series