The Flash Season 4 Synopsis: Iris Is Alive?!?
Iris West is apparently alive in the official synopsis to promote The Flash Season 4.
This morning when announcing their Fall 2017 schedule, The CW issued a press release with details about all of their returning shows — and, thankfully, unless they are tricking us, Candice Patton's Iris West sounds alive and well in The Flash Season 4, or at least she's being presented that way to advertisers and press in today's press release.
(Fair warning: This DOES read like a recap of Season 3 and Season 3 only. It could be rewritten/reworked once the finale has aired… but it is odd that Iris is being talked about as if she's very much alive here. Hmm….)
The Flash Season 3 finale "Fast Enough" airs on May 23 — see some official photos here!
Barry Allen (Grant Gustin) lived a normal life as a perpetually tardy C.S.I. in the Central City Police Department. Barry's life changed forever when the S.T.A.R. Labs Particle Accelerator exploded, creating a dark-matter lightning storm that struck Barry, bestowing him with super-speed and making him the fastest man alive — The Flash. But when Barry used his extraordinary abilities to travel back in time and save his mother's life, he inadvertently created an alternate timeline known as Flashpoint; a phenomenon that gave birth to the villainous speed god known as Savitar, and changed the lives of Caitlin Snow (Danielle Panabaker) and Wally West (Keiyan Lonsdale) forever. With the help of his adoptive father, Joe West (Jesse L. Martin), his lifelong best friend and love interest Iris West (Candice Patton), and his friends at S.T.A.R. Labs — Cisco Ramon (Carlos Valdes), C.S.I Julian Albert (Tom Felton), and an Earth-19 novelist named H.R. Wells (Tom Cavanaugh) — Barry continues to protect the people of Central City from the meta-humans that threaten it. Based on the characters from DC, THE FLASH is from Bonanza Productions Inc. in association with Berlanti Productions and Warner Bros. Television, with executive producers Greg Berlanti ("Arrow," "Supergirl"), Andrew Kreisberg ("Arrow," "The Flash"), Sarah Schechter ("Arrow," "DC's Legends of Tomorrow") and Todd Helbing ("Black Sails").
Jon Cor Is Chillblaine In The Flash Season 7
Jon Cor has landed the role of the villain Chillblaine in The Flash Season 7.
Today brings news from TV Line that Jon Cor (Shadowhunters) has been cast in the recurring role of Chillblaine in The Flash Season 7. A character who first appeared in Flash Annual #5 way back in 1992, Chillblaine at one point had possession of Captain Cold's chill gun as given to him by the Golden Glider. Here's how the TV show take on the character will play out, with a description also from TV Line: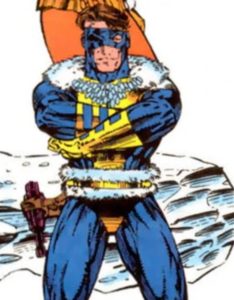 Scientist Mark Stevens is a charismatic bad boy obsessed with cryogenic technology. But when he's not breaking into corporate safes, he's busy breaking hearts with his irresistible charm and roguish style. Armed with his own cold weapons, he'll become a new thorn in the side of Team Flash as the DC Comics villain Chillblaine.
TV Line notes that there is currently no word of Peyton List reprising her role as Golden Glider. (Maybe Crisis on Infinite Earths can cause a recast to the other Peyton List? We're kidding.)
The Flash Season 7 is currently scheduled to premiere February 23 on The CW.
Flash Season 7: First Five Episode Titles Revealed
Titles for the first five episodes of The Flash Season 7 have been revealed.
The titles for the first five episodes of The Flash Season 7 have made their way on to the Internet, and while they're always subject to change prior to an official press release from The CW, these titles could be hints as to what is coming in our future.
The seventh season of The Flash is currently scheduled to premiere February 23, 2021 on The CW; most of the first episode of the season, "All's Well That Ends Wells," was shot prior to this year's COVID-19 pandemic. It has been speculated by some like Pagey that the third episode back, "Mother," is the conclusion of the Mirror Master storyline.
Here's the current schedule, as always subject to change:
Episode #7.1: "All's Well That Ends Wells" (2/23/21)
Episode #7.2: "The Speed of Thought" (3/2/21)
Episode #7.3: "Mother" (3/9/21)
Episode #7.4: "Central City Strong" (3/16/21)
Episode #7.5: "Fear Me" (3/23/21)
Follow @FlashTVNews on Twitter for more Flash Season 7 updates and if you're in the mood for more episode titles, take a look at what may be coming for the show's Tuesday night companion, Superman & Lois!
Report: The Flash Temporarily Pauses Production
Deadline is reporting that The Flash has temporarily paused production due to a positive COVID-19 test.
Deadline is reporting that The Flash production in Vancouver has temporarily paused after someone working on the series has tested positive for COVID-19. Here's what they had to say about what has happened:
"The asymptomatic diagnosis was confirmed through the rigorous testing protocols implemented by The Flash studio Warner Bros. TV for all of its production employees. Out of an abundance of caution, production on The Flash has been temporarily suspended and contact tracing has been initiated. According to sources, the studio is currently evaluating adjustments to the production schedule in order to resume filming without the affected employee and potential close contacts, who are self-isolating."
The Deadline piece also noted that The Flash isn't the only show to shut down production for this reason. Each series that has returned to production has implemented strong safety protocols which involve their casts and crews frequently testing. It is our hope that this team member remains asymptomatic and that everyone stays safe and healthy on The Flash and every other production that has resumed.
The Flash Season 7 is scheduled to premiere February 23 on The CW.