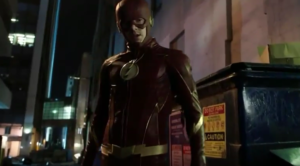 Sadly, we won't get another new episode of The Flash until April 25. But thankfully, The CW aired a trailer for that next episode following tonight's new show which was called "Abra Kadabra!"
The next episode is called "The Once and Future Flash" and it's directed by Wells himself, Tom Cavanagh!
(And yes, that April 25 episode should start an uninterrupted run toward the season finale finish line.)
You can see the trailer below, and if you'd like to talk about "Abra Kadabra" with other fans, race to our Flash discussion forum!
As for the next episode… as soon as we have some official photos or a synopsis from The CW, we'll share it. You can follow our Flash Twitter news account @FlashTVNews for updates as those things become available!
Side note: We LOVE the modified costume in the "future!"
UPDATE: We now have a slightly longer trailer, including a quick flash of The Top and Mirror Master! Screen captures from the earlier trailer can be found here.