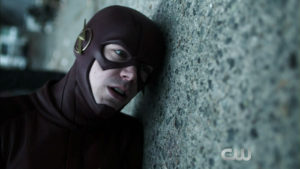 We're still waiting for official photos to promote the next new episode of The Flash which is called "The Once and Future Flash," but thanks to Mr. Video we have screen captures from the episode's promo trailer. As many may know, the show has taken a few weeks off, but it will be back with new episodes on April 5.
An official synopsis for the episode should also be here within the next day or two. What we do know about the episode is what we can see in the trailer as well as where the show left off. Barry in the future, Killer Frost, all that cool stuff. We also know the episode is directed by "H.R." himself, Tom Cavanagh.
Follow @FlashTVNews for updates as they become available!
You can see the screen captures below; video of the trailer can be found here if you haven't seen it already.