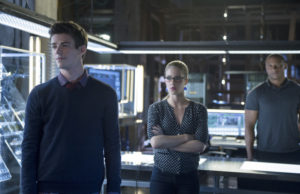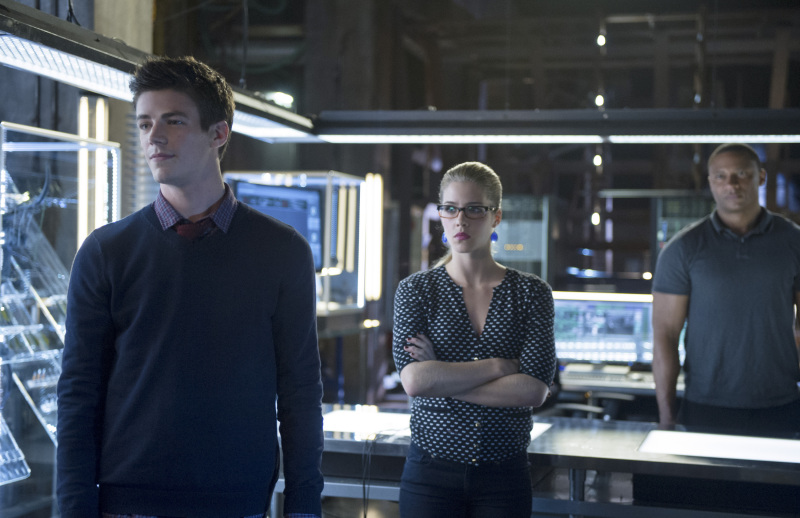 A fan favorite character with a tie to Grant Gustin's Barry Allen will be appearing in the fourth episode of The Flash.
Not only will that episode welcome Wentworth Miller as Captain Cold; it will also feature a guest appearance by Emily Bett Rickards as Felicity Smoak, her character from Arrow.
"Barry had a big impact on those characters when he came on, and then subsequently, there was some discussion about what had happened to him, and then bringing Carlos [Valdes] and Danielle [Panabaker] onto Arrow… it would have been wrong to not deal with a lot of those emotions, especially since I think that as much as there are 'Olicity' fans, there were 'Baricity' fans, so we really wanted to address that," Andrew Kreisberg told us today in a one-on-one interview at the press tour.
Kreisberg promises us it's not a gimmick. "It's an episode where Barry's beginning to question his teammates, and Felicity coming along is not just to reconnect with him; it actually serves a grander purpose, which is that Felicity is somebody who knows how difficult it is to have teammates who are fighting crime. So, she's there to offer some sage advice, both to Barry and to to Caitlin, Cisco, and Wells. So we're really excited," he says.
The title of the episode is "Going Rogue" and we are assuming it will air October 28 on The CW.