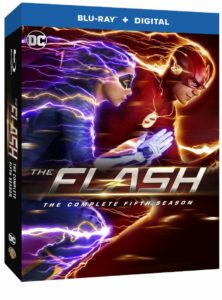 Disclaimer: Warner Bros. Home Entertainment provided FlashTVNews with a free copy of this set for review in this post. The opinions shared are my own.
The Flash: The Complete Fifth Season hits Blu-ray and DVD this week, containing all 22 episodes of Season 5 plus bonus episodes from the Elseworlds crossover. In addition to the entire season, there are few extra features for all to enjoy, though some are duplicated from other sets that were made available this year. Here's the review.
The Episodes: As mentioned, all 22 episodes plus extras are on this set. And as I tend to write every year, the show isn't quite at the high level it was in its first season, but there are definitely standouts in Season 5. A big theme for the season is family, and the conflicts between parents and their children. Caitlin and her parents are a part of that. The season's villain is a part of that. And the biggest part of that is Nora West-Allen (Jessica Parker Kennedy), the daughter of Barry and Iris brought back from the future. Kennedy is fantastic in the role, though it is at times disappointing to see so much attention on a new character when we are here for the ones we've seen for 100+ episodes.
The Flash Season 5 contains the series' 100th episode which is a great journey through the five years of the show. Sadly absent from Episode 100, though, is Joe West (Jesse L. Martin) who was recovering from an injury for a good part of the season. Martin's presence was certainly missed though it is nice that the show upgraded Danielle Nicolet (Cecile) to series regular this year.
I'll be honest: I wasn't very invested in the Cicada story, at least not as much as I probably should have been. And I was even less into the latest Wells, "Sherloque," which was a joke that stopped being funny within about 2 minutes, with no offense meant to the writers or Tom Cavanagh. It was nice to see the talented Cavanagh in another role, though part of me still is wondering why it was not Matt Letscher, though I'm forgiving that because, again, Tom Cavanagh.
I'm also not sure what to make of Vibe's eventual fate, unless it is a way to make things less easy for next year's crossover. In any event, watching these episodes still has me excited for Season 6, and The Flash is certainly a series that is worth the Blu-Ray upgrade.
The Extras: There's a fantastic featurette about the origins of Killer Frost which is really well put together. I was, however, surprised that such attention wasn't paid to XS/Nora as she was also a major arc for Season 5. Was there only room to cover one story? I'm also surprised there wasn't some kind of 100th episode spotlight, especially since Warner Bros. did have press kit people on the line interviewing the cast.
There are Elseworlds, villains, and Comic-Con featurettes that you can find on the other DC TV shows this year, which I can only imagine is a cost-cutting measure to include them everywhere.
The set also has deleted scenes, with the most notable being Superman running with Oliver Queen from "Elseworlds Part 1." It's a shame that was cut. There was also a "My Name Is Barry Allen" from "Elseworlds" with Stephen Amell replacing Grant Gustin as Grant replaced him in the aired Part 2 — this was surely cut and unfinished so as to not blow the reveal that Oliver was Barry in Part 1. It's still really cute and fun.
Finally, there's a gag reel. While they are introduced with credits like The Office, they're still a bit… meh.
Packaging and Design: Seeing Barry and Nora running side by side is the perfect way to sell this. Very nice looking.
Is It Worth It? I'll always recommend picking up Flash Blu-Rays from the beginning, but this is certainly worthwhile, especially to prepare for Season 6 to premiere on October 8. You can purchase this set (and support this site!) here.